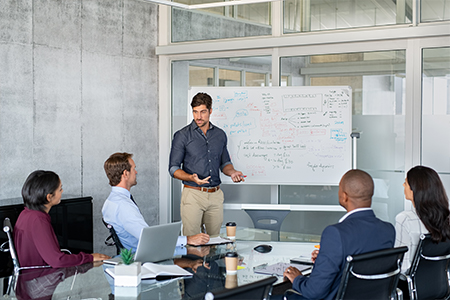 You've spent weeks planning the launch of your organization's new performance management tools. You've cleared the budget, have senior leadership support, and gained manager buy-in.
Now you're finally ready to unleash your performance management tools in your organization. But amidst the logistic walk-throughs and decision-making, you've missed the opportunity to strategically roll out your new performance management tools to your employees.
As you begin to introduce your new tools, utilize these seven tips to ensure a successful implementation and adoption throughout your entire organization.
1. Communicate, communicate, communicate.
Communication is essential to an effective rollout of performance management tools. Employees need to understand the what, where, when, why, and how. Communicate why your organization is implementing tools and what you intend on getting out of them.
Let employees understand what overarching goals your tools attend to and continuously highlight your organization's alignment with the tools. Communicate that an initial time investment for implementation exists, but the outcomes as a result will prove that no time was wasted. Communicate before, during, and after the launch of each tool. If you think you've communicated enough, you probably haven't.
2. Get the buy-in of your people.
Find champions within your organization by identifying managers who already leverage 1-on-1s, recognition, feedback, and shared goals to drive performance. Help them understand that performance management software will help them do these things more effectively and with ease.
Once your employees are bought in, encourage them to advocate for the software among peers and teams. Leverage them as catalysts for change management and urge them to communicate the importance of your performance management software—to better drive team and organizational goals.
3. Train your teams.
You can't expect employees to jump into a new program and figure it out on their own. Get managers a step ahead to ensure they feel comfortable using the software so that they can effectively train their team. Leverage walk-throughs to combat any possible apprehension that your employees may have.
Once you've trained your people on the technicalities of the system, ensure that they are trained on the human side of things as well. Train your employees to effectively navigate the software to get the most out of your tools.
Continue to communicate how your tools align with your organization's mission and goals. This drives the idea that effectively using the software is critical to employee success, making the training process an imperative.
4. Incorporate your program into your culture.
For a program to become a way of life, or a way of work, it has to be part of the culture. Weave your program into employee onboarding to introduce it to new hires as a key process within your organization. When your software is associated with company culture, people tend to accept and appreciate it.
5. Model behavior from the top
Your leaders must model the usage and behavior you want to see—ensure they have positive perceptions about the tools and actively utilize them within their team. In addition, look for opportunities to integrate the tools with other processes and traditions to help you further push your implementation initiatives.
6. Be flexible.
Too many rules can be disengaging. Employees need the flexibility to make new programs their own. When employees share ownership and can insert their personalities and preferences into the process, it increases buy-in and participation.
If your new program has guidelines or rules to follow, ask if the program would fail without the guidelines in place. If too much flexibility is preventing your initial goals from being accomplished, consider defining processes that better push your initiatives. Have clearly defined processes where it helps—allow flexibility where it doesn't.
7. Understand your performance management program maturity.
Consider your organization's maturity with performance management and how that translates to software usage. Be open-minded in the beginning and play around with the tools to find what works for you. Once you've found effective ways to use your tools, define these processes to promote ease of use for others.
Leverage these steps to effectively roll out your performance management tools. Keep everyone on the same page with outlined steps that ensure your employees are comfortable with your implementation efforts.
---
Learn how to leverage tools that improve employee engagement and drive performance with our guide to employee engagement program models.