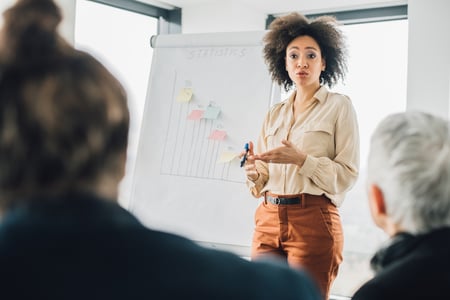 Many managers wake up each morning with a sense of dread. Their calendar is jam-packed with meetings, and they have important goals to meet. The thought of accomplishing all the tasks on their agenda is overwhelming… how are they supposed to find time for employee engagement?
When a manager feels like they're drowning in tasks, some to-dos are inevitably going to be pushed aside, and often engagement initiatives are the first to go.
That's a problem – employee engagement drives productivity, increases profits, and decreases turnover. It's the last thing that should be reprioritized. Managers need to be constantly searching for new ways on how to get employees engaged.
Over the years I have learned a few things that helped me make time for employee engagement and more carefully consider the needs of my direct reports on a daily basis.
Keep these tips for managers in mind as you engage the workplace.
Take time to look at the big picture.
Keep employees accountable for action items agreed upon in one-on-ones.
Learn how to take feedback.
Establish a workplace culture.
Recognize, recognize, recognize.
Develop connections and trust.
---
1. Take time to look at the big picture.
Many managers only take the time to step back and analyze performance data when things are going poorly. This delays action and can result in turnover and lower productivity. The sooner managers can identify and fill gaps, the less likely those holes are going to hurt the workplace and/or engagement.
Constant evaluation helps managers avoid the down periods. Work with your HR partners to get the right insights for your team.
2. Keep employees accountable for action items agreed upon in one-on-ones.
Does this scenario sound familiar? Your manager meets with an employee and establishes some deliverables, but those initiatives go unmet. Business simply continues as usual, and the one-on-one was wasted.
It's important for managers to follow up with employees. Track employee progress on goals to ensure the action items agreed upon are actually being accomplished. Continually checking in with employees may even eliminate the need for those pesky quarterly performance reviews (and take one more task off your managers' hands!).
3. Learn how to take feedback.
Managers are constantly giving feedback. As a manager, most of the time I spent with employees centered on evaluating them and giving feedback. I was so busy talking to them that I didn't take time to listen.
Feedback shouldn't be a one-way conversation. When managers source opinions and ideas from employees, they're given a voice and the workplaces becomes more connected and effective. Have managers ask questions like, "Do you like how team meetings are structured?" and "What can I do to lead you more effectively?" The answers will help managers gauge their performance and create team camaraderie.
4. Establish a workplace culture.
Something I quickly learned as a manager was often the best candidates weren't the ones with the most experience or flashy resumes. My strongest direct reports were the ones that best matched my workplace's culture and fit in from day one. They were motivated, organized, and goal-oriented, which fit in perfectly with our culture.
Have your managers create core values that define their team. Instruct them to recognize employees when they exemplify those values – doing so will reinforce your culture and create ongoing expectations that will allow your managers to spend less time "working on" engagement.
5. Recognize, recognize, recognize.
All humans love praise, and employees are no different. When you acknowledge their strong behavior, they're more likely to repeat it. The beauty of recognition is how ridiculously simple, yet impactful, it is.
We recommend using employee engagement software to champion employee performance, but something as simple as a shout-out at a team meeting or a thoughtful card left on a desk go a long way toward building trust.
6. Develop connection and trust.
Build authentic relationships with employees that go beyond the surface level. Conduct one-on-one meetings to get to know them as individuals and gauge their strengths, weaknesses, skillsets, and motivations. Doing this allows you to assign them to roles they're more likely to succeed in and help the team.
But don't just talk about work – get to know your employees personally. These conversations lower the "boss wall" and make you seem more empathetic and accessible. Share about yourself in the same manner. The more employees feel they know you, the more likely they are to trust you.


---
These are a few ways that managers can make employee engagement a part of their daily routine without adding additional to-dos to the calendar. For more ideas on how to get employees engaged, download a free copy of our ebook, How to Become a Better Manager and Connect with Your Employees.