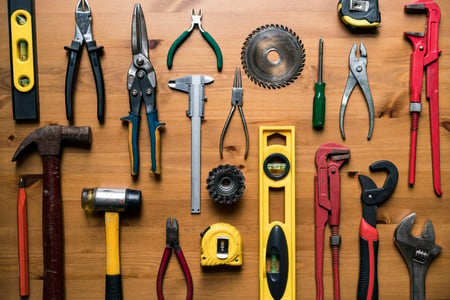 As an organization, you will encounter many types of organizational change. There is no escape from the perpetual motion of a living, breathing company, and change is often necessary to survive. You need the right change management tools in order to build resiliency, exercise creativity, and cut out organizational cancer.
As any HR pro will tell you, you will need multiple tools at the ready. Different situations will call for different solutions, and you must be prepared to deploy what's needed at any moment.
Here are the six change management tools you must have in your arsenal.
Employee Engagement Surveys
Possibly the most impactful change management tool, employee engagement surveys are critical to understanding how employee opinions and perceptions change year-over-year. Ask questions on your survey that reflect the change in the organization, such as questions around leadership competency, organizational mission and direction, and resource availability.
By collecting employee feedback during times of change, your organization can:
Benchmark engagement levels before and after the change
Uncover employee perception of your change management strategy
Determine how the change has impacted employee morale, turnover, or performance
Build effective change management plans by incorporating employee advice
Surface employee concerns and address them before the contribute to disengagement
Better manage change in the future
Pulse Surveys
Pulse surveys tend to be more lightweight than the annual engagement surveys, but they are important nonetheless. Pulse surveys are excellent for feeling out employee sentiment regarding a recent change, understanding how new teams work together, or asking very specific questions.
During many organizational shifts, the "why" isn't covered. Employees are expected to just accept the change and get on board, a practice that severely hurts engagement. Pulse employees to find out if they understand and agree with the changes. If things are unclear, address their concerns.
Up, Down, or 360 Feedback
Feedback software is an exceptional change management tool for understanding how you as an employee deal with organizational change. Ask your peers, direct reports, and managers how they think you are responding to the change, what their ideal end-state is, and how you can be dealing with the change better.
Communication often describes how the organizational change will impact the business, not its employees. Feedback allows employees to ask questions about how the change impacts them while expressing their true feelings about the upcoming adjustment.
Goals
Creating goals around change management is a great way to keep efforts on track. Want to have all employees on the same email system by end of year? Make it a goal. Need to transition marketing and sales materials to new messaging? Track your progress. A goal-tracking software is the best way to keep all employees on the same page.
Recognition
Change can be a difficult time for employees, and it's not uncommon to feel underappreciated or ignored. Showing extra appreciation during times of change will help ensure employees feel valued. Additional incentives (e.g., bonuses, overtime opportunity) can add to employees' short-term motivation. We also know that peer-to-peer recognition can motivate employees to go above and beyond for their teammates and organization.
Exit Surveys
Any substantial change will likely come with employee exits, whether voluntary or involuntary. Exit surveys coupled with exit interviews can leverage these office goodbyes and turn them into valuable information for your organization. Stay surveys also fit into this category: find out why employees are staying at your organization, and recreate those environments.
---
Want more resources for managing organizational change? Download our ebook about 5 essential change templates and communication tools.