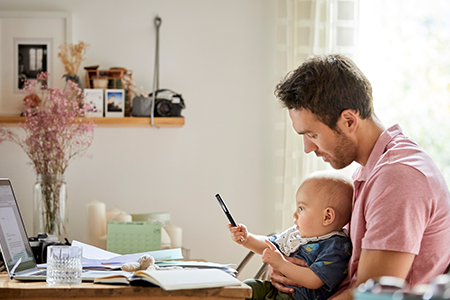 Under normal circumstances, the transition to remote work can be challenging. Add caregiving to the mix and your employees are well on their way to burnout.
How can parents and guardians balance conference calls and science projects, laundry and math homework, or kids and coworkers—all while living, studying, and working under one roof?
Whether newly remote or navigating hybrid work, these tips can help your employees juggle both work and family responsibilities in this new world of work.
1. Coordinate a new family schedule.
With kids at home and parents coordinating playtime, school, meals, laundry, and their own work—things can get chaotic fast. Creating structure and balance means you'll need to adjust your regular routine and build a new schedule or plan of attack.
This means prioritizing tasks and responsibilities and being flexible on what actually needs to happen and when. A great way to get started is to have a weekly family meeting to go over what each family member's week ahead looks like.
If you have children in school, consider:
What assignments are due?

Are there projects or activities they need help with?

Do you need to help them set up their virtual conferences?

What time do they need you to be available?
Other things to coordinate include daily or weekly chores and household management tasks like meal planning and child care. If you have a partner (or kids who are old enough to help), consider dividing up responsibilities or taking turns to accommodate everyone's schedules.
Pro Tip: Set alarms throughout the day to keep you (or your kids) on schedule.
2. Check in and reassess daily.
Consider having a nightly debriefing to go over the next day's schedule and make sure everything is on track. For example, if you have a work call in the morning, you may need to "book" the home office or bedroom to have a designated space away from the rest of the household.
Make a plan for sharing and dividing space too—especially if you are attending to kids during the day. Talk with your partner, roommates, or family members to develop a plan.
If you are a single parent or don't live with a partner, it is still helpful to take time at the end of each day to check in with yourself and any other family members you're living with to take inventory of the day and plan ahead for the next.
Your schedule may not be ideal, but communicating regularly and making a plan together will help you create needed structure as you juggle competing priorities.
3. Take regular breaks.
Whether from work or family (or both), don't forget to take breaks. Humans need regular breaks from focused activities to recharge. Studies show that brief breaks can actually improve focus and prevent burnout. And with the stressors of today's world on top of work and family overload, you need to take special care of your mental health.
So how often should you take a break? About every 50 to 90 minutes. You don't need to break for long either. 15 to 20 minutes can do the trick. Take a breather to nap, read, go for a walk, meditate, or snack (but try to avoid junk food).
If possible, coordinate some of your breaks with your partner and/or family. Go for a family walk, play a quick game, have group snack time, or even watch some funny videos together. Taking time away from work and school together or apart can help you reconnect and refocus.
4. Dedicate work and school space.
One of the hardest things about transitioning to remote work is staying focused and productive without the built-in structure of the office.
A simple but effective way to create structure is to designate clear workspaces for each person in the household. This will look different for everyone, depending on the size of their living space and the number of people in the household. However, even if one person has to work in the bedroom and the kids at the kitchen table, creating those "work stations" can help you stay organized.
This is especially important for parents who will likely need a quieter space to be alone when taking calls or doing work that requires extra attention.
5. Reset expectations.
You may feel overwhelmed thinking about all the things you need to manage and accomplish between work and family. But remember that you aren't just working from home right now.
You may be struggling with anxiety and stress, which can affect memory, attention, and mood. And on top of all that, you're also trying to keep your household running.
Set realistic and compassionate expectations for yourself, your coworkers, and for your family. Communicate honestly with your manager or team about what you're able to do and when. Clear boundaries and realistic expectations can help you avoid pushing yourself to the point of burnout.
Working from home and managing personal and family life is stressful. Be gentle with yourself and your team—use these tips to stay grounded.
---
For more information on how to manage work and life while remote, download our ebook, Overcoming Barriers to Employee Wellness and Engagement.