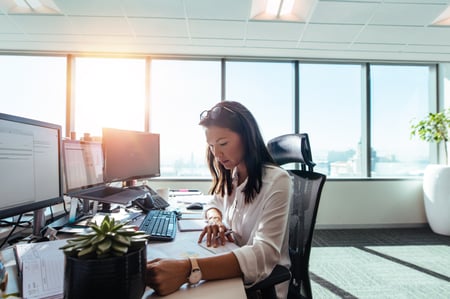 You just finished your employee engagement survey: the biggest hurdle has been cleared!
While you might be tempted to sit back and wait for results, wait just a minute. What about the answers to your open-ended employee engagement survey questions?
You might rely on NLP and comment scrubbing, but your comment analysis shouldn't stop there. I am here to ask you (beg you, in fact!) to take time to read your open-ended comments.
Why? As a Workplace Insights Prodigy at QW, I have learned so much about organizations from their open-ended employee engagement survey questions – information that I wouldn't have been able gather from the quantitative data alone. Open-ended comments allow your employees to share their highs and lows in a personal way that won't be gathered from data points.
While reading (potentially) thousands of comments can seem like a daunting task, every organization must do it. Why? Check out these three reasons:
1. Context.
While your organization can see how employees rated topics such as work-life balance, safety, and trust in leadership, your open-ended comments will give context to the quantitative data. The comments will allow leadership to understand the passion, excitement, energy, and frustrations, really fleshing out a data point.
Simply seeing low scores doesn't indicate where your employees feel the organization is lacking. Looking at your safety comments, however, can show you that employees want the parking lot to have lights for those who get off work late (yes, this is a real example of employee feedback!).
2. Immediate impact.
The biggest pro of utilizing open-ended comments is that they will provide you with actionable items, immediately. Rather than waiting on data analyses and a presentation of results, leaders and managers can look at open-ended comments and immediately make changes. I cannot count the number of times that I have seen simple-to-fix comments such as, "The coffee maker doesn't work," or "The AC is too high."
These are easy-to-fix things that will show your employees that you care about their input. You can achieve quick wins (e.g., replace the coffee maker), and then create a long-term initiative to ensure quicker response should the issue arises again (create a line of communication for employees to share when something is broken).
3. Employee voice.
While your survey will cover all major topics regarding engagement, your employees might have a specific issue they want to share that wasn't adequately addressed by the employee survey questions. Employees use open-ended comments as a space to share their joys or grievances from work that they didn't feel were adequately addressed in the quantitative responses.
For example, an employee might rate their manager highly and they want to have the opportunity to share a specific instance that resonated with them. Taking a look at these comments can shed light on what your employees find to be most important.
---
Whew! You took my advice and read the answer to every single open-ended employee engagement survey question. Now what's next? Talk to employees about the themes you uncovered. Checkout our ebook on employee focus groups for help with the next step!