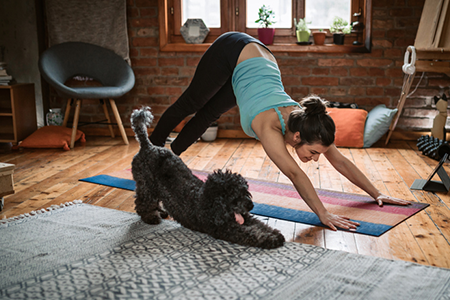 As offices have closed their doors around the country, millions of employees are learning to navigate the new normal of remote work in the wake of COVID-19.
For many, this looks like upended schedules, countless video conferences, and perhaps even some children (or pets) underfoot.
While under normal circumstances, telecommuting and remote work can be a welcome advantage for many households (and businesses), the rapid transition to a virtual environment has many employees stressed, overwhelmed, and even lonely.
Whether you are a household of one or a family with kids, there are numerous added stressors and responsibilities to manage right now—on top of the existential anxieties surrounding the public health crisis and a teetering economy. All this stress and lifestyle change can significantly impact your health and wellbeing. So how do you stay sane while working remotely during a pandemic?
In this article, we'll cover strategies you can use to improve your physical, social, and mental wellbeing, including:
Self-care tips for remote workers
How managers can prioritize and support their remote teams' health
---
Self-Care Tips for Remote Workers
Now more than ever it's important to take care of yourself. Use the following tips to maintain a healthy lifestyle, combat stress, and avoid burnout while working remotely during this pandemic.
Follow a routine.
Your schedule may not look how it used to. Maybe your day starts later after you get the kids settled for homeschool. But try to maintain a routine to ensure a healthy sleep-wake cycle, a normal meal schedule, and a regular workflow.
Eat healthy.
2-3 nutrient-rich meals a day will help you stay focused, positive, and energized. Try not to raid the pantry for junk food fixes throughout the day, which may relieve stress temporarily but can cause sluggishness and weight gain.
Keep moving.
Exercise inside with a home workout or get outside for a walk, a run, or a cycle—while maintaining safe social distance from others. Regular exercise increases energy, improves sleep and cognitive function, and boosts your mood.
Set office hours.
Working from home blurs the boundary of work time and personal time. Maintain a regular schedule when you are available to check email and take calls. For example, after 7 p.m., don't respond to work emails. Focus on personal and family time. The work will still be there in the morning.
Stay social.
Schedule virtual happy hours with your coworkers, share funny memes on Slack or even host an office Netflix party. It is important to maintain strong social connections with our coworkers and friends, even while maintaining physical distance.
Limit screen time.
This is a difficult ask when so much work and now social life is tied to our computers and phones. But too much screen time, especially checking news, can be draining and pull you away from other healthy activities like exercise and fresh air.
How Managers Can Support Their Teams Remotely
If you're used to managing an in-house team, a rapid transition to remote work might have you feeling a little shell shocked.
You probably have a million questions and fears running through your mind. On top of managing performance, communicating clearly, and keeping everyone on track, you should also be looking for ways to support your employees' wellbeing through this crisis.
But when gyms are closed, company yoga sessions are canceled, and Friday happy hour feels like a distant memory, how can you continue to prioritize and support your team's mental and physical health remotely?
Know when your employees are burning out.
Burnout is common even when there isn't a global pandemic. Now with the increased anxiety, uncertainty, and upheaval in work and personal life, your employees are at even higher risk.
If you pay attention to the signs, you can learn to recognize when your employees are struggling and take steps to support them and hopefully avoid burnout.
Signs of burnout
Watch out for these telltale signs of employee burnout:
Exhaustion
Illness
Mistakes
Decreased productivity
Frustration
Lack of enthusiasm
Falling behind in work
There will likely be some dips in productivity and performance as your team transitions to a new workflow from home. However, prolonged issues or a combination of these signs might indicate a more worrisome trend. Allow for flexibility and look for opportunities to provide extra support to your employees.
Support your employees from afar.
Here are a few ways you can support your team remotely and encourage self-care.
1. Do regular wellness check-ins.
Want to know how your employees are doing? Ask. Check in with your team often to see what things are going well and what struggles or obstacles your employees are facing. A weekly team meeting is a great opportunity to touch base and share. If you notice anyone having a hard time, reach out individually to discuss what's going on and how you can support them better. You might need to adjust performance goals, offer more flexibility on deadlines, or communicate differently.
2. Clarify expectations.
Moving to a remote work environment is a huge shift—especially under current conditions. Your employees may be juggling not only a new workflow but also home and family responsibilities at the same time. Clarify early on about what your expectations are for performance, communication, schedules, and availability. Everyone will be making adjustments so setting clear expectations from the beginning will reduce confusion and stress.
3. Show appreciation.
Employee appreciation is one of the most important ways to show you care about and value your team members. Look for unique opportunities to show your appreciation for your staff. Take time to share team wins, recognize specific employees in team meetings, and send private emails or messages of encouragement and gratitude to individuals.
4. Communicate clearly and regularly on COVID-19 updates.
Information and news on COVID-19 changes daily. Keep in touch with your team about how this evolving crisis affects the company, their work, and their employment. Be clear and honest in your communication, providing additional resources when appropriate. Uncertainty and silence create confusion and fear. Clear and open communication will help everyone feel more secure—even if it's bad news.
5. Encourage self-care
Encourage and support your team's efforts to take care of themselves. Consider brainstorming self-care ideas at your next team meeting or start an ongoing Slack conversation for employees to share ideas and check in with each other. Give them permission to take a break and set boundaries from work—and lead by example. Make sure you're setting healthy boundaries too. Set virtual office hours and stick to them. Share ways you're taking time for yourself and be flexible and supportive of your employees' efforts.
---
Times of crisis create fear, confusion, and stress. Fortunately, there are still many ways you can take care of yourself and your team while working remotely through this pandemic. Though we're all apart, we're still in this together. For additional resources to support your team, grab your free Crisis Management Kit.