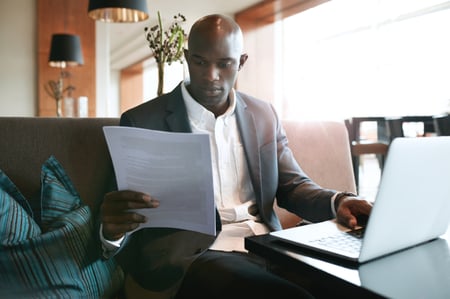 The annual employee performance review is no longer an ideal solution to evaluate employee performance. It's slow, outdated, and unable to keep up with the fast-paced nature of the modern workplace.
This three-part blog series will focus on a more effective approach to employee performance: ongoing performance conversations. We'll cover three areas: how to prepare for a performance review, how to conduct a performance review, and performance review follow-up.
The preparation process guides the direction of any important performance conversation. By the time the discussion begins, you and your employee have both developed internal expectations that shape your mood and approach. If these intentions aren't aligned, the conversation will get knocked off track before it has the chance to make a meaningful impact.
By carefully considering the meeting's location, timing, and invitation, you can create a setting where you're both ready to hit the ground running and have an effective discussion.

Here are three critical steps in preparing for a performance review:


1. Select the setting.
You begin setting expectations the moment your invite hits the employee's inbox. The location of the meeting sets the tone for the conversation.
Consider the message each of the following locations might convey:
Your office: private; serious topics may arise; puts you in position of power
Common area: casual; conversation won't get too personal
Conference room: collaborative; other parties may be included
Private settings are better when serious and potentially uncomfortable topics – such as compensation, poor behavior, or declining performance – will be discussed. For example, if you are meeting to craft an employee performance improvement plan, you'll want to choose somewhere secluded so your team member focuses more on the plan and less on what others might overhear.
Public settings are ideal for lighter conversations, such as recognition, goal setting and goal updates, and career goals and development. Employees often feel more at ease with others around.


PRO TIP: Hold the meeting off-campus.


At Quantum Workplace, we prefer to hold our manager-employee GOOD meetings over lunch at a restaurant. It's nice to get out of the office, and the public environment represents a safe space for the employee. Important issues can be discussed, but the employee doesn't have to fear heavy discipline as they might behind closed doors. Plus, a free lunch never hurt employee morale.
2. Convey expectations.
Make it very clear what's going to be covered in the meeting. Employees should have a complete understanding of what will be discussed, as well as the tone the conversation will take.
Share notes ahead of time to be transparent and give employees an idea of what they can expect. We recommend using an agenda that allows you and your employee to make notes on the below topics so nothing is forgotten or left unsaid. It also ensures both parties are putting careful thought into the conversation. These three topics should be a part of any performance conversation:
Current performance: Both parties should enter with assessments of how the employee is performing. Have the employee consider current roadblocks and if there's anything you can do to help them.
Goals: The goals you set with an employee are not the end-all, be-all when it comes to performance, but they play a large role in determining whether the employee is succeeding or failing. Get status updates and have the employee be prepared to explain why they're meeting or falling short of their goals.
Future aspirations: Employee performance is fueled by their view of the future. Motivated employees continually push themselves and seek additional responsibilities and potential promotions. Have employees consider where they want their career to go and how those motivations are impacting their performance. Brainstorm growth and development opportunities tailored to the individual's skills and interests.
Be sure to let the employee know if the meeting could take on a negative tone. The last thing you want is an employee feeling railroaded by a negative performance review – they'll feel betrayed and lose trust in both you and the organization. If negative topics will be discussed, include notes about why you're concerned and what changes you want to see.
3. Make time.
You have a lot of responsibilities on your plate as a manager, and conducting performance reviews with each team member can be time-consuming. But the payoff is worth the investment, and it's critical that you carve out appropriate time for each individual. If you forgo important performance conversations, you risk missing out on new opportunities for promising employees, and negative actions of under-performers will go unchanged.
Make note of the employee's calendar as you schedule the meeting. Try to avoid days with deadlines because employees might feel rushed or distracted.
Schedule the meeting at least one week out. You want to give yourself adequate time to look into an employee's recent performance and source feedback from coworkers. You can't see everything an employee contributes, but employee teammates provide additional insight into how easy the employee is to work with, their willingness to help, and how they communicate with others.
The employee also needs time to think about their performance and how the manager might help them reach certain goals.


---
You're almost ready to start conducting effective employee performance conversations. Download our Performance Review Checklist to help you crush your next performance review.