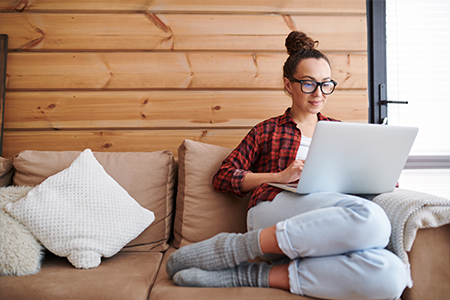 Remote work and hybrid teams have become the new norm. In fact, according to an Upwork survey, managers expect 26.7% of the workforce to be fully remote in 2021. That's a lot of long-distance management.
While there are many benefits to remote work, managing a remote team isn't always easy—and it can be a difficult transition for managers and employees alike who are used to in-office setups. Suddenly, team meetings, one-on-ones, collaboration, and good old-fashioned team-building becomes a lot more complicated.
When you can't get everyone in a room to brainstorm on a whiteboard or visit with your coworkers in the break room, you have to get creative and strategic about creating those experiences and relationships remotely.
In this article, we'll cover tips and best practices for building and managing a collaborative, productive, and engaged remote team.
How to manage remote workers
Managing remote workers requires clear communication, productive collaboration, and ongoing relationship building. While there's some extra planning and effort involved, with the right processes in place, managing your remote workers can be highly efficient and effective.
Use these tips to streamline your remote management approach, minimize potential conflict, and maximize engagement.
Onboard new hires.
Onboarding is crucial for setting up your new hires for success. This is especially true of remote workers who don't have the same opportunities to naturally integrate into your company culture as in-house employees do.
Robust onboarding for remote employees will help your new hires:
Understand their role and how they fit within the team
Have the tools and resources they need to do their job
Know who to contact and where to go when they have questions
Understand your team and organizational goals
Feel connected to the team and the company
Pro Tip: Build feedback into your onboarding process so you can get insights early on from your new hires on what is going well, what questions or concerns still need to be addressed, and how you can improve the onboarding experience for future hires.
Build connection through remote meetings.
The secret for engaging remote meetings is building connections. This can be difficult at first as you navigate virtual and distance communication. But there are ways to make the experience more personal, engaging, and productive for everyone.
Start your meetings with intention, focusing on people first. This doesn't have to take long either.
In less than 3 minutes you can:
Share something you're proud of
Ask any questions you have for the team
Spotlight someone you want to recognize
Sometimes it can be hard to remember there are people behind a screen. Taking time to connect with your team will help your people feel seen, valued, and understood. This will not only improve the employee experience, but build and reinforce a positive remote company culture.
Check in often.
Working remotely means communication has to happen intentionally—you're not gonna naturally run into Jordan at the water cooler, so you have to make time to check in.
And you'll want to communicate more often than you might think. Set up time weekly to check in with your remote employees. This can be for formal one-on-ones or informal chats to touch base and see how things are going.
Use these check-ins to ask about your employees' goals, see where they are on key projects, and take a temp check on their wellbeing.
Consider asking:
What are you working on?
What are your top 3 priorities?
What are you looking forward to?
What are you wrapping up?
How are you feeling this week?
Regular check-ins can give you important insight into your employees' performance, workloads, stress levels, and general wellbeing. The better you understand their needs, concerns, and current work experience, the better you can support them and ensure resources and assignments are appropriately allocated across the team.
Clarify expectations early and often.
Successful remote team management relies on clear communication and expectations from day one. With team members spread out across locations and even time zones, it's crucial to have clear policies, processes, workflows, and communication standards so everyone is on the same page.
Set expectations for when and where to communicate project updates.
What platform are you using to track assignments?
When do team members need to be available for answering emails, team chats, or group meetings?
Who do they check in with when they have questions?
When people know what is expected of them and have the tools and information to do their jobs, productivity will go up and conflict will decrease.
Working with remote teams
The truth is, work looks a lot different than it did even just one year ago. Today, organizations are experimenting and adjusting to a variety of team arrangements. Whether your teams are 100% remote, in-office, or something in between, managers will have to navigate new norms and team dynamics.
Remote Manager
In-Office Manager
Remote team
Hybrid team
In-office team
Remote team
Hybrid team
In-office team
Managers are the frontline leaders that help their people understand what they need to do and why. When teams work remotely, the human element of management can get lost by distance, and you can lose the context of what's happening. That's why it's crucial to understand the unique dynamics of remote work and leverage the right tools to bring people and their work together.
---
Managing and engaging employees can be difficult under normal circumstances. Add remote or hybrid work environments to the mix and your managers may need support and guidance. Bridge the remote gap with these best practices and level up your remote management with Quantum Workplace.