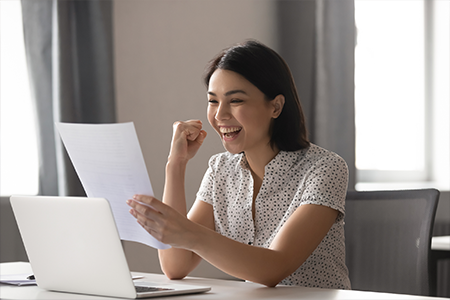 Are your employees sticking around?
Turns out, keeping employees is often harder than hiring them. But employees are a valuable (and steep) investment for your company and the future of your business. So hiring the right people and keeping them for the long haul is crucial to building a successful business.
In this article we'll cover why employee retention is important, plus how to improve employee retention at your company.
Why is employee retention important
Turnover costs U.S. companies $1 trillion a year. Yep, you read that right. One trillion dollars—and one trillion reasons companies should prioritize employee retention efforts.
Why such a high price tag? When employees leave a company, there are a number of costs to account for, including:
Time and money to replace the employee (including recruitment and onboarding of new talent)
Lower morale for employees left behind
Reduced productivity during hiring and onboarding stage
Lost expertise and company knowledge
In fact, replacing an employee can cost from one-half to two times the employee's annual salary, according to Gallup's estimate. On the other hand, companies who keep their employees longer, see benefits beyond hiring and training costs.
Employee retention leads to:
Better customer experiences
Consistency and momentum across teams and the organization
Stronger company culture (which supports employee engagement)
And when turnover is low and engagement is high, companies can more easily attract the right talent for the job. In other words, it's in your company's best interest to take care of your employees and find ways to boost retention and engagement at every opportunity.
How to improve employee retention
So how do you reduce employee turnover? There's no one right solution. Instead, you'll need a multi-pronged strategy to build engagement and boost employee retention over time. Here are 5 ways to get started.
1. Hire the right people.
Our research found a strong connection between employee engagement and employee turnover.
Disengaged employees were 3.3 times more likely to leave their company within 90 days of the survey compared with highly engaged employees
After 180 days post-survey, disengaged employees were 2.6 times more likely to leave the organization
1 year after the survey, disengaged employees were 2.1 times more likely to leave their organization compared with their highly engaged counterparts
That's a huge investment of time and money in recruiting and training costs for just a few months of work. That's why it's so important that companies invest in the right hires from the start. To avoid mismatches in skills and role responsibilities, communicate your expectations clearly and pay attention to possible misalignments in experience and culture.
2. Optimize the onboarding experience.
Once you're confident you found the right match for the job, it's time to onboard and train them. But onboarding is more than just signing a contract, taking an office tour, and setting up the employee's desk.
Your onboarding process should be strategic and "last at least one year to ensure high retention" according to SHRM.
The onboarding process should target several goals:
Reinforce a positive first impression
Set clear expectations for their work and future at the company
Communicate what to expect the first week
Connect new hires to the team and help them build relationships with coworkers and colleagues
Provide structured opportunities for

new hires to offer feedback

on their job, company processes, and culture
Start planning for their long-term future and development at the company
How does your onboarding experience stack up?
3. Create a culture of recognition and feedback.
Employees want to feel valued and appreciated for their contributions. And building a culture of feedback and employee recognition can go a long way to helping employees feel seen and heard—and less likely to seek that validation elsewhere.
Here are a few ways you can build recognition and feedback into your company culture:
Practice continuous listening—use annual and pulse surveys to gather employee feedback.
Hold regular one-on-ones with employees—review performance together often, offer (and ask for) feedback, and discuss career development with employees.
Create an employee recognition program—Build recognition into your culture through peer-to-peer recognition, public and private praise from managers, and company awards or shoutouts.
4. Develop your employees.
Employees want to know they have a future at your company. If they don't see it, they'll look for it somewhere else.
That's why employee development is key for engaging and retaining top talent year after year.
Prioritize internal hires and promotions when possible

Provide opportunities for coaching

and mentorship
Make long-term employee goals and development a part of your regular performance conversations
Communicate with your employees to understand their goals and expectations for development. Where do they see themselves in five years? What skills or experience do they hope to gain? Be sure to let them know what opportunities are available to them, including training, mentorship programs, and education support.
5. Act on insights from exit surveys.
You can't avoid some employee turnover. But whether you have high turnover or low turnover, you can gain important insights from employees on their way out the door.
Use exit surveys to get direct feedback from your soon-to-be ex-employees on exactly why they're leaving and what suggestions they may have for improving the company. You might be surprised what you learn.
---
Attracting and retaining top talent isn't easy. But one is definitely more costly to your business than the other. Find out how you can improve employee retention with Quantum Workplace.