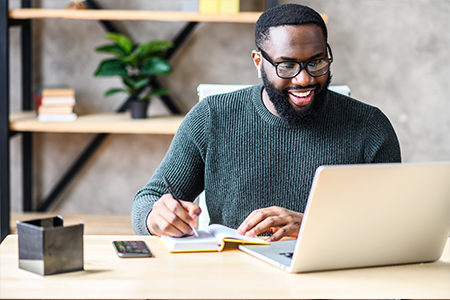 When teams transition to a fully hybrid or remote work structure, leaders may wonder how to know if their remote employees are working. This can result in micromanagement behaviors and monitoring of remote employees—but no one wants to have their boss hovering over their shoulder (literally or remotely).
So how can you make sure your remote workers are working and meeting performance expectations when you aren't together in an office?
It starts with trust. Instead of focusing on monitoring and micromanaging each part of a remote employee's workflow, leaders should focus on building trust and empowering their team to succeed.
Discover how to boost employee performance while remote and develop successful teams no matter where they work.
How to boost employee performance while remote
Don't let distance spell disaster for employee performance. With the right tools and strategy in place, you can not only maintain performance standards but exceed them with your remote teams.
Here's how:
Stay connected with regular one-on-one meetings.
When your team is remote, building connections is crucial to cultivating and maintaining a good employee-manager relationship.
One-on-one meetings are a powerful opportunity to connect with your employees individually, get to know them, and work with them to solve problems, answer questions, and move the work forward. And just because you can't meet in person, doesn't mean these meetings are no longer important—but they are different.
To run an effective remote one-on-one meeting you will need to:
Rely on tools like video conferencing that help you meet face-to-face in real time. Whenever possible, leave your video on so you can build a more natural rapport and express yourself more clearly.
Increase the frequency of your one-on-ones in order to stay updated and connected with your remote team. When you don't see people in person at the office, communication can break down in between meetings. By increasing the cadence of your meetings, you can help prevent things from falling through the cracks and identify opportunities to support your team members as challenges arise—instead of weeks afterward.
Keep shared notes of the meeting so you and your employee have a clear record of what you discussed, action items and takeaways you left with, and next steps. This will keep everyone on the same page and ensure you have the right context when you meet again.
Align teams with flexible goals.
Goals are an important tool for remote employee performance management. Goals are helpful no matter where your team is located, but when working remotely, setting and tracking team and individual goals can help you measure progress and get clarity on performance gaps and opportunities.
Work with your remote teams to align team goals with organizational priorities and individual goals with team objectives so your people are always working together to drive the business forward.
Keep in mind that remote workers typically work from home and may have flexible schedules and different needs for resources and support. This can impact how you set and track goals, so make sure you're communicating with your team members regularly to check in on their progress, identify potential roadblocks, and adjust their goals as needed.
Build trust with critical, performance feedback.
Giving and receiving feedback can be difficult. And working remotely can make it even more challenging when you aren't in person to deliver it. But it doesn't have to be a stumbling block to remote performance.
Employees who receive frequent and continuous feedback are 2.7x more likely to be engaged at work and more likely to feel motivated to perform. Use performance feedback as an opportunity to build trust and help your employees meet their goals.
Consider how often you normally give feedback with in-office teams. How often did you stop by their desk for a quick chat? How much time during a team meeting did you use to discuss progress on a project? Now, look for ways to replicate those feedback opportunities with your remote team.
This might look like:
5-10 minute daily "stand-up" meetings with your team to check in, get a progress report and clarify what needs attention that day.
Weekly or bi-weekly one-on-one meetings with team members to see how things are going and provide constructive feedback on ways to improve and opportunities to grow.
The key is to be consistent and make sure that whether feedback is critical or positive, it is always constructive.
Translate feedback into development opportunities.
Your people are your most valuable resource so it's important to prioritize and nurture their needs. That's where remote employee development comes in.
No matter where employees are working (whether in an office or remote), development opportunities play a key role in engaging and retaining top talent. Consistent employee development efforts will keep individuals and teams moving forward and focused on the future.
As you work with your remote employees, use one-on-ones and performance reviews to connect performance feedback to opportunities for growth and development.
For example, if you notice an employee struggling with remote presentations, you might suggest additional training or mentorship to help them build their presentation skills. Help them tailor their goals and development priorities around their performance gaps and use feedback to guide those conversations constructively.
Show your appreciation with real-time recognition.
Giving and receiving recognition builds trust between people, driving feelings of belonging and positivity. This is especially important for teams that are dispersed where their contributions may not always be readily visible like in-person teams.
Real-time recognition that celebrates values, contributions, organization success, and overall great work motivates employees to perform and encourages them to stay with your company.
Boost motivation and performance by looking for opportunities to build real-time recognition into your remote culture and processes. This can include peer-to-peer recognition, manager-to-employee recognition, private, anonymous or public recognition.
Pro Tip: Peer recognition empowers all employees to participate—building team trust and connection—and helps employees stay aware of what and who needs to be recognized when coworkers aren't closely connected by proximity. In other words, relying only on leaders for recognition means you're missing an untapped source of "eyes and ears" available to you.
Identify talent risk with strategic talent reviews.
Talent reviews help managers and leaders assess and understand the state of their talent resources by identifying who are top performers, who's ready for promotion and who might be a retention risk.
This is an important tool for managers of remote teams because, even though remote workers report feeling more engaged working from home than in an office, they also tend to be at higher risk for turnover.
Talent reviews can help you bridge this engagement and retention gap so that you can support and recognize your best performers and take more strategic steps to support and develop talent risks so they are more likely to engage.
Managing remote employee performance will look a little different than in-house management—but that's okay! With the right mindset, processes, and expectations in place, you can boost performance without becoming an overbearing leader.
---
Use these tips to drive performance and engagement and build a successful remote team from anywhere. And for more information, check out our ebook—Coaching Employees for High Performance.