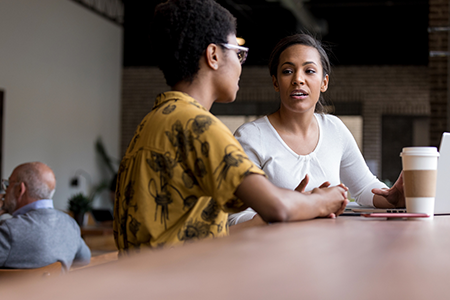 Many organizations have come to understand the value of continuous one-on-one meetings. But it can be difficult to strike the right balance between frequent feedback and micromanaging.
When done well, the check-in meeting can set the foundation for healthy manager-employee relationships and drive engagement and performance.
In this blog post we will answer:
What is the purpose of a check-in meeting?
Why are check-in meetings important?
How often should you have them?
What makes for an effective employee check-in?
What is the purpose of a check-in meeting?
As the name implies, a check-in is an opportunity to touch base with your employees.
Unlike a formal 1:1 meeting, which typically reviews performance, goals, and employee engagement on an annual, quarterly or monthly schedule, a check-in meeting focuses more specifically on the day-to-day needs, progress, and mentality of your team.
A check-in meeting helps managers get updates on current projects and challenges, reinforce team objectives, and uncover potential engagement issues as they arise.
In other words, a check-in lets you take the pulse of your team.
Both formal 1:1 meetings—or performance reviews—and more frequent check-in meetings are important for maintaining a constructive relationship with your employees, keeping performance on track, and aligning work with team and company goals.
Why are check-in meetings important?
Daily or weekly check-ins are an important tool for managers to connect with their team members, identify potential issues early, and adapt to changes or updates accordingly.
This provides some key benefits:
Employees can confidently perform their work and get relevant feedback as they go.
Managers can more easily direct projects and course-correct when needed.
Organizations can adapt to changing circumstances and be more competitive than those that are slow to respond.
But more than that, check-in meetings reinforce key drivers of employee engagement.
An article in Gallup Business Journal explains that high-performance managers create an engaging and productive work environment by:
Being involved in their employees' work lives
Helping employees set goals and prioritize their projects
Holding employees accountable for their performance
A check-in meeting helps managers do all three.
Perhaps the biggest advantage of the check-in meeting is that it builds trust and connection between you and your employees—which are key drivers of employee engagement.
In fact, Gallup found that when managers know what projects or tasks employees are working on, employees are almost 7x more likely to be engaged than actively disengaged. However, when employees feel they are largely ignored by their bosses, they are 15x more likely to be actively disengaged than engaged.
How often should we have them?
Okay, so we know check-in meetings are important. But how often should you check-in with your employees? There can be a fine line between checking in and micromanaging. So how do you avoid over-managing your team?
That, of course, will depend on your team needs and culture. For instance, remote or distributed teams may benefit from more frequent check-ins to keep everyone on the same page and to promote unity when team members and managers don't interact in person.
Daily and weekly check-in meetings are both great ways to touch base with your employees.
Daily Check-In Meeting
A daily check-in meeting is basically a chance for employees to report brief status updates. This can happen in person, online via chat, email, or video, one-on-one, or in a team stand up meeting.
The outline can be as simple as:
What are you working on today
What do you plan to tackle tomorrow
What do you need help with
It's an opportunity for managers to quickly understand the priorities and needs of the day, and for employees to be accountable for their work.
Weekly Check-In Meeting
A weekly check-in meeting is a similar but more in-depth progress report. It should act as a kickoff for each employee's weekly priorities, plus a recap of the previous week's accomplishments and areas of improvement.
Like the daily check-in, weekly check-ins can be conducted in-person or virtually, as a team or one-on-one with the manager.
Depending on the needs and dynamics of your team, you may want to do a combination of team check-ins and one-on-one check-ins. This ensures employees understand what their team members are working on—improving alignment—but also gives individuals the space to get personalized feedback or address more private concerns.
What makes a check-in meeting effective?
Check-in meetings may seem straightforward, but it's easy to get bogged down in the weeds if you're not careful. For best results, your check-ins should be:
Brief and to the point
Expected and planned for
Concluded with concrete takeaways
When conducting a check-in meeting, it can be tempting to delve into lots of questions or provide more in-depth feedback. However, check-in meetings are intended to be brief and specific. Keep the agenda light and narrowly focused. If there are items that need more attention, take notes, and schedule a separate one-on-one meeting with your employee later.
Schedule check-in meetings on a regular cadence so everyone can come prepared and no one ever feels blindsided. When employees know what to expect and when to expect it, they can provide more meaningful updates and thoughtful feedback.
Finally, make sure your check-ins end with clear takeaways and action items. Everyone should leave a check-in knowing what needs to be done when it needs to be done, and who is responsible. This not only prevents key tasks from falling through the cracks but also makes it easier to track performance and hold people accountable for their work.
Whatever frequency or format you use, remember that check-in meetings are as much about building relationships as they are about managing performance. When you check in with your employees, pay attention to their questions, concerns, and challenges, and work together to find solutions. The better you can approach your team with humanity and fairness, the happier and more engaged everyone will be.
---
To see a big impact in your next one-on-one meeting, download our Big Book of 350 One-on-One Meeting Questions.