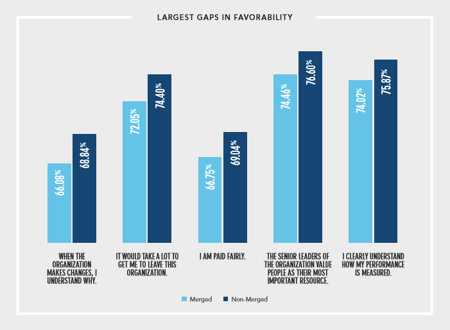 Are you ready, HR? We're talking mergers and acquisitions.
After a busy 2016 and 2017 in the M&A world, 2018 has already been predicted to increase the trend line. According to a recent M&A study by Deloitte, 35% of respondents expect deal activity to increase, and 63% expect deal size to increase.
When combined with our own research, this trend leads to some startling conclusions. Stark differences emerge between employees who have undergone a merger in the last 12 months and those who haven't. Check out the favorability of the survey items in the graph.
Really, all of these items come down to one core deficiency: Employees who have been through a merger need more communication and clarity. Failure to properly handle organizational change leads to disparities like above, less engaged employees, turnover, and ultimately, the failure of your merger or acquisition.
Let's avoid all that and tackle these miscommunications, one item at a time.
When the organization makes changes, I understand why.
When trying to identify why mergers and acquisitions fail, this is the big brother of all the other miscommunication. Your organization has gone through substantial change, and employees don't have clarity. No clarity means unpredictability; and unpredictability makes employees anxious. Make sure you have a proper internal communication system in place from the very beginning, and be open to employees asking questions (such as public forums). Also, encourage managers to address questions in one-on-one meetings, in case questions are about more sensitive subjects.
It would take a lot to get me to leave this organization.
Humans are creatures who like security and stability, and a job is something that MUST be predictable. When it's not, employees are more subject to the "push" (internal pressure) and "pull" (external offerings) that cause turnover. Combatting this is simple – just ask. In fact, exited employees are 4.2 times more likely to tell you that they are leaving. If you know that an employee is thinking about leaving, you can nip any workplace frustrations in the bud.
I am paid fairly.
With two new pay structures colliding, it's no wonder that employees are uncertain about the fairness of compensation. All organizations are organized differently: some organizations provide yearly raises based on tenure; others use quarterly bonuses derived from performance goals. Get everyone on the same system (drawing from both cultures) as soon as possible, and explain how the changes will affect each person.
The senior leaders of the organization value people as their most important resource.
Caring leaders value employee feelings and concerns above their own, and they take the time to discover what those are. Encourage your leaders to hold listening sessions, take some front line employees out to lunch, or write an email to everyone in their department.
I clearly understand how my performance is measured.
Ditto much of what was said in "I am paid fairly." Different employees are used to different things, and you need to make performance communication a priority. Without goals and feedback, employees will stagnate, which has caused the failure of many a merger.
After experiencing a merger or acquisition, employees need extra communication and attention to ensure performance and fight attrition. But mergers and acquisitions aren't the only danger to workplace communication - check out the research, below!