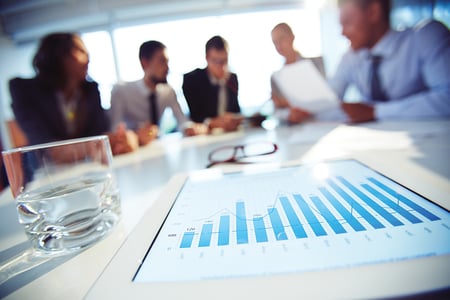 Organizations in the finance and insurance industry are changing rapidly. With advancing technology and changing customer preferences, it's been tough for leaders to focus their energy on attracting and retaining talent. And with the pandemic amplifying poor industry perceptions that have been around for years, attracting and retaining top performers has become even more difficult.
Organizations in finance and insurance often struggle to:
Build an inclusive and attractive company culture.
Create an environment that effectively motivates employee growth and productivity.
Successfully compete in a war for top talent.



To tackle these challenges, forward-thinking companies are taking advantage of engagement and performance tools to maximize employee success and business outcomes. And with these tools, organizations in the finance and insurance industry can make more informed talent decisions.
In this article, you will learn how to find technology that helps you execute your engagement and performance initiatives. Plus, how to seek out tech that's appealing to your employees and gives leaders valuable data and insights.
When these components are prioritized, you can celebrate a growth-oriented company culture that engages and attracts top performers.
Find tech that helps you execute your employee engagement and performance management strategies
Companies in the finance and insurance industry often have outdated systems that take a lot of time. That's why it's important to set yourself apart by leveraging your time and resources with tools that make an impact. A streamlined employee listening platform and performance management tools can help you drive your initiatives to promote company-wide success.
Uncover employee perceptions with surveys
Understanding how your employees feel is important, especially during a time when a fierce competition for talent can threaten your employee retention initiatives. That's why building a foundation to empower and engage employees at work needs to be a priority for industry leaders.
An effective employee survey platform helps leaders measure, evaluate , and act on employee perceptions. And when you ask for and act on feedback, employees feel included, important, and a part of the bigger picture. Leverage these three types of surveys to get insightful and relevant results you need to build a strong company culture:
Engagement surveys measure annual engagement across all teams.
Pulse surveys gather real-time feedback at company-wide levels.
Lifecycle surveys uncover employee perceptions at key-points of their tenure.
Drive performance with the right tools
Creating an inclusive and engaging culture is not possible without fueling employee growth and performance. And a modern performance management system can help you drive your initiatives. The top-down, hierarchical approach to performance management is outdated, and growth-minded companies know that they need to evolve their systems.
With the right tools, you can build a culture that creates clarity around performance, holds employees accountable, and keeps teams aligned. Implement performance management technology with tools like:
Goal tracking to motivate, align, and increase visibility across the entire organization.
1-on-1s to streamline the conversations that help employees develop, grow, and succeed.
Talent reviews to bring talent gaps and roadblocks to the surface.
Recognition to boost employee morale and elevate wins to the entire organization.
Find appealing tech that your managers and employees want to use.
When your tools are lackluster and difficult to use, employees may think they're a waste of time. And when your employees don't have buy-in, your tools go unused and your engagement and performance strategies suffer.
When you implement the right system, your employees can easily take part and build these programs into their routine. A simple and seamless user experience helps eliminate any employee hesitation and promotes company-wide adoption. Plus, organizations can bring their branding into the user experience to increase familiarity and promote the technology's appeal.
Your platform should eliminate the difficulty and administrative burden that HR faces with outdated technology. Automated notifications, in-tool nudges, and a mobile application enables managers and employees to participate at their own convenience, whenever it suits their schedule. Your streamlined experience should eliminate any technological complications or confusion to make the process seamless for everyone.
Leverage the right tech to uncover the people data you need.
When trying to retain and hire from a talent pipeline that's skilled, sophisticated, and highly educated, companies in the industry need to brand themselves as an employer of choice. And with the right technology, leaders can understand how to improve the employee experience and promote company-wide success.
At-a-glance performance and engagement data helps leaders visualize where the health of the organization stands to make smarter people and business decisions. Your people analytics tools will uncover company-wide trends, giving HR the insights they need to drive talent retention and organizational growth.
Leverage the right technology to uncover meaningful metrics, maximize business outcomes, and have a true impact on your organization.


---

Interested in learning more? Check out how Quantum Workplace is helping finance and insurance companies like yours drive business success with engagement, performance, and intelligence tools today.