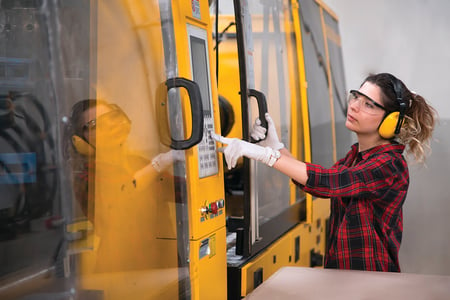 Industrial organizations are experiencing a pressing talent crisis. Leaders are trying to maximize productivity and efficiency amidst labor shortages, leaving little time to prioritize communication and company culture. And with your frontline workers deskless and dispersed, communication and alignment across the organization is difficult.
With this in mind, industrial companies face three major challenges:
Attracting and retaining workers.
Building a culture of trust, connection, and listening.
Prioritizing communication and alignment from corporate to frontline workers.



To navigate these challenges, companies are leveraging engagement and performance tools to tackle their problems head-on. With these tools, companies can gain comprehensive insight into the employee experience to make stronger decisions about their workforce.
This article will outline what industrial leaders should be looking for in engagement software. Of course, the right technology should help you execute your engagement and performance initiatives, but that's not enough. It's important that your technology is appealing to your teams and provides valuable data and insights about the state of your workforce.
Discover tech that supports your employee engagement and performance management strategies
Your time and resources are important—don't simply go through the motions when it comes to your engagement and performance strategies. Implement an employee listening platform and performance management tools to drive engagement, performance, and output.
Get a Pulse on Employee Engagement Through Surveys
Capturing the employee voice is important—especially in manufacturing—where managers often have a difficult time understanding their large, hourly workforce. But leaders need to understand the perceptions of their employees to boost engagement and retention, and a robust engagement platform can help.
The right employee survey technology provides streamlined surveys to measure employee perceptions in an Industry 4.0 world. And an effective platform helps capture the employee voice, anywhere and anytime, to understand and drive employee engagement. Leverage these three types of surveys for thorough, insightful results:
Engagement surveys measure annual engagement across your entire workforce.
Pulse surveys collect prompt feedback in real-time at team and company-wide levels.
Lifecycle surveys provide visibility into key moments in an employees' tenure.
Motivate performance with effective tools
While having survey expertise that you and your workforce trust is important, finding helpful performance tools will boost output, efficiency, and safety. Plus, with flexible performance processes that suit all employees, you can improve company culture through increased trust and communication at all levels of the organization. When these metrics are prioritized, your retention rates will soar.
Implement performance management tools with features like:
Goal tracking to drive motivation, visibility, and alignment all the way from the C-suite to the frontline.
1-on-1s to provide feedback, communicate priorities, and drive employee growth among every member of your large workforce.
Talent reviews to uncover talent gaps and roadblocks to increase productivity.
Recognition to connect corporate and frontline workers by elevating wins to the entire organization, while boosting employee morale.
Find accessible tech that your managers and employees are excited to use.
When your tools are unappealing, inaccessible, or difficult to use, employees often write them off as useless or unimportant. And when your tools go unused, you can't carry out your strategies or get the insight you need to maximize business success.
With a streamlined system in place, employees can easily build these programs into their routine. A seamless and easy user experience helps promote regular usage of your tools among employees. And with customizable tools, organizations can bring their branding into the user experience to further promote the software's appeal.
But your platform shouldn't just be seamless for frontline employees—it should also take the stress and administrative burden off of your HR team's shoulders. With automated notifications, in-tool nudges, and a mobile application, managers and employees can leverage tools anywhere, anytime.
Not only does this decrease administrative burden, but it suits manufacturing's deskless, fast-paced environment. With our tools, your frontline workers can access them at their own convenience, without leveraging advanced devices at home or at work. This makes tool usage a more realistic request for employees who may not have resources like home WiFi or a personal email account. And when your workers are able to access tools at a wide-spread scale, you can uncover data and insights to further increase engagement and boost retention.
Uncover impactful data and insights with the right technology.
When trying to retain and hire from a talent pool that often struggles with loyalty, top industrial companies need to improve their employer brand to drive attraction and retention. And with effective technology, leaders can visualize engagement and performance data at-a-glance to understand where their initiatives are falling short, and where they can improve the employee experience.
HR leaders in industrial organizations should use people analytics tools to understand the entire workforce, from frontline to corporate employees. By uncovering the trends that help leaders make smarter people decisions, HR has a clear path to drive retention and business outcomes. Take advantage of this opportunity to elevate your role as an HR leader and drive employee, team, and business success with the right software.


---

Interested in learning more? Check out how Quantum Workplace is helping industrial companies like yours drive business success with engagement, performance, and intelligence tools today.