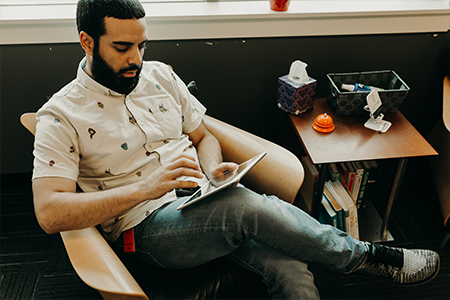 Your employee engagement survey provides a wonderful overarching view of your organization, highlighting strengths and areas of opportunity.
But sometimes this is where collecting valuable employee feedback ends for many organizations. Often, once your survey closes, your feedback loop closes too.
Pulse surveys give employees a voice and an opportunity to share their opinions in real-time. Pulses allow organizations to quickly round up employee feedback on any topic, issue, and idea. They create ongoing communication, build trust, and ensure everyone is on the same page.
This blog will help you choose the right items for your pulse survey questionnaire, including:
4 steps to conducting an effective pulse survey
How to design your pulse survey questionnaire
Do's and don'ts of choosing your pulse survey questions
1. Set the purpose of your survey.
Pulse surveys can be about any topic. We recommend using a pulse survey to:
Track progress on engagement initiatives
Evaluate leadership accountability
Gather feedback before, during, or after change
2. Identify your participants.
Be very intentional about your survey audience. Bigger decisions might require company-wide feedback, while smaller ones may only affect a small group of employees. Determine if this pulse survey will impact:
Your entire employee population
Specific departments or teams
Specific groups of unique individuals, such as new hires or remote workers
3. Set a timeline.
Pulse surveys are fast and flexible, but that doesn't mean you should constantly ping employees. Take these guidelines into consideration when conducting a pulse:
Only survey as often as your organization can act on feedback
Administer based on your organization's culture
Complement the timing your annual engagement survey
4. Construct impactful questions.
These surveys are generally 5-15 questions and shouldn't take more than five minutes to complete. Consider selecting pulse survey questions about:
Leadership accountability
Change management
Engagement levels and initiatives
Designing your pulse survey
Pulse surveys should center around one or two key topics of interest. Addressing too many topics in such a short survey can be overwhelming for respondents, which may decrease the meaningfulness of their responses. Covering several topics also makes it difficult to develop a deeper understanding of the few specific topics that are most important to you.
By focusing on just one or two ideas within your pulse survey, you can create a sense of focus to the survey's overall structure.
Beginning: Broad, easing respondents into the topic

Middle: Focus in on targeted sub-topics

End: Narrow and specific themes, regardless of survey length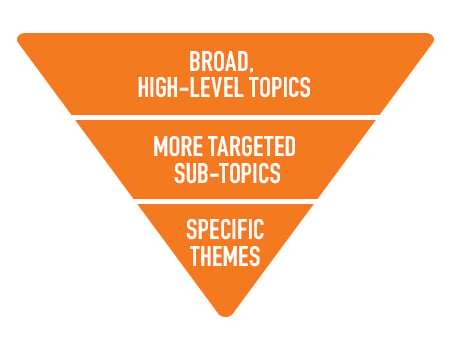 This structure is referred to as an inverted pyramid. Surveys begin with a wide, high-level scope and zoom in to more specific themes and sub-topics. Think about how the questions can build on each other, and how results from one question may inform or relate to other questions during data analysis.
Choosing the right pulse survey questions
With such a small window of opportunity it's important to select questions that help you collect the data you are looking for. Consider these do's and don'ts when choosing the right pulse survey questions:
Do

: Use scaled agreement questions.
Don't

: Use yes or no questions.
While yes or no questions are as simple as you can get when it comes to survey questions, they don't always return the most valuable information. Responses tend to be a little more informative when the types of questions use an agreement scale like strongly disagree to strongly agree.
Do: Select two specific questions.
Don't

: Write two questions in one.
To keep your survey simple and easy to comprehend, your questions should get straight to the point. If you've just written a longer survey question, can it be split into two or more questions? See what questions you can parse out of a greater one that give you more meaningful responses.
Do: Add questions that you can learn something from and follow up on.
Don't

: Add questions that are only informative in nature.
Asking for feedback before an event can also be valuable but sending out a pulse a few days before an event doesn't give you enough time to act on results. Cushion your planning process with an extra week or so to survey, collect, and act on data received.
Do: Send a follow-up survey within 48 hours of an event.
Don't

: Send a follow-up survey more than 48 hours after.
We only retain 20% of the training we experience. And the longer time passes, the less we recall. The same could be said for insightful feedback. If you want to use a pulse to gather feedback about a past event, it's important to survey while the information is still fresh. Waiting too long may make the responses less credible.
Do: Use the same number of responses across question types.
Don't

: Use a different number of responses across question types.
Response options are what respondents interact with when filling out surveys, so it's important to have a keen eye for detail when determining your selection.
Scaled agreement questions can have anywhere from 3 to 11 response options to choose from. But when building your pulse survey, consistency is key. Using the same number of response options will help your employees answer questions more efficiently and accurately.
It can also be helpful to make sure all response options are the same—such as "never" to "always" or "very dissatisfied" to "very satisfied." It can be confusing for respondents to answer questions with a variety of answers to choose from. Maintaining consistency can greatly enhance data quality and analysis.
Do: Offer 4-7 responses per question.
Don't

: Offer 20+ responses per question.
Every response option should be meaningful. Including only a few options to choose from means that respondents may be forced to select an option that doesn't represent their opinion or perception. Even worse, they might simply skip the question.
On the other hand, having too many options may make the question meaningless. A 4- to 7-point response scale allows enough options to be specific, but not so many that the difference between one option to the next is meaningless.
Do: Create an option for other responses.
Don't

: Include only definitive options.
For questions that involve choosing one option from a list, think about including options that allow respondents to fill one in. Having the option for respondents to freely generate their own choice can be empowering and may offer new ideas that you hadn't considered.
Do: Make sure all employees can respond.
Don't

: Limit response options and excluding participants.
Include a response option that allows employees to take an out when appropriate. These response options are generally "I don't know" and some form of non-applicability response. Otherwise, you might receive inaccurate data when respondents choose options that don't apply to them or missing data if they don't respond at all.
Do: Create exhaustive and inclusive responses.
Don't

: Confuse respondents with overlapping responses.
Make sure response options don't overlap. This is most appropriate to consider when creating questions that have numeric response options, such as number of hours. If respondents are asked how many hours they worked on a certain project, and the response options are 1-5 hours or 5-10 hours, then respondents who worked exactly 5 hours can choose both options.
To avoid an overlap, make sure each response is the only one that could be selected. 1-5 and 6-10 hours are mutually exclusive and will enhance the accuracy of your data.
---
To get started building a pulse survey questionnaire, download our Pulse Survey Templates. Save time and leverage expert advice for when and how you should use each template.