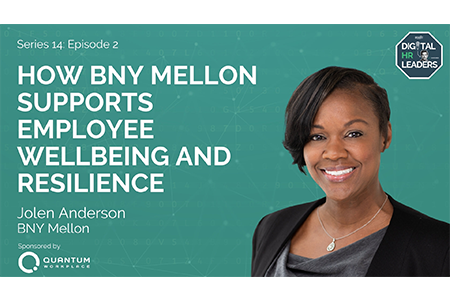 BNY Mellon is America's oldest bank—which has allowed them to be at the center of helping financial services and markets thrive at scale.
When the pandemic broke out, like many organizations, BNY Mellon had to quickly transition most of its employees from working from home to being fully operational and open for business anywhere in the world.
The company had to determine how to scale and drive operational wellbeing and resiliency in a way that empowered their clients and employees. A digital, people-first culture allowed them to implement forward-thinking solutions to achieve employee, team, and business success.
In this blog, we share insights from this episode of the Digital HR Leaders podcast—featuring David Green, Director of Insight222 and Jolen Anderson, Global Head of Human Resources at BNY Mellon.
We cover employee wellbeing best practices from BNY Mellon, including:
How to nurture resilience and inclusion as competencies
How to approach people transformation with intentionality
How to nurture resilience and inclusion as competencies
Now more than ever, employers need to create a space where, culturally, people feel like they can truly bring their best to work. Employees should feel enabled to focus on the needs of your customers and business.
Building employee resilience
Resiliency was highlighted at the onset of the pandemic, and according to Anderson, the concept of resiliency is really a competency.
She says, "It is really a skill that we need to think about ensuring that we both assess, but also support our leaders for being able to demonstrate that skill in the future."
Personal resiliency—the ability to adapt and navigate through both challenges and change—was going to be important and is the skill of the future, because it is what leaders need in this moment to help ensure that they are enabling their workforce for success.

Jolen Anderson, BNY Mellon
Thinking about resiliency as a competency gives leaders the chance to get back to good old-fashioned HR. There are tried and true ways to build skills, plus the interventions to help enable that competency, such as:
Learning and development initiatives
Engagement with managers
Managing remote workforces
Measuring perceptions of resiliency
Using digital tools to support employees

Provide resources that support the whole person.
When thinking about employee support, it's more than support from managers and leaders, but also what is happening in their personal environments. Our work and home lives are more connected than ever.
BNY Mellon wanted to provide initiatives that would help individuals take a pause to reclaim their time, including:
Caregiver leave

Childcare opportunities like virtual summer camps

Telemedicine

Resources to help employees assess sleep and workflow
All were solutions and tools they put in place to support the concept of resiliency. From there, they designed interventions that helped ensure individuals could grow the skill and competency.
Create connections.
When change happens, everyone in your organization is impacted. Aim to create supportive environments where employees can feel comfortable and vulnerable. Encourage leaders to make a commitment to share experiences, admit flaws, check-in on team members, and step away if needed. Your organization is a collective community that can only succeed as a unified team.
Communicate often.
It's important to maintain a steady drum beat of messages to your organization. Continuously communicate where to find and how to use different resources and tools. Beyond spreading the word, encourage leaders to become role models by expressing more and practicing vulnerability. This helps create a safe space for employees, to raise their hands and take advantage of the resources available to them.
Upskill your people leaders.
Employees are being challenged in ways that they have not been in the past—especially managers. There are more demands to:
Deliver on team results

Contribute to the organization's bottom line

Lead in this moment

Support high-performing teams
When you are managing people virtually it's important to be intentional about employee wellbeing, but many managers were thrown into hybrid team management with little to no experience. Here are a few ways to enable your managers.
Conduct frequent pulse surveys.


Take a pulse on a particular team or manager. Collecting this feedback can help you better understand whether a team is undergoing pressure or stress, or if a manager is struggling and needs support.


Make data-driven decisions.
Many organizations are participating in more regular surveying and data collection. This helps HR leaders understand things such as gaps or breakdowns in communication among teams. Using data and digital tools helps you identify insights and nudges to better support employee wellbeing, burnout, and productivity.


Share HR tools and resources.
Make sure managers are aware of the resources that are available to them. Empower your HR team to coach managers to help them address team vulnerabilities or operational failures.


Align team performance to business outcomes.
If teams aren't operating effectively, it's going to impact your business. To deliver outstanding products and services, you must have healthy teams and managers. Ensure they have what they need so they can operate in the moment and deliver business results.
How to promote diversity, equity, and inclusion
The urgency for organizations to address diversity, equity, and inclusion has never been stronger, and the events of last year really brought that to life.
HR leaders are having a moment and are being called to accelerate the transformation of DE&I in the workplace.
DE&I is an initiative BNY Mellon has focused on for many years. In fact,
40% of new hires are women

45% of new hires come from diverse backgrounds

Out of 12 board members, 3 are women and 4 represent diverse ethnicity backgrounds, including three black directors
But according to Anderson, this progress didn't happen without "putting our money where our mouth is." From a philanthropy and from a skill-building perspective, Anderson's team focused on doing work in diverse communities.
Just like resiliency, Anderson believes inclusion is a competency too.
I think it is a skill that leaders can be held accountable for, that they can be supported to develop and that they can be assessed for, to think about what are those leadership qualities and profiles that are going to help get the best out of a workforce in the future. And inclusion must be one of those.

Jolen Anderson, BNY Mellon
So, how do you support an inclusive culture? Here are a few ways to help managers demonstrate a growth mindset and create a safe space for employees and teams.
1. Have courageous conversations.
When you think about the competencies you want to build in your organization, it's important to understand how you model that skill from a leadership perspective. This effort begins by having, sometimes, tough conversations with your executive team to understand how you can scale resources, tools, and interventions to affect broader populations. Explore the variety of experiences across your senior leaders and then model those conversations throughout the organization.
2. Provide regular training to people leaders.
Be intentional about supporting your organization, especially managers. Offer trainings like:
Unconscious bias training
How to have effective conversations

Inclusion as a leadership skill and competency

How to ensure that you can pursue your growth in diverse communities
3. Assess perceptions of DE&I.
Consider surveying your employees to understand areas of improvement when it comes to your DE&I initiatives. Then set goals to hold your leaders and teams accountable for making progress.
The investments that we made in mental health, the investments that we made in our healthcare plan, we didn't just do that for COVID, we did that on a permanent basis. We made sure that those were embedded in the ways in which we would be supporting our employees on an ongoing basis, the ways in which we have pivoted and responded to D&I, again, it wasn't accidental. It was accelerated.

Jolen Anderson, BNY Mellon
How to approach people transformation with intention
Intentionality is an important word. Be clear about your organization's vision for the future and the people strategies needed to help you get there. Then, you can use acceleration moments to intentionally drive a path to change and success.
No matter what path you choose to take, approach your strategies with intention to help you take your organization further along on the journey and become a permanent part of the culture that you want to establish in the organization.
HR leaders need intentionality, if you don't understand that business connection and what is going to be required from a people perspective, you are going to be much more responsive and reactive.
While it's okay to not have it all figured out, if you have a foundation of what's important to the organization you have principles to come back to. This allows you to be very intentional in the strategies and the solutions that you embed and that you approach.
We don't have all the answers. But we are clear that we want to create a culture where employees are prioritized, well-being is important, inclusion is part of who we are, passion, client excellence, and having the courage to lead is at our core. Being clear on those things allows us to embed solutions that support them and really sustain our organization for the long term.

Jolen Anderson, BNY Mellon
---
Change is constant. HR leaders will have to continue to adapt, be agile, and rely on employee wellbeing best practices to address the needs of their organization in the future. Download our research report on Workplace Wellbeing for more insights and advice for supporting employee wellbeing at work.