At any organization, employee engagement should be an ongoing program. From the time of hire to the time of possible exit, you should understand your employee lifecycle and be able to identify why your organization is or isn't recruiting and retaining top talent. If you fall at the bottom end of the talent management spectrum, you need the data available to find out how to best re-work your approach, and you need it yesterday.
You know the best way to collect this data is with surveys – an annua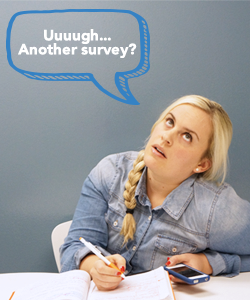 l engagement survey, frequent pulse surveys, and potential exit surveys. But add that on top of your other assessments, such as safety assessments, 360 reviews, opinion polls, performance appraisals, benefits satisfaction surveys, professional development surveys, etc., and you've got yourself a lengthy, burdensome process for employees and a hodgepodge of complex data for leadership. This process should be (and can be) easier.
Let's throw out the multiple initiatives. Do away with a cluster of data stored in multiple places. Stop making employees feel burdened, and start making them feel like they're participating in a smooth, organized feedback process. Here are five ways you can make your organization's survey administrations less burdensome to avoid employee survey fatigue.
1. Customize One to Replace Many
Is your annual employee engagement survey around the corner? Is it almost time for the quarterly safety assessment? Have you been wanting to take a few quick polls? Customize and consolidate. Consolidating gives you the ability to collect all the data you need in one survey.
Do you survey employees so you can be named 'The Best Darn Place Anyone Ever Worked' [or insert any of the hundreds of national competitions in which an organization can compete]? Donning a badge that gives your company a leg up in the competition for talent is a must, but employee engagement goes beyond that. Participate as a means to collect honest employee feedback, and the win will be a bonus. Worried about tacking on another survey? Find a partner that can turn your contest survey into a customized employee engagement survey, unique to your organization's needs.
2. Segment and Target
Do you have certain survey questions to ask only certain groups of employees? No problem. You can still use one survey. Leverage a tool that can handle dynamic demographics and data in order to show and hide certain survey questions for certain groups. The customized and selective surveys will get you the data you need without placing an unnecessary burden on employees.
3. Stick to a Consistent Schedule
We can prove that collecting engagement data at least once a year helps make more engaged workforces. But this doesn't necessarily mean you'll increase engagement if you roll out a survey every other day. Stick to a concrete schedule that your employees can get used to and expect. Conduct your customized engagement survey at the same time every year, and filter in pulse surveys to fill your data gaps. Then utilize a tool that allows for random, instant feedback for one-off questions or conversations, so you can remain in frequent, consistent contact with your employees.
4. Organize Your Results
Does all your data sync? If you're surveying here and there and anywhere, then the chance it's all in one spot for easy analysis is low. And when you don't understand your survey data, you're more likely to roll out additional surveys for clarification. If you aren't working with a partner that provides a one-stop shop for results, you should be. Find a partner that can take all of your survey results and present them in a way that's easy for you to understand and empowers you to take action. When you customize one survey to replace many, all of your collected data can be stored in one, easy-to-access hub or broken down into necessary segments for easy interpretation.
5. Find the Right Survey Partner
If you're really lucky, you can find a partner that allows you to customize your engagement survey to absorb other standard surveys, distribute pulse, onboarding, hiring, or exit surveys to fill data gaps, develop a consistent survey schedule, and create an all-in-one database for your survey results. On top of that, your partner should offer the tools to help you take and monitor action, and increase engagement. Imagine having all the answers and data in one place, for one analysis and one starting point for strategic decisions. Did someone say Easy Button?
To get the most out of your surveys, distribute comprehensive surveys consistently, not too frequently, and collect the data you need in real-time. Smart (and wildly successful) companies (think Google) know that without their people they're doomed for failure. Follow the trend and set your people up for success. Ask them what matters efficiently and effectively; then, let them get back to work. Engagement isn't rocket science; make it easy for you and your employees, so your organization can focus on what it set out to do in the first place.