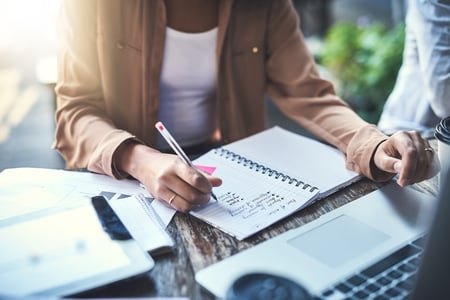 Employee goals are the driving force behind business success. A productive workforce needs effective goals in place that provide a clear path to success and motivate employees to make their performance initiatives a reality.
SMART goals can serve as a valuable tool to push action behind your overarching organizational goals. For employee goals to work for you and not against you, use a streamlined goal process that motivates and aligns your employees.
What are SMART goals?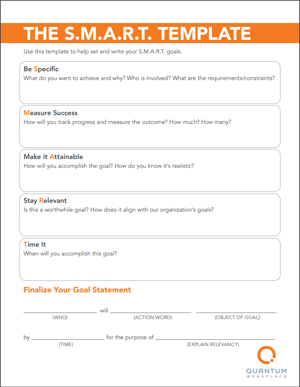 SMART goals have been around for decades, promoting accountability in the goal setting process. They provide a simple, easy-to-remember framework for team members to help easily plan out their goals.
SMART is an acronym that stands for:
S: Specific
M: Measurable
A: Attainable
R: Relevant
T: Time-bound
These components of the SMART goal framework provide a narrow focus with a clear definition of the goal. Plus, they allow employees to easily track their progress, align goals to the rest of the organization, and boost performance with a built-in deadline.
Consider these tips to make the most out of your team's SMART goals.
8 Tips for Effective Goal Setting
4 goal setting tips to use
1. Break down company-wide goals.
To successfully achieve long-term objectives, short-term key results need to be accounted for on individual and team levels. Deconstruct your organizational goals to provide insight behind who's responsible for what task. This helps align employees to bigger goals. Plus, it motivates them by providing an attainable path to larger organizational goals.
2. Provide clarity.
Ensure clarity is leveraged behind every initiative, big or small. By doing this, you can safeguard alignment within employee projects and ensure that everyone is on the same page. Plus, it helps employees understand how their actions shape the organization's goals.
It's critical that employees' individual responsibilities are clear. This prevents possible confusion that often leads to non-productive work. Check-in with employees often to ensure they are on the right path and encourage them to ask questions if they arise.

3. Keep goals adaptable.
Don't hesitate to update goals to reflect how you and your employees work. Simply adhering to what's on the calendar can demotivate employees and prevent worthwhile progress. Adapt when needed by adding sub or mini goals that drive progress to produce optimal results.
While the SMART goal template provides a good jumping off point, accept that goals might not always fit every component of the template's framework. Allow for flexibility that enables employees to reasonably accomplish their goals with a process adapted to their work style.
4. Collaborate with team members.
Projects are typically completed with 3-5 other people, so building goals jointly is critical to create accountability and ownership. Make sure everyone is on the same page and is comfortable with the goals that are set by building them out collaboratively.
4 goal setting practices to avoid
1. Playing it safe.
While SMART goals should be attainable, don't set goals just to play it safe. Ensure that goals are realistic, but allow your team members to reach their full potential. Instead of focusing on possible failure that could result from goal setting, focus on the growth and accomplishment that ambitious goal setting can bring.
2. Ignoring the past.
While SMART goals lay out many important components of an effective goal in their framework, they don't encourage goal-setters to look back on past set goals. By looking at the results of goals from the past and adapting, you can make your goal-setting process more efficient.
3. Lacking passion.
It's not always possible to get your employees excited about their goals. But when proper communication is leveraged, speaking to the importance of employee goals in the overarching success of the organization—motivation, accountability, and passion increases.
When employees don't create goals they are passionate and excited about, they risk losing motivation and interest. Safeguard your employees' productivity levels by connecting their goals to business success.
4. Setting, not tracking.
A key driver in accomplishing goals is tracking them. Don't think that you can simply set goals without holding yourself and your team accountable. While the SMART goal template provides a starting point, tracking goals with goal-setting software helps employees share achievements and setbacks as they happen.
When a goal setting template is leveraged alongside an efficient goal-setting software, leaders can stay on top of progress, drive productivity, and adapt in real-time. Consider adopting these tips to streamline your goal-setting process and make success a reality from top to bottom.
---
Ready to set goals that drive business success? Read more about our strategies to set result-driven goals.