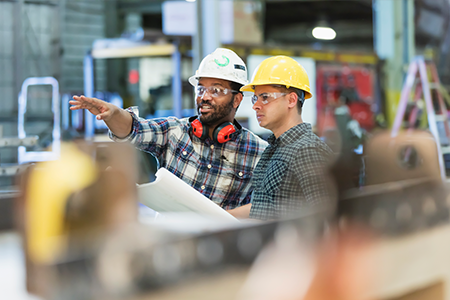 The labor shortages seen nationwide are alarming, and the manufacturing industry is no stranger to this issue. High industry turnover rates have made it difficult for leaders to leverage their talent for business success. Disruptions have made it difficult to close skills gaps, maximize productivity, and drive key metrics like quality and safety.
It's critical for manufacturing leaders to combat their retention problems with the right tools. But leaders need to first understand the root of their problems to act on them.
Turnover rates in manufacturing
Manufacturing saw record-high turnover rates in 2021. While voluntary turnover remained steady from 2018 to 2020—leveling at around 19 percent—2021 prompted major change. In the past year, voluntary turnover in manufacturing reached almost 30 percent.
Turnover brings about unwanted costs, low productivity, and decreased product quality. And with supply chain disruption from Covid-19 and digitalization causing increased disarray, workforce retention problems are the last thing manufacturing organizations need.
Moving forward, industry leaders need to make an effort to understand their retention issues and take appropriate action.
What's causing turnover in manufacturing companies
Maintaining a strong workforce in a Manufacturing 4.0 world has become increasingly difficult due to multiple factors. Understanding these problems is the first step toward curing your retention issues:
1. Low worker perceptions
Decreasing perceptions about what it's like to work in the manufacturing industry have made it difficult to attract new employees and retain current ones. And the dispersed, often disconnected workforce makes it difficult to get a pulse on worker perceptions and understand what's going wrong.
Some workers feel underpaid, while others wish the work was less monotonous and repetitive. Plus, many young people don't view manufacturing as a desirable job choice. This image problem poses a major issue, and 2.3 million manufacturing jobs could go unfilled by 2030, costing the industry $1 trillion in 2030 alone.
Changing the narrative around what it's like to work in manufacturing is needed, but that's only possible if leaders take action to make work better every day.
2. Lack of leadership communication
Employees need to understand what's happening within the organization and why. When employees don't understand the purpose behind changes, they lack buy-in, get anxious, and fill in the gaps themselves.
But with many shifts and leaders dispersed across various locations, it can be difficult for leaders to adequately communicate. In fact, only 65% of employees in manufacturing understand the "why" behind organizational changes. And this actively drives down employee engagement.
3. Little opportunity for growth
The perceived glass ceiling for manufacturing workers is low. Many don't believe there's much opportunity for growth, development, or promotion. A clock in and clock out mentality leads workers to feel stuck and unmotivated to do more.
In fact, we found that only 65% of manufacturing workers see career growth opportunities for themselves in their roles. And this reality makes retention difficult. Pair this with the urgent need for manufacturing organizations to upskill and reskill their workers for the future, and the need for providing developmental opportunities is clear.
4. Lack of recognition
Feeling recognized is one of the top drivers of employee retention. Yet only 67% of manufacturing workers feel they are getting the recognition they deserve.
Due to the nature of manufacturing jobs, giving recognition can be difficult. Tasks are often repetitive and there are many shifts with many different employees. This makes it hard to understand when employees are going above and beyond or when their performance is lacking.
But when employees don't feel appreciated for their efforts, they may seek that recognition elsewhere, at a different company. At the very least, workers are unlikely to continue putting forth increased effort if their work goes unnoticed.
4 ways to reduce turnover in manufacturing companies
1. Prioritize leadership communication
Leaders should have open, two-way lines of communication to create conversation around change and other organizational happenings. Workers should never feel out of the loop. Instead, they should feel connected and aligned with business decisions. Supervisors can create open lines of communication by leveraging employee surveys, conducting frequent 1-on-1s, and scheduling all hands meetings every quarter.
2. Create paths for growth
A little investment in employee growth can go a long way in a manufacturing organization. When hourly workers can see opportunities to develop new skills and grow into new roles, and have the support of their supervisor in doing so, they're likely to stick around. Make sure your leaders and managers are finding ways to offer growth and development through training, coaching, and mentorship, on a regular basis.
3.
Recognize employees for their efforts
While recognition is sometimes difficult in fast-paced environments, your workers will appreciate small, real-time moments of recognition. It could be anything from quick, real-time comments to line-workers to pulling workers aside after their shift to communicate your appreciation, to a monthly award. When workers feel seen, they're more likely to be connected to their work and less likely to leave.
4. Understand employee perceptions
The only way to alleviate negative feelings at work is to first understand where they come from. Senior leaders should be doing this through a strategic employee survey strategy. This is the best way to give every employee a voice on what's working and what's not in the company. It can help you prioritize where to start.
Managers should make an effort to build relationships with their employees through regular 1-on-1 meetings that increase feelings of trust. When managers ask for feedback and make an effort to act on it, employees feel like their voice is heard and their opinion matters.
Tools for reducing turnover in manufacturing companies
The best support to your retention initiatives is employee engagement software. To grow and thrive in a Manufacturing 4.0 world, you need tools that help solve your unique challenges. An effective platform provides these needed features:
Engagement, pulse, and lifecycle surveys help measure employee perceptions at all points of their tenure. This can help leaders uncover what's missing in the employee experience to take needed action.


One-on-one tools streamline employee manager conversations. By providing a template for both parties, all talking points are outlined to address roadblocks, provide coaching, and build connections.


Recognition tools provide a platform to show your appreciation to employees and teams and elevate it across the entire organization. This helps to keep employees feeling valued and aligned.


Two-way feedback tools provide an outlet for both employees and managers to give and receive feedback. This helps to increase trust between both parties and makes employees feel that their opinions matter.


Goals help employees stay focused and motivated toward business initiatives. This can help make a repetitive work environment seem exciting as new goals arise. And as goals are elevated across the company, organizational alignment improves.


Talent reviews help leaders understand where performance is excelling or lacking. This helps management make strategic talent decisions, provide needed coaching, and give deserved recognition.


People analytics give leaders insight into big picture employee trends. With features like flight risk tools and performance snapshot, you can understand where each employee stands and act before it's too late.
---
Want to gain further insight into navigating your unique industry challenges? Download our ebook, 3 Ways HR is Driving Success in the Industrial Sector.