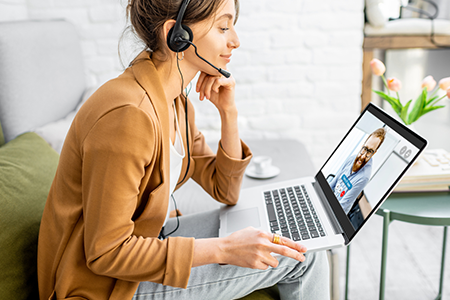 The purpose of performance reviews is to communicate with employees on what is going well, how they can improve, and how managers can better support their growth and performance.
When done well, performance reviews help employees and leaders align on goals and expectations and provide the sounding board and support system employees need to succeed.
In other words, performance reviews matter.
So how do you make sure you're communicating effectively—especially if there's constructive criticism to deliver?
Below we'll outline exactly what to say in a performance review—including performance review comments, phrases, and questions—so you can approach these conversations with confidence.
What to Say in a Performance Review
So what should you say in a performance review? How you communicate can make or break your one-on-one conversations. You want your employees to leave the meeting feeling empowered and motivated—not deflated and disengaged.
Use these examples to model constructive criticism and concrete points versus ax-grinding criticism and vague observations.
Performance Review Comments
It's also helpful to have specific performance review comments in your back pocket to provide constructive feedback.
Performance review comments help you recognize employee achievements, strengths, and contributions and, when needed, shed light on areas where they need to improve. This is especially important when you're offering criticism because you don't want to phrase feedback in a way that demotivates, shames, or compares employees.
Here are a few examples of comments you can use in your next one-on-one conversation:
Creativity and Innovation
Positive Feedback
"Your creative skills are an asset to the team."
"You excel at thinking outside the box."
"You often find new or creative solutions to problems."
Constructive Criticism
"You seem to avoid projects that require creative problem-solving."
"You tend to be risk-averse and take traditional approaches to solving problems."
"You could take more risks."
Communication
Positive Feedback
"You're a strong communicator and express your thoughts and ideas clearly and respectfully."
"You communicate directions and expectations effectively."
"Your peers appreciate your willingness to listen to others."
Constructive Criticism
"Your direct and impersonal communication style isn't effective at motivating your team members."
"Your communication is often unclear or inconsistent, which leads to confusion and misalignment."
"You need improvement on replying to emails more promptly."
Collaboration and Teamwork
Positive Feedback
"You're a strong team player."
"Your coworkers appreciate you and respect you."
"You're a reliable team member and coworkers know they can count on you to get the job done."
Constructive Criticism
"You perform well working solo, but you seem to struggle working with others."
"You aren't very considerate of others' opinions and ideas."
"You rarely offer concrete solutions that will help the team execute a project."
Performance Review Phrases
When starting a performance conversation, it's helpful to have an outline of go-to performance review phrases you can tailor to each employee. Consider including these phrases as part of your evaluation template:
[Employee] improved production by X% by [fill in specific actions].
[Employee] keeps communications and documents organized to reduce duplication.
[Employee] regularly examines the effectiveness of their work and looks for opportunities to improve processes.
[Employee] effectively communicates upward, downward, and laterally.
[Employee] builds strong relationships with coworkers/leaders/clients by [fill in specific behaviors].
[Employee] continuously experiments to solve problems and innovate new solutions.
[Employee] continues to grow and improve.
[Employee] develops innovative strategies such as [example].
[Employee] promotes company culture and encourages a positive work environment.
[Employee] is a strong collaborator and seeks feedback from peers and managers.
Phrases like these help you approach the review with a structured conversation and specific benchmarks to evaluate how an employee performed—all framed in a positive way.
Performance Review Questions
As you review performance together, prompt your employees with open ended questions to solicit feedback and gain understanding on how your employee views their own performance, how they fit into the team and culture, and where they'd like to improve.
Asking performance review questions like these will help you identify opportunities to better align on performance, goals, and expectations, and find ways to support your employee's success on the team.
Consider including some of these questions in your next review:
How do you think you could improve as an employee?
How are your projects or tasks going?
What were the highlights of your past month/quarter?
What is a recent situation you wish you had handled differently? What would you have changed?
How will you keep yourself accountable for meeting goals, deadlines, and results?
What kind of support do you need to achieve your goals?
What obstacles are in the way of you achieving your goals this month/quarter?
What do you see yourself doing in two years? Five years? Ten years?
What professional development opportunities are most in line with your long-term goals?
Which resources and tools do you use most often?
Are there tools your colleagues use that you don't know how to use or have access to?
Which coworkers do you admire for their productivity and efficiency? What behaviors do you notice in their work styles?
How can I help you become more effective in your role?
Do you feel overworked, under-worked, or just right?
Do you have clarity regarding your responsibilities? Are you ready to take on new responsibilities?
---
The secret to a good performance conversation is preparation. Preparing what to say (and what not to say) will go a long way towards creating a productive, secure conversation. Our Performance Review Templates will help you give the feedback your employees are looking for.