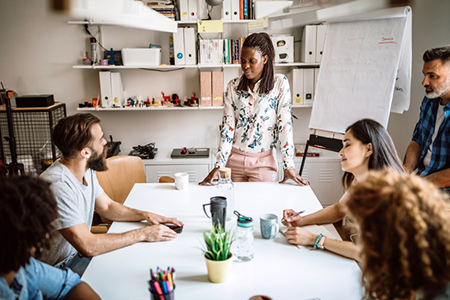 Your employer brand is your reputation as an employer and encompasses everything from your recruiting and onboarding processes to company culture, values, and benefits. In other words, your employer brand is your identity as an employer.
An effective employer branding strategy is one of the best ways to attract, engage, and retain top talent, so it's important to cultivate a strong brand.
So how do you create a strong employer brand and where do you start?
Use this employer branding guide to improve your brand and boost your reputation as a great place to work.
Understand your current brand
Create an action plan
Identify and track KPIs
Align your brand with your values
Build your online brand
1. Understand your current employer brand.
The first step to building and improving a brand is knowing where you're starting from.
What is your current employer brand?
How do current employees feel about the company?
What are people outside the organization saying about your organization?
You need to uncover what people are saying and how they feel about your company. Are they saying good things, bad things, or nothing at all about your company?
For example, do applicants report a positive or negative experience with your recruiting process—even if they didn't land the job? Do current or former employees say good things about the workplace culture or job benefits? Are your compensation packages competitive?
These reviews can show you what people like and currently value about your company, so you can continue doing them. They also provide important insight into possible gaps or weaknesses in your brand that you can work on.
And if they aren't saying anything at all? Well, that's a good indication that you need to set yourself apart through better branding and marketing. Once you know how people currently perceive you, you can develop a plan to improve.
There are multiple ways to learn what people are saying, but here a few places to start:
Collect and analyze employee reviews
Assess engagement with your brand online (e.g., comments and ratings on social media)
Collect as much data as you can so you can get a full picture of your current employer brand.
2. Create an action plan.
Once you've collected data, review your findings and create a plan of action based on the gaps and strengths in your brand.
If your employer brand is currently strong, your strategy should help you identify what is working well so you can continue to support and reinforce those efforts. If your brand is weak, identify what areas are lacking and focus on those issues to target your efforts.
Clearly outline your plans and share them with stakeholders and employees. Be sure to get buy-in on your branding strategy from leadership. You need everyone on board to ensure a unified and consistent approach.
Pro Tip: Your roadmap may evolve over time, and that's okay. The key is to communicate clearly and regularly to avoid confusion, misalignment, or misunderstanding.
3. Identify and track KPIs.
Based on your employer brand roadmap, establish the metrics you will use to track and measure progress and success. These are your key performance indicators (KPIs). If you aren't measuring your impact, you won't know if your efforts are successful.
Your KPIs might include:
Employee retention rate
Number of applications per position
Time-to-hire (i.e., how long it takes to fill a vacant position)
Cost-per-hire (the stronger your employer brand, the lower the cost-per-hire should be)
Candidate diversity
Employee engagement
Rating trends on employer review pages
Content performance and engagement on your website and social media
Which KPIs you target will depend on your specific goals and plan of action. Once you've identified your metrics, you can establish a baseline and set up a dashboard to collect and track your data over time.
4. Align your employer branding strategy with your core values.
Today, employees want to work for organizations that are value-based and make a positive impact on the world. That means you need to be diligent in cultivating a strong mission.
Your core values make up a key part of your company brand, identity, and how employees and candidates perceive your business. If your values are unclear or don't align with the company culture, you risk credibility and are missing an important opportunity to connect and engage with your employees.
Review your core values and mission statement. If you haven't documented them, now is the time to put those in writing. How do your core values match up against your employees' needs and company culture?
Use your core values and mission to guide and improve your employee value proposition (EVP). Your EVP is the value your employees get by working at your company, such as competitive compensation and benefits packages, as well as perks and culture. Aligning your EVP with your core values will help you strengthen your brand and increase employee satisfaction.
5. Build your online brand.
Your brand doesn't just exist in your office. It is also online. Find out where your target candidates hang out—for example, are they on LinkedIn, Facebook, or Instagram? Engage with employees and prospective candidates on their preferred channels so you can make the biggest impact.
Strengthen your online brand by:
Responding to reviews. Taking time to respond to reviews shows you listen to and value feedback. Be respectful and positive. If the review is negative, offer an apology or outline how you are working to address the issues they identified.
Promoting your company. HR should be working closely with marketing to develop content that promotes and supports your employer brand.
Delivering on promises. When you make promises (whether responding to a review or publishing a statement on your website or social media), make sure you deliver. Follow up and hold your team accountable to your promises. This shows people you are walking the walk and not just giving lip service.
The internet is a great place to tell your story and engage a broad and diverse audience. Take advantage of the many platforms, channels, and tools available to you, and don't be afraid to get creative.
Improving your employer brand isn't a one-time task to check off. Make employer branding an integral part of your ongoing engagement and recruitment strategies.
---
Organizations that focus on continual improvement of their employer brand, culture, and employee experience will see higher rates of engagement and retention and will attract a more competitive network of talent. Learn how to build a strategic company culture with new partner research on The Culture-Centric Organization.