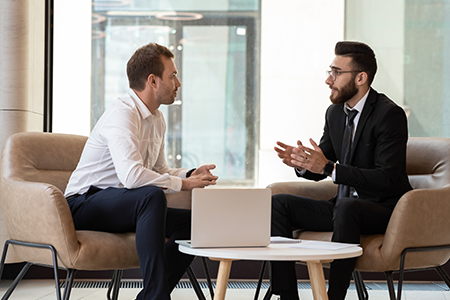 Processes to measure employee performance have gotten a facelift in recent years. Gone are the days of the annual performance review. Now, employers should be prepared to have frequent and continuous performance conversations.
What's the difference? Both are focused on the employee's trajectory. But performance reviews tend to be a structured, annual meeting that managers use as an intentional time to discuss a raise, promotion, or provide feedback. The problem is that they are just that: one-time discussions.
Performance conversations, on the other hand, take a more holistic approach. These are a set of conversations used to determine employee trajectory on an ongoing basis. The goal here is to check in consistently as a way to drive development and encourage the employee's potential growth using what performance reviews don't usually provide: support and transparency.
But there's a bonus element: ongoing check-ins like performance conversations help encourage organizational alignment to balance your employee's growth alongside your organization's growth.
Performance conversations do, however, require extra tracking for the benefit of the employee. Employee performance review tools in recent years have stepped up to help do just that.
What is an employee performance review tool?
An employee performance review tool is a tracking system that helps management and HR representatives identify an employee's strengths and areas of growth with one simple goal in mind: to maximize that employee's potential.
But more than that, it should also help a manager identify how they can leverage an employee's strengths not only to help them grow but to help the business grow as well.
In fact, these employee review tools can benefit a whole host of players in your business, which we'll dive into below.
Benefits of employee performance review tools
Employee performance review tools are meant to work across departments to bring employees into alignment. At their best, businesses work like one organism, with each part communicating effectively and working to its highest potential.
But in reality, many modern companies have departments that are siloed, which stunts communication and growth for workers and the company as a whole.
That's where an employee performance review tool comes in to tie it all together. The benefits of these tools range-wide.
They help employees…

Understand performance and how to improve in real-time
Learn what behaviors to start, stop, and continue
Take an opportunity to talk about career goals and aspirations
They help managers…

Have visibility and accountability for employee performance and development
Identify which aspects of performance managers vs. employees are accountable for
They help HR leaders…

Gain quick insight into where employees, managers, and teams are excelling or need improvement
Identify poor performing employees and see strong performers and nurture their development
Improve communication across departments by providing consistent practices throughout the organization
And they help the business, too.
Remember—organizational performance depends on the success of the employee and the manager. If that relationship is being tracked, areas of growth are also being tracked.
Employee performance is directly connected to key performance indicators (KPIs) in the company. These tools, therefore, can help identify trends to further optimize an organization.
6 employee performance review features that drive performance
A great employee performance review tool will be all-encompassing and easy to use so that employees across your company can start building within its database. It's a software solution that can integrate with your business's other communication systems (like your email and your calendar) to make collaboration simple.
When you're researching these tools, these non-negotiable features should be at the top of your list.
1. Easily launch a meeting for more continuous conversations.
A review tool that can also host your performance conversations allows for an organization to create a discussion that's happening in one place over a long period of time.
It should be simple to launch, easy to integrate with your calendar, and most importantly, it should give all users, including the employee, the ability to schedule reviews. That gives every player agency in what should be a collaborative process.
2. Collaborate with team members on a shared agenda.
A shared agenda means shared ownership. And shared ownership is empowering for employees—it allows them to take responsibility for their own performance and development.
If you're a leader in your organization, or tend to run performance conversations, consider using a consistent structure in each review by templating your shared agenda. It'll help you stay on track, and give you an opportunity to tailor the conversation to the person in front of you.
3. Talk and take notes during one-on-ones.
If you want to track growth, you need to take notes. By taking notes within your review tool, feedback and thoughts can live in one spot for the employee to see.
Transparency is the key to employee growth. That added visibility allows your reports to understand your exact expectations so that they know where they stand, what's possible for them within your organization, and gives them an opportunity to respond and ask questions.
4. Pull in important data to understand an employee's development
Your employee performance review tool should act as a development dashboard. That way, HR leaders or managers can use it to track how an employee or team's goals are progressing.
Having data all in one place allows key players to take a peek at what feedback or recognition an employee is giving or receiving. The benefits of this longer view of the data are twofold.
It shows how the individual is progressing
It reveals how that progress is affecting company growth
5. Implement best-practice templates for employee growth
There are a handful of templates that you and your organization can use to maximize growth and consistency across performance conversations. They include:
The GOOD template
Time-based templates
Peer or self-assessment templates
Upward or team assessment templates
6. Customize templates to fit your culture and team.
That brings us to our final point. There is no one-size-fits-all approach that works for every team, so customize. Leverage templates or open-forum note-taking to build the perfect feedback system for your organization. As soon as you begin to do that, your employee performance review tool will do the heavy lifting to build transparency, trust, and accountability into your review process.
---
Are you ready to maximize your team's performance? Increase clarity and communication with your team using our one-on-one meeting software. Ready to dive in right away? Schedule a demo.