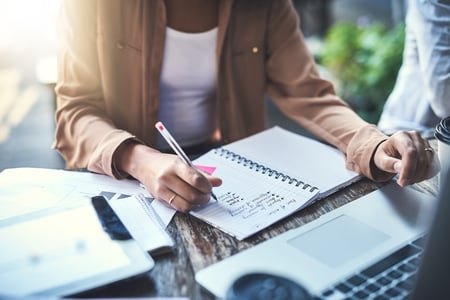 The most productive people and organizations set goals. Why? Goals detail and clarify the journey toward productivity and optimum employee performance.
Think of a goal like a road map. You may know your destination, but without directions to get there, the journey maybe a little rocky.
Of course, figuring out each and every part of employee goals is no easy feat. You have to think intentionally about your actions, your timeline, and keep in mind who should be involved. With a lot on your plate already, setting detailed, specific goals might be the last thing on your to-do list.
In this blog, we'll share the two most common goal setting philosophies and provide employee goal setting worksheets to get you started.
7 steps for successful goal setting
1. Deconstruct organizational goals.
Break down your company's overall goals so that you can understand at individual and team levels how different roles will align and contribute to its success.
2. Ask questions.
Understand the details that will help shape your goals for the year. Consider asking questions like:
What are my main responsibilities?
How do those responsibilities drive the organization's overall success?
Are there goals that I had last year that I might need to carry over?
What resources do I need to be successful?
3. Understand your motivation.
Motivation drives interest. When your employees and teams are interested in the outcomes and success of their goals, they'll be more likely to achieve them.
4. Focus on long-term objectives with short-term key results.
It's best practice to focus on year-end goals, but to break them down into monthly or quarterly key results. This will make setting and achieving the goal less overwhelming and give you the flexibility to adjust as things change.
5. Keep your goals fluid.
Your goals should reflect how you work, not just when on the calendar. It's okay to update and add sub- or mini-goals to help you make progress.
6. Collaborate.
You probably work on projects with 3-5 other people in your organization, so it makes sense to make goals that reflect the reality of your work. If you set a goal that you're working on with others, build this goal jointly to create accountability and ownership.
7. Choose a framework.
Select an OKR or a SMART goal setting template. These are frameworks to help employees understand how to develop goals with detail and structure. A goal without a timeline, due date, and important steps are just wishes.
SMART Goal Setting Worksheet
The SMART goal acronym stands for Specific, Measurable, Attainable, Relevant, and Time-bound. SMART goals are widely understood and have been around for decades. They're beneficial if you need a simple, easy-to-remember framework for your team members. Jump into this SMART goal setting worksheet to help you plan out your next goal.

Pros of SMART Goals:
Narrows focus and explicitly defines the goal
Progress is easily tracked, motivating employees
Clearly aligns goals to the rest of the organization
Built-in deadline can boost performance
Cons of SMART Goals:
Employees can get stumped trying to check all the criteria boxes of a SMART goal
Attainable goals can result in fear of failure
Focuses heavily on goal setting, rather than pursuing
OKR Goal Setting Worksheet
OKR stands for Objectives and Key Results. This type of goal helps you determine an overarching goal and specify the key metrics and actions that will make it happen. OKRs are meant to shorten the goal cycle and instill a more aspirational mindset in employees. This type of goal is beneficial if you're looking to challenge and develop your employees.
The OKRs philosophy differentiates itself from the SMART goal philosophy in three meaningful ways.
1. OKRs are aggressive.
While the SMART philosophy stresses setting goals that are attainable and realistic, the OKRs philosophy pushes for goals to be aggressive or aspirational. Father of OKRs, Andy Grove, established a 70% metric as the measure for success, meaning that achieving 70% of your goals was as good as hitting them. OKR trendsetters Google and Zynga follow similar suit, with Google recommending employees meet about 70% of their OKRs each quarter and Zynga expecting employees to hit two of three Key Results each quarter.
2. OKRs are set from the bottom up.
Traditionally, when organizations use a SMART approach to goals, they set them from the top down, pushing for employees to fall into alignment. Conversely, the OKRs philosophy encourages goal setting to happen in reverse, from the bottom up. Doing so can increase employee buy-in and empowerment. However, OKR setting doesn't always happen this way. Many companies use the OKR framework to set organizational goals first and then have that trickle down to team goal setting as well.
3. OKRs are set frequently.
Organizations usually set SMART goals once a year and review them annually. By breaking down an objective into key results that can be accomplished monthly or quarterly, the OKR method provides a faster cadence where employees can review and adapt goals more frequently.

Pros of OKRs:
Stretches employees and grows companies
Higher frequency in setting and adjusting OKRs encourages agility
Stresses transparency, increasing organizational alignment
Balances aspiration with execution by linking the "why" and "how" together
Cons of OKRs:
Slower adoption process
Proper alignment requires a system with goal setting and tracking abilities
Highly aspirational goals may discourage employees
Not sure whether SMART goals or OKRs are a better fit for your team? Do your research. Whether you're on a team of 5 or a squad of 20, goal setting is beneficial to any team who wants to stay motivated, aligned, and productive. And when in doubt, leverage goal setting worksheets to help you on your journey to business success.
---
For additional advice and insight into using templates or worksheets to set effective goals, download our ebook: How to Set Goals that Get Results 5 Sure-Fire Strategies.