Less than half of employees say important changes are made at their organization based on the feedback they provide. This is alarming considering the investment of time, energy, and resources that often goes into an employee engagement survey.
Surveying your employees is important to creating an engaging employee experience. But surveying alone won't improve employee engagement. If you continue to survey without action, you're more likely to hurt engagement than to help it. You also want to be sure you're focusing on the right actions. This requires empowering your managers and teams to get involved in understanding your results and driving change.
Everyone in your organization plays a role in understanding and driving employee engagement. Don't hold your engagement data back from your managers and teams.
Organizations that keep employee engagement survey data isolated to leadership and HR will have a hard time driving the kind of change that moves the needle. These leaders don't have the band-with or visibility to understand and develop unique solutions for each team across your organization.
Your managers are on the front lines with your employees. They are best equipped to enact change. You want to focus most of your employee engagement survey follow-up at the team level. And this means getting your engagement survey data into the hands of the people who can act on it.
It means making that data accessible and actionable. And equipping your managers and teams with employee engagement tools that help them drive engagement year-round.


What is team engagement?
Employee engagement is defined as the strength of the mental and emotional connection that employees feel toward their work, team, and organization. Team engagement includes the individual and collective experiences of everyone on a team.


Measuring team engagement
It's important to use a scientifically validated model to measure employee and team engagement. It's too risky to guess what is driving or hurting engagement. You don't want to waste precious time and resources on the wrong initiatives.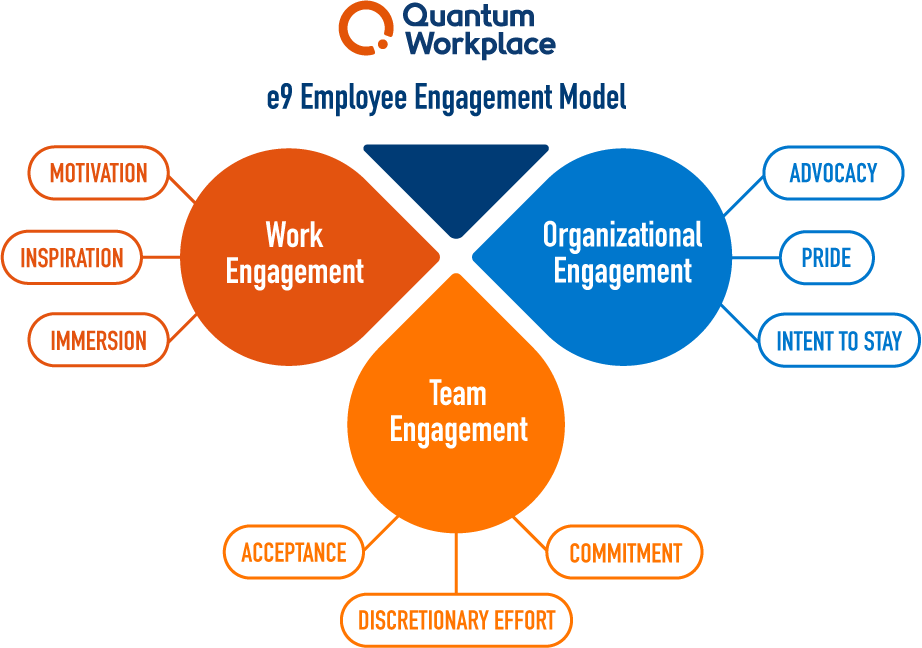 Quantum Workplace's e9 model of employee engagement measure three key components of engagement:
Connection to work
Connection to team
Connection to the organization
We measure each component with three engagement outcomes that help reveal an employee or team's current state of engagement.


To measure work engagement, we look at:
Inspiration: Are employees inspired by the work they are doing?
Immersion: Do employees find their work engaging?
Motivation: Are employees motivated by their work?
To measure team engagement, we look at:
Discretionary effort: Are team members going the extra mile to get great results?
Commitment: Are team members committed to the organization's overall goals?
Acceptance: Do employees feel accepted by their team members?


To measure organizational engagement, we look at:
Advocacy: Would employees recommend your organization as a great place to work?
Pride: Are employees proud to work at your organization?
Intent to stay: Would it take employees a lot to leave your organization?
We use engagement impact survey questions to help you figure out what can be done in your organization to impact these nine engagement outcomes. These include questions around:
Career growth & development
Communication & resources
Future outlook
Individual needs
Manager effectiveness
Team dynamics
Trust in leadership
Diversity & inclusion


Evaluating & acting on team engagement
As we mentioned above, don't stop at analyzing your organization-wide survey results. The real value comes when your managers feel empowered and equipped to understand and influence their team's engagement results. They should be doing this in partnership with their teams—working with employees to dig into results and develop solutions.
It's HR's job to mobilize managers and teams to understand, discuss, and act on engagement. This requires clear processes and expectations—and easy-to-use employee engagement tools.
When everyone plays a part in understanding and acting on employee engagement survey results, they'll feel more invested. They're more likely to contribute to positive change and to share honest feedback with you later. And your organization is more likely to increase employee engagement across the board.
Here are five team engagement tools that your managers and teams will love:


1. Team Engagement Report
Your employee engagement software should provide a report uniquely designed for your managers. The goal is to help managers get a grasp on their team's results—and have a roadmap for moving forward. You want to help them see beyond the numbers and to be able to focus on what really matters to engagement.
Quantum Workplace's Team Report helps elevate key survey insights and action areas based on team results. It tees up teams for productive conversations around boosting engagement. And it provides a tailored roadmap for action as a team.

Our team report includes:

Summary of engagement results
How the team compares to the organization
High impact questions that show what drives engagement
Key recommendations based on team results
Reviewing results at the team level creates better clarity and insight on exactly where teams need to focus.


2. Smart Insights
Your managers and teams are not trained HR analysts. You need survey analytics tools that help your team quickly and easily identify key insights. This helps ensure they're spending less time analyzing and more time acting on results.
Quantum Workplace's employee survey analytics include Smart Insights, helping you easily identify items with:
Highest favorability
Lowest favorability
Strongest favorability compared to the organization
Drivers of engagement will vary from team to team. Smart Insights helps signal key areas of focus that can lead to bigger impact for the organization.
With a simple click on any survey item, you can view discussion starters or add to an action plan. It makes it easy for managers and teams to understand exactly what to celebrate and what to improve upon.
3. Team Action Planning
Your survey results are meaningless without action. If you don't act on the feedback your employees provide, they're unlikely to keep sharing it with you. A structured action planning process can help you facilitate discussions, decide what is next, and track progress.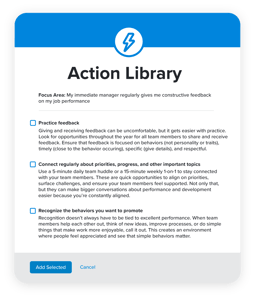 Quantum Workplace offers action planning tools that help teams identify and commit to ongoing action. It's easy to add key survey items to an action plan, discuss potential actions with teams, and pull in actions inspired by our action library.
We also offer Smart Actions to help managers access tools that help them take employee engagement to the next level. For example, managers can create recurring 1-on-1s with smart topics based on team engagement results.
When managers and teams commit to ongoing action and conversation, it helps create a more meaningful, shared experience across the organization. Employees feel more invested in action, and feel heard and valued.
4. My Engagement (ME) Report
Employees play a key role in their own engagement. Your survey reporting should also help employees understand how they can act on their own engagement results.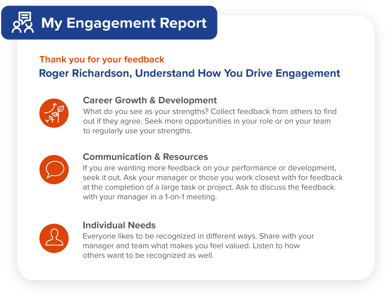 Quantum Workplace's My Engagement (ME) Report helps empower every employee to understand their own engagement—and find actionable ways to move forward.
Individual contributors can see how they compare to others in the organization and review suggestions for improvement. The ME Report provides immediate takeaways to help employees improve their own experience at work.
This helps HR and senior leaders spread the responsibility of change and engagement across the entire organization.
5. Engagement-Focused 1-on-1 Meetings
Many organization go through an action planning process following their engagement survey. But few successfully keep engagement a priority throughout the year.
Engagement-focused 1-on-1s help managers be more effective and keep conversations around engagement alive and actionable.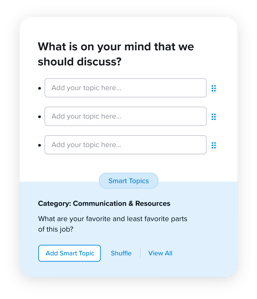 Quantum Workplace offers Lightweight 1-on-1s to engagement survey customers. These continuous conversations help managers and teams discuss progress on engagement commitments long after the survey ends.
It's easy for your managers to set up recurring 1-on-1s that schedule automatically. Managers can set up a desired cadence, time, and length for each conversation and employee. This saves everyone administrative time and helps streamline planning for each conversation.
Managers and employees also benefit from Smart Topics, which suggests topics tailored to team engagement. This leads to more meaningful conversations and builds connection between managers and their teams.
Finally, managers and employees can use Action Items to help employees keep organized notes and ideas within 1-on-1s. This enables more effective follow-up. Managers and employees can easily track topics over time and stay aligned on current priorities.
---
Empowering your managers and teams to understand and drive engagement is essential to your success. Learn more about how Quantum Workplace can help you boost team engagement!