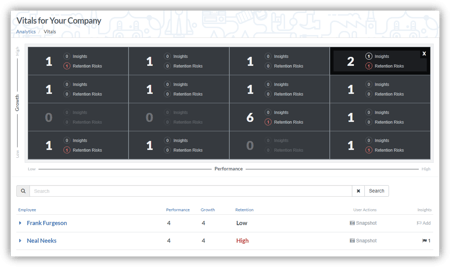 Ushering in a new era of talent management, Quantum Workplace introduces Employee Talent Reviews, a breakthrough approach to managing your talent pipeline.
Keeping a pulse on your talent pool is no easy feat. Managers, leaders, and HR struggle to evaluate, develop, and retain individual employees, all while delivering business results. Important talent decisions are often made in silos, and leaders lack the data they need to understand talent gaps and opportunities.
All these factors combine to make managing the talent pipeline a difficult assignment.
But organizations can't afford this kind of talent management turmoil. The current market strongly favors employees, with more jobs available than any time in recent history. Unemployment rates have dropped below 4 percent, leading to the highest voluntary turnover rate in 10 years.
Employees have options, and if you don't work to retain your top performers, they can - and will - leave for greener pastures. You need a solution that empowers your organization to make informed talent decisions.
Enter Quantum Workplace Talent Reviews, a simple software for collaborative and strategic talent decisions.
Vitals sources manager opinions over time to create a more credible and comprehensive story around your organization's talent. Leaders and managers can identify rising stars and talent risk — allowing your team to make the right talent decisions at the right time.
"Talent-minded leaders have spent too much time wrestling with performance management products," Greg Harris, CEO at Quantum Workplace, said. "Vitals is a framework for measuring employee performance with less time and more impact."
Using a lightweight approach to capture valuable data, Vitals will help your organization:
Understand long-term trends to help guide talent decisions
Influence managers' perceptions of teams
Have upward visibility into who's doing great work and who's at risk
Strategically identify important employee development opportunities
---
Learn more about how Talent Reviews can help you maximize your talent pipeline here.