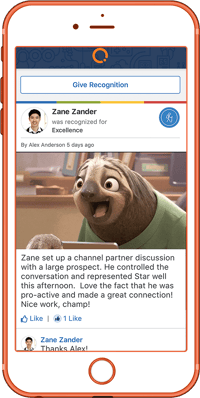 Organizations can now build better cultures on-the-go with Quantum Workplace's new performance management app.
The mobile app allows managers and employees to access real-time performance management features like live goal updates, peer recognition posts, and job feedback right from their mobile devices.
But visibility isn't the only benefit. Users can also actively engage in 1-on-1 conversations, give feedback to peers or direct reports, and more.
"We help organizations build winning cultures with simple tools that work wherever employees work – this app is a reflection of that." - Phil Haussler, VP of Product at Quantum Workplace
Our 5-star app for managing employee performance on-the-go is now available for download on iOS and Android devices.
Here are 5 ways our new app will help you build better cultures on the go.
1. Conduct effective 1-on-1s.
One-on-one meetings used to be held in the confines of a manager's office, but that's not the way of the world as we know it today. Now you can take one-on-ones with you wherever you go by referencing agendas and discussion points right from your smart phone. Easily recall meeting items, take notes in the moment, and create action items to follow up on so nothing slips through the cracks.
2. Share real-time recognition.
Don't wait to express gratitude until you get back to your desk. 52% of employees want to receive more recognition from their immediate manager or supervisor and 41% from their immediate coworkers. Connect with employees where they're at (their cell phones!) and view real-time recognition of teammates and direct reports.
3. Track progress on goals.
Travel, family, and other events can take you away from the office or having access to a computer. Don't miss a beat while you are out of the office. Stay on the same page and in constant communication with live updates on employee goals.
4. Give and receive feedback.
Ever leave a meeting energized by the flood of questions and ideas discussed but you can't remember a thing? Avoid the wait and start giving and receiving performance feedback in the moment. Review past feedback at a glance to compare, with the goal of improving for your next meeting.
5. Make a private note.
Jotting down important notes during a meeting can be tricky on traditional paper and pen. Log a private note to capture key conversation snippets that will help you uncover who each employee is as a person – or set a reminder to follow-up on later.
---
The Quantum Workplace mobile app is free for all Quantum Workplace customers and available on the iOS App Store and Google Play. We improve as you download! Test it out and leave us a review. Your feedback helps us evolve our features to make your experience even greater!