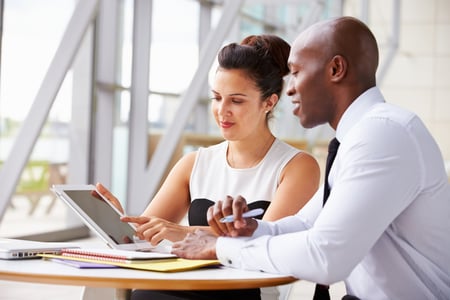 People managers should understand how to grow and develop their employees. Their ability to engage, coach, and develop their direct reports is an essential skill, but these skills don't always come naturally.
So, how can you improve their leadership skills and boost their confidence? Training.
Our research shows that managers who receive management training are 63% more likely to feel ready and prepared to lead a team than those who didn't receive any training.
Training helps new managers learn how to effectively coach, lead, and engage employees before their first day on the job. If you're looking for new ways to prepare your managers for the front lines, consider these three new manager training topics.
1. Educate managers on the big picture.
Great managers understand company goals – and strategically align individual and team goals with key business objectives. Managers should receive in-depth training on the purpose behind your company goals. Help them visualize the big picture, the reward for achieving or consequences for falling short, and how their team is expected to make an impact.
This knowledge will provide them with the insight needed to develop specific, measurable, attainable, and relevant (SMART) goals for the entire team, in addition to each team member. Setting realistic expectations for employee growth will help your team achieve the results you're looking for.
2. Teach managers how to delegate, strategically and effectively.
Once a manager understands what's expected of their team, they're able to delegate responsibilities accordingly. But effective delegation is much more difficult than we let on. Delegation requires both strategic vision and effective communication to ensure the right people tackle the right projects and receive the right communication.
Managers need to learn how to identify and maximize the strengths of everyone on their team, as well as communicate clear and direct expectations. By pairing the value your employees provide with the importance of the responsibility, teams will be able to see more clearly how they are in direct alignment with the organization's goals.
3. Prepare managers to give regular, and sometimes difficult, feedback.
Giving both positive and critical feedback is one of the most essential responsibilities of a manager. Unfortunately, it's often one of the most under-developed skills among team leaders. Managers need to make employees feel valued by giving authentic recognition when appreciation it's due and deliver constructive criticism in a way that motivates employees to improve.
While it might be easier for managers to gloss over the "hard truths" of their employees, critical feedback is necessary so that employees can improve and act. After-all, managers aren't doing their employees any favors by sugarcoating their evaluations. Feedback should always be about promoting a problem-solving and developmental mindset.
---
Managers aren't always prepared to be managers. Help them improve their leadership skills with our ebook, Employee Development: 4 Ingredient Recipe for Healthy, Balanced Employee Growth.