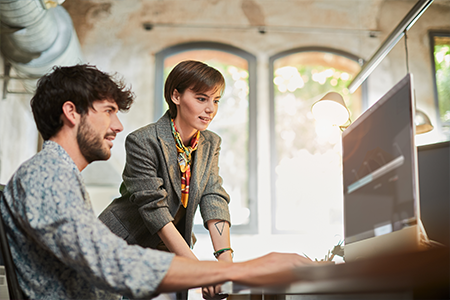 After using our employee goal setting software internally across all teams and seeing it work for customers, like Hudl and Baker Tilly, we've learned different types of organizations and different types of job functions approach goals differently.
As a result, we understand that the best employee goal setting and tracking software provides flexibility and customization while allowing you to incorporate crucial goal best practices.
If you're looking for a system that will support goals across your entire organization and ultimately improve employee performance, here are the top features you need in your employee goal setting software.
1. Support your organization's goal philosophy.
Before you start using employee goal setting software, consider what your organization's approach to goals will be.
Who sets goals?
How do you define a well-phrased goal?
Do you prefer S.M.A.R.T. goals or OKRs?
How do you measure success?
How do you communicate about goals?
How often do you look at progress?
Even the best employee goal setting software can't define your goal philosophy, but it can support it. Think through your desired state for setting and tracking goals and make sure any new software can support your philosophy.
2. Provide transparency and clarity.
Trust in leadership and understanding how individual roles align with company objectives are key drivers of employee engagement. But communicating consistently and transparently on goals can be difficult to achieve without the right tools.
Goal setting software helps managers and organizations provide employees with transparency and clarity about goals and accountability, as well as an understanding of how their personal and team goals align to organizational goals.
This is another component of your goal philosophy. How much transparency do you want to give employees? Transparency is crucial to building trust, so we recommend aiming for a high level of transparency.
But what does transparency around goal setting look like in practice?
Company goals are clearly communicated and regularly referred to.
Individual goals are

linked to strategic organizational goals

.
Employees have input on team goals.
Goals are an ongoing discussion throughout the year.
Make sure the goal setting and tracking system you choose provides the level of transparency that's best for your organization. Quantum Workplace's goal setting software makes it possible for employees to view goal progress and updates across the organization.
3. Empower managers and teams.
Managers and teams are the lifeblood of your organizations — and thus, your goal setting software needs to be built for ease of use. Goal setting tools should support leaders in building trust, coaching effectively, and keeping teams on track. Part of this is making sure managers are having the right conversations at the right time.
The right software will help leaders
Features like automated goal summary emails, progress alerts, and goal observation permissions save managers time; triggered tips and educational resources take the guesswork out of building an effective team.
4. Align individual, team, and organizational goals.
Organizational alignment is critical to building a high-performing business. When employee, team, and company goals are aligned across the organization, everyone is then working towards a common purpose.
Creating alignment requires effective communication, clear leadership, and company-wide buy-in. To achieve this, leaders must:
Set clear organizational goals
Communicate goals frequently
Support employees in achieving their goals
Employee goal setting software can help you effectively align goals across your teams and employees so everyone is pulling in the same strategic direction.
5. Support private and public goals.
Even if your organization believes in total transparency of goals, consider looking for goal setting software that also supports private goals. Why? To support personal development goals.
By expanding your view of your goal setting software to be a tool for not only key company objectives, but also employees' personal growth, your new goal software can become an invaluable tool for employees.
6. Flexible goal formatting for different goals and roles.
Different goals require different methods of tracking. Here are a few examples:
Hit $25 million in revenue in 2017 (tracked in dollars)
Create listings on 20 review sites by end of Q2 (tracked in whole numbers)
Increase Promoters on NPS by 5% in 2017 (tracked in percentage)
Launch employee engagement survey by Jan 31 (tracked in binary (simple yes/no) achievement)
Additionally, there are different ways to approach goal-setting, including the S.M.A.R.T. method and OKR method.
The S.M.A.R.T. philosophy breaks down goals into five key criteria.
Specific—Goals should be focused and specific so employees have a clear target.
Measurable—Goals should be measurable so employees can track progress and determine when they've achieved their objective.
Attainable—Goals should be aspirational but grounded in reality.
Relevant—Goals should relate to the business and employee's strategic plans and values.
Time-bound—Goals should have a clear deadline to drive action.
The OKR Method organizes goals into objectives and key results.
The objectives should outline the desired outcome of the goal. These are specific, time-bound, and actionable—but also inspirational. The key results fall under the objectives umbrella to mark measurable targets and milestones employees should achieve as they work toward their objectives.
Look for goal setting software that will support the various tracking methods your different roles and teams will require. You'll also notice these examples track achievement by a deadline, another required feature of goal setting software.
7. Bring visibility to cross-team collaboration.
Making goals and goal progress transparent is the first step. Next, allow for communication. When employees have the ability to comment and ask questions right in the goal setting software, it promotes collaboration and clarity.
Look for a goal setting tool that makes it easy to comment, like, and ask questions about goals and progress updates.
8. Connect goals with coaching and recognition.
A progressive goal setting software will support coaching efforts by integrating with feedback and recognition tools. The connection between goals and recognition and between goals and employee coaching is essential to an effective performance management strategy.
In other words, goals are supported by effective feedback and recognition which work best when they are tied to clear goals and action.
For example, when an employee achieves (or exceeds) their goals, they can update that progress in their goal setting software. This will notify their manager who can then post recognition of the win right in the platform and set up follow up conversations to celebrate their progress, set new goals and discuss lessons learned.
At the end of the year, it will be easy for their manager to see the record of their goal progress and recognition received all in one place. This helps managers provide effective coaching throughout the year while avoiding recency bias.
9. Easy to use and update.
A tool is only useful if people actually use it. Software that is clunky, confusing, or hard to navigate will be met with frustration and resistance among employees and other would-be users. Get the most out of your employee goal setting software and promote widespread adoption and enthusiastic buy-in, with a tool that is easy to use and seamlessly works with your existing processes.
Look for features like single sign-on, which lets users sign into applications using one set of login credentials. This eliminates the extra step of signing into another tool and keeping track of multiple logins and passwords. The easier you make the experience, the more likely employees (and managers) will be to use the new software.
10. Provide reliable tech support.
One of the most important qualities to look for is reliability. When something goes wrong or you have a question, it's important that the software support team is available and ready to help. This is especially true when you are first implementing the tool across the organization.
As your employees learn the new system, there will undoubtedly be questions and snags along the way. Getting answers and support quickly and reliably will help the transition go smoother and increase overall buy-in and satisfaction among users.
A product's tech support can be difficult to access when you're researching options, but it's not impossible. Here are a few questions to use to evaluate goal setting software:
How much training do they provide on how to use the tool?
Are processes and timelines communicated clearly?
What resources do they provide to help with internal change management?
When I have a question, how long does it take to hear back?
Does the support go above and beyond my expectations?
Does the software company ask for and follow up on feedback?
Trendy tools are great, but if the tool doesn't provide the level of support you need, you should probably keep shopping.
11. Tools are used by the vendor.
Choosing a new employee goal setting software is a big task that can have a significant impact on your organization—for better or worse. So it's important to get it right. As you narrow down your options, don't forget to verify whether the vendor uses their own tool. This can tell you a lot about the quality of the software and the quality of the vendor themselves. After all, why would you want to purchase a company's goal setting and tracking software when they don't even use it at their organization?
Here are some questions you can ask:
How do you use your goal setting software internally?
What's your favorite feature as a user?
What improvements have you seen on your team from using the software?
A partner who believes in and values what they're selling will not only use their products internally but will also be able to speak to the first-hand benefits they've received, making it easier for you to assess if the tool is the right fit for you and your team.
---
Help your people do their best work with employee goal setting software from Quantum Workplace.