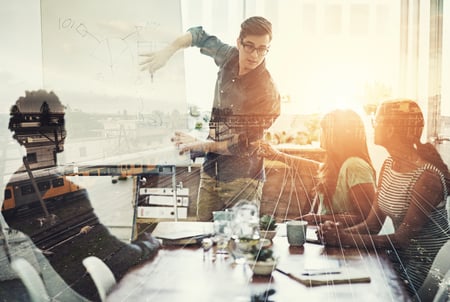 After using our goal setting software internally across all teams and seeing it work for customers, like Hudl and Nebraska Families Collaborative, we've learned different types of organizations and different types of job functions approach goals differently.
As a result, we understand that the best employee goal setting and tracking software provides flexibility and customization while allowing you to incorporate crucial goal best practices.
If you're looking for a system that will support goals across your entire organization and ultimately improve employee performance, here are the top eight features you need in your goal setting software.
1. Align With Your Organization's Goal Philosophy
Before you start using a goal setting software, consider what your organization's approach to goals will be. Who sets goals? How do you define a well-phrased goal? Do you prefer S.M.A.R.T. goals or OKRs? How do you measure success? How do you communicate about goals? How often do you look at progress?
Even the best goal setting software can't define your goal philosophy, but it can support it. Think through your desired state for setting and tracking goals and make sure any new software can support your philosophy.
2. Provide transparency, clarity, and alignment.
Trusting leadership and understanding how individual roles align with company objectives are key drivers of engagement. Implementing a goal setting software in your organization can be used to provide employees with transparency and clarity about goals and accountability, as well as an understanding of how their personal and team goals align to organizational goals.
This is a piece of your goal philosophy. How much transparency do you want to give employees? As employee engagement experts who understand the importance of transparency in building trust, we recommend a high level of transparency.
Our goal setting software makes it possible for employees to view goal progress and updates across the organization. Make sure the goal setting and tracking system you choose provides the level of transparency that's best for your organization.
3. Empower managers and teams.
Managers and teams are the lifeblood of your organizations - and thus, your goal setting software needs to be built for their easy use. Automated goal summary emails, progress alerts, and goal observation permissions save managers time; triggered tips and educational resources take the guesswork out of building an effective team.
4. Support private and public goals.
Even if your organization believes in total transparency of goals, you might consider looking for a goal setting software that also supports private goals. Why? To support personal development goals.
By expanding your view of your goal setting software to be a tool for not only key company objectives, but also employees' personal growth, your new goal software can become an invaluable tool for employees.
5. Meet the tracking needs of different goals and roles.
Different goals require different methods of tracking. Here are a few examples:
Hit $25 million in revenue in 2017 (tracked in dollars)
Create listings on 20 review sites by end of Q2 (tracked in whole numbers)
Increase Promoters on NPS by 5% in 2017 (tracked in percentage)
Launch employee engagement survey by Jan 31 (tracked in binary (simple yes/no) achievement)
Look for a goal setting software that will support the various tracking methods your different roles and teams will require. You'll also notice these examples track achievement by a deadline, another required feature of goal setting software.
6. Encourage in-software collaboration.
Making goals and goal progress transparent is the first step. Next, allow for communication. When employees have the ability to comment and ask questions right in the goal setting software, it promotes collaboration and clarity.
Look for a goal setting tool that makes it easy to comment, like, and ask questions about goals and progress updates.
7. Connect goals with coaching and recognition.
A progressive goal setting software will integrate with feedback and recognition tools. Why? Because the connection between goals and recognition and between goals and employee coaching are essential to an effective performance management strategy. Here are two examples:
Jim, your marketing coordinator, delivered 1,000 new leads from the trade show he organized, which was a 500% increase from last year. This achievement greatly impacted his overall progress toward lead generation from shows for the year. He's updated his goal progress, and the sales director Demi posted a recognition of Jim thanking him for his hard work. At the end of the year, it will be easy for Jim's manager Susan to see the record of his goal progress and recognition received all in one place. This helps Susan review Jim's year without suffering from recency bias.
Andre has 25 direct reports. They are strong, independent self-starters, each with individual goals. Andre meets with his direct reports one-on-one every quarter. When Andre sets up his online one-on-one with Carmen, he easily pulls up her progress on goals and notices she is struggling to meet one of her key metrics. This helps Andre create his agenda for their one-on-one by preparing some questions and coaching advice for Carmen. Without visibility to Carmen's goal progress, their one-on-one would be less productive.
When selecting a goal setting software for employees, ask how it will help foster recognizing achievements among employees.
8. Provide friendly, responsive tech support.
A product's tech support can be difficult to access when you're researching options, but it's not impossible. Here are a few questions to use to evaluate goal setting software:
How much training do they provide on how to use the tool?
Are processes and timelines communicated clearly?
What resources do they provide to help with internal change management?
When I have a question, how long does it take to hear back?
Does the support go above and beyond my expectations?
Does the software company ask for and follow up on feedback?
Trendy tools are great, but if the tool doesn't provide the level of support you need, you should probably keep shopping.
9. Practice what they preach.
Why would you want to purchase a company's goal setting and tracking software when they don't even use it at their organization? Here are some questions you can ask:
How do you use your goal setting software internally?
What's your favorite feature as a user?
What improvements have you seen on your team from using the software?
A partner who believes in and values what they're selling will not only use their products internally, but also be able to speak to the first-hand benefits they've received.
---
Ready to evaluate employee goal setting software? Keep this checklist close by and get started with goals with our free ebook below.