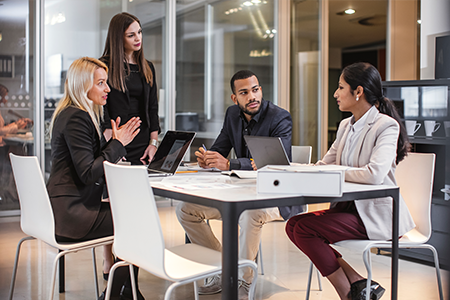 Nearly every business strategy or change relates back to culture. Creating a culture that helps your business succeed requires enabling these three principles:
Operations

Clients and service

Employees
So, why is it important to align HR and business strategy?
In this blog, we'll share highlights from this episode of the Digital HR Leaders podcast—featuring David Green, Director of Insight222 and Jolen Anderson, Global Head of Human Resources at BNY Mellon.
We share why aligning HR and business strategy is important, plus:
The role of the CHRO in business success

How to build connection between your people and business

How BNY Mellon accelerated its journey to business success
The role of the CHRO in business success
HR leaders have a responsibility to ensure that employees are showing up and performing their best. This demonstrates the connection between employee-first initiatives and an opportunity to reinforce business strategy. Doing so enables you to translate business strategy into workforce strategy.
However, HR is always in the search of an answer to the question, "how do we ensure that we are powering our business?" HR leaders must not only create a connection between employee and business success but move the needle on it.
It all boils down to an understanding of your business strategy. Ask these questions:
What are we trying to accomplish?

What are our organizational goals?

How can we align our people initiatives?
How to build connection between your people and business
As HR and business leaders assess the challenges and changes happening in their organizations, they need to understand the tools, skills, and resources needed to enable and support employees to create positive outcomes.
Here are three things you can do to sustain an effective relationship with your people and business:
1. Set clear leadership expectations.
Leaders should be solutions- and process-driven about how they are guiding their teams. Make it clear to leaders what's expected from them. Help them understand the values and the behaviors required to lead, and how to leverage the tools and people around them to drive business success.
2. Conduct a skills assessment.
Make sure you are supporting individuals. Asses what employees bring to the table and provide the resources that allow leaders to get the skills that they need to drive your business agenda.
3. Think about the

entire

employee experience.
As employees make their way back into the office or continue hybrid work, people leaders need to make it easy for employees to get work done so that they can meet the increasing demands, needs and expectations of clients.
How BNY Mellon Accelerated its Journey to Business Success
BNY Mellon used the events of 2020 to think about how to reignite a passion for excellence, delivery, and impact in the overall financial markets.
Previous investments in infrastructure, operating platforms, and cyber and information security benefited the organization by being able to transition quickly and support a broad scale remote working arrangement.
As a result, they were able to introduce new core values and put them at the center of their culture:
A passion for excellence

Ensuring a strength in diversity

Courage for leadership and integrity

Employee safety and wellbeing
Each of these aspects were needed to get through the pandemic in the first place. They used the pandemic and the need to drive their business forward, to make sure that they were making a connection with what they wanted their culture to look like in the future.
Aligning your people agenda to your business transformation agenda, really starts with a deep understanding of what is required in that moment and ensuring that your people strategy matches up against that as well. People initiatives are most important thing and I think we kept that in mind in that moment.

– Jolen Anderson, BNY Mellon
Aligning HR and business strategy is essential to producing optimal results within your business. HR leaders must create a connection between employee and business success by setting clear expectations for employees, thinking about the entire employee experience, and assessing the skill sets of employees to provide them with the right resources.
Align your business agenda with your people agenda to maximize business success.
---
Ready to assess your employee experience to align HR and business strategy? Take a look at our HR Pro's Guide to Business Success Metrics to get tips for connecting your talent initiatives to organizational growth and success.