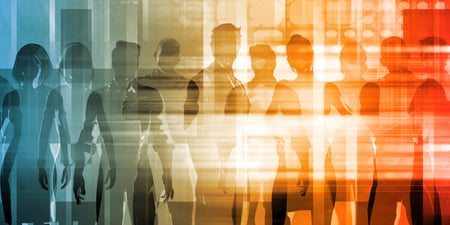 An organization's top programmer suddenly announces she's leaving for another job. A sales manager gets a gut feeling that a salesperson is struggling, but doesn't have the evidence to back it up. The growth of an up-and-coming marketer seems to have flat-lined.
The talent pipeline is in constant motion, and it's difficult for managers to stay up to date on the performance and potential of all team members. It's even harder to understand the depth and breadth of talent that's available across the entire organization.
That's why Quantum Workplace launched Talent Reviews, a tool that helps organizations spot promising performers, identify retention risks, and retain key talent.
Vitals asks managers three simple questions every 6-12 weeks to help determine the performance impact, growth trajectory, and retention risk of each employee. Upline managers and senior leaders can add insights and comments onto employee profiles, creating a well-rounded narrative that tells the true story of an employee's present and future state.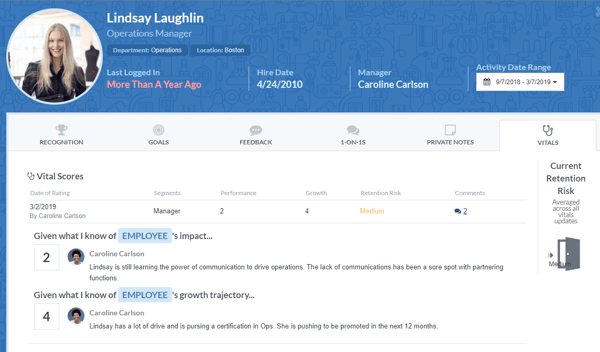 6 Crucial Benefits of Talent Reviews
1. Encourage proactive versus reactive thinking.
Vitals provides a real-time snapshot of an individual's performance impact, growth trajectory, and intent to stay. These snapshots should not be the end-all, be-all for decision makers. Instead, they provide a high-level view that can spark conversation and keep organizations agile enough to act before it's too late.
With the right data at their fingertips, managers and leaders can make informed, timely decisions about talent management and employee development. They can:
Proactively promote rising stars
Give stretch assignments to further develop employees with high potential
Provide development opportunities for high performers
Determine next steps for less-than-stellar performers
2. Create a consensus across the team about talent potential.
Talent Reviews combines insights from multiple voices rather than relying on the opinion of a single individual. A manager may feel one way about an employee, but other managers who work closely with the employee, previous managers, or senior leaders may see the individual's potential differently.
Bringing together several unique perspectives crafts a well-rounded, less-biased story that allows for conversations between decision makers.
3. Provide a reality check for "gut feelings."
Talent Reviews helps decision makers make judgments based on evidence, not intuition. Over time, the thoughts of multiple voices combine to accurately portray employee performance, preventing gut feelings or recency bias from impacting important decisions.
4. Determine if organizations have what it takes to keep promising employees.
Talent Reviews helps identify individuals with bright futures so organizations can start taking steps to develop and retain top talent. Other companies are constantly lurking, eager to pick off employees who are unfulfilled in their current role. Vitals shines a spotlight on potential stars so managers can recognize their talent and proactively start offering growth opportunities.
Use your latest engagement survey results to determine what's driving retention in your organization (e.g., development opportunities, compensation, adequate training, recognition), then make moves to keep your top performers satisfied.
5. Find the gaps in your current management pool and strategy.
Vitals unearths trends across an organization. Maybe the Marketing team has the highest percentage of the top performers.
Is there something that team is doing well that could be applied to others?
Or maybe several of an organization's new hires are identified as having low growth trajectory?
Is there something about the hiring or onboarding processes that could be changed?
These trends allow managers and senior leaders to make decisions and adjustments that create engaging workplaces and retain talent.
6. Suggest where resources should be spent.
All too often, resource discussions are dominated by the loudest voice in the room. Vitals helps determine development opportunities and where retention risks are the highest. Those areas may need to be prioritized first with supplementary budgets.
---
Talent Reviews is a game-changer when it comes to maximizing your talent pipeline. Click here to learn more about how Talent Reviews can make an impact at your organization.