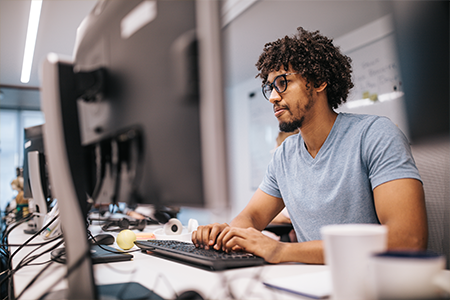 Employee feedback is at the foundation of a high-performing organization. Feedback helps employees understand how well they are doing in their job, what work or skills they should be prioritizing, and how they can continue to grow in their role and at the company.
While traditionally, feedback is delivered from manager to employee, there are multiple ways to integrate feedback into your culture. Feedback can be given (or received) top-down, bottom-up, or peer-to-peer.
When employees give feedback to their manager and their coworkers, they are more connected to their work, their team, and the organization.
But giving and receiving feedback isn't always easy. Constructive feedback can be uncomfortable for both parties. And inconsistent or infrequent feedback is less effective and can be frustrating for employees who want to know how to improve.
That's where employee feedback software can help.
In this article, we'll cover:
What is employee feedback software
The benefits of employee feedback software
What to look for in employee feedback software
What is employee feedback software
Employee feedback software empowers managers and their teams to integrate feedback into their processes and create a culture of recognition and continual growth.
Employee feedback software facilitates your most important conversations—giving managers the tools to better lead and coach their teams, and employees the tools to record notes, request feedback, and track their progress.
Benefits of employee feedback software
Employee feedback software isn't just another HR tool. It's a solution that benefits the entire organization top to bottom.
Benefits to employees
Easily request and give feedback
Keep track of progress and development
Focus on career growth
Benefits to managers
Improve coaching and identify opportunities for employee growth
Record and update information in a central location
Reference previous feedback to improve future performance
Benefits to HR leaders
Understand how feedback and coaching improves the organization
Identify managers who need development
Discover opportunities to turn feedback into action
Benefits to the business
Develop a culture of feedback that provides ongoing evaluation
Create alignment across the organization
Provide employees with the tools that they need to give and receive feedback
What to look for in employee feedback software
The right employee feedback software can help you move the needle on employee engagement by creating a culture of feedback that drives performance and growth. But you need the right tools for the job.
Look for the following features and capabilities when choosing employee feedback software:
1. Remove the administrative work from giving and receiving feedback.
Scheduling and managing regular one-on-one meetings and performance reviews is time-consuming and prone to error. And when the cost of inconsistency or canceled meetings is loss of employee trust, you can't afford to drop the ball.
Never miss important conversations or coaching opportunities again.
Track one-on-one meetings, both impromptu or via an automated recurring schedule.
Customize meeting templates and feedback questions to fit your culture.
Act on the feedback that matters most with built-in analytics.
Employee feedback software helps managers and employees stay on track year-round.
2. Give and receive attributed feedback.
There are many ways to gather feedback—and your software shouldn't limit your options.
Look for flexible feedback tools that let you give or request attributed feedback, anonymous feedback, or both so you can get the insights you need.
3. Incorporate feedback into 1-on-1 conversations.
One-on-one conversations are a valuable opportunity to build relationships, uncover problems, and develop employees.
Your feedback software should help you direct those conversations successfully with features like in-tool nudges, coaching insights, and conversation boosters that promote healthy workplace habits and activities.
4. Easily record notes from employee feedback sessions.
Feedback is only useful if you remember it and apply it. Look for employee feedback software that supports note-taking and feedback tracking from meeting to meeting.
Look for a tool that allows employees to take notes, add comments and record questions on feedback to improve clarity and support learning.
5. Allow for two-way and 360 feedback conversations.
Gone are the days of rigid, top-down only feedback hierarchies. Today's high-performing organizations support holistic feedback in all directions.
Make sure your feedback software has the flexibility and capability to facilitate both 360 feedback and two-way feedback from both leaders and peers.
Look for key features like scheduled feedback cycles and the ability for employees to request feedback anytime.
6. Encourage employees to focus on growth.
Feedback is helpful if it is understandable and actionable. Look for software that drives employee development and provides the tools for managers to coach and employees to improve.
Features like attributed feedback allow for consistent follow-up and follow-through while employee-driven feedback creates a greater sense of investment within a team.
---

Take the guesswork out of feedback. Facilitate holistic feedback loops and a culture of growth in your organization with Quantum Workplace.