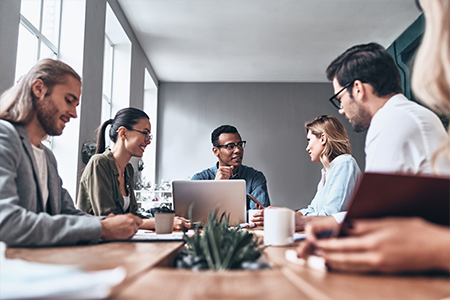 2021 was a tumultuous year in the workplace. Many leaders faced difficulty motivating performance, engaging employees, and retaining talent amidst an ever-changing workplace environment. But the past year can serve as a valuable learning experience for organizations moving forward.
Quantum Workplace collects workplace insights throughout the year through our contest, Best Places to Work. This contest gives us a unique vantage point, providing insight into employee perceptions nationwide, from hundreds of organizations. With this data, we've compiled a list of the top 5 workplace trends to watch for in the upcoming year.
1. Your performance management approach will make or break employee engagement.
Performance and employee engagement are inextricably linked. When you have an outdated performance management approach, engagement is hindered. This is a problem, because disengaged employees are unlikely to perform at their best. By shifting to a continuous, employee-centric approach, you can improve performance and engagement.
Findings from our engagement data show that the following areas of performance management have a high correlation with employee engagement:
Employee recognition: "If I contribute to the organization's success, I know I will be recognized."
Performance evaluation: "My performance at work is evaluated fairly."
Performance feedback: "My manager regularly provides me with effective feedback that helps my performance."
Goal setting: "My performance goals are aligned to our organizational goals."
Empowerment: "I am empowered to decide how my work gets done."
While many leaders spend their time with individual rankings, ratings, and pay-for-performance, these practices are often disengaging. They are infrequent, focused on the past, bureaucratic, and demotivating. The best way to drive engagement is through a modern approach to performance management.
To create a performance management process that engages employees in the upcoming year, leaders should focus on:
Recognizing great work
Prioritizing 1-on-1s
Connecting employee efforts to broader goals
Empowering employees with streamlined performance tools
A modern approach will create stronger relationships, increased levels of trust, shared accountability, and a highly engaged workforce in 2022.
2. Employees will expect you to listen—continuously.

Another workplace trend to watch for in 2022 is the high impact of continuous listening survey strategies. Frequent employee surveys are an effective way to gather the employee feedback that drives organizational growth. And when employees feel that their opinion is valued, their engagement levels soar.
While many organizations fear too many surveys will lead to "survey fatigue," our research shows that employees don't mind—as long as organizations intend to do something with the feedback that they share on these surveys.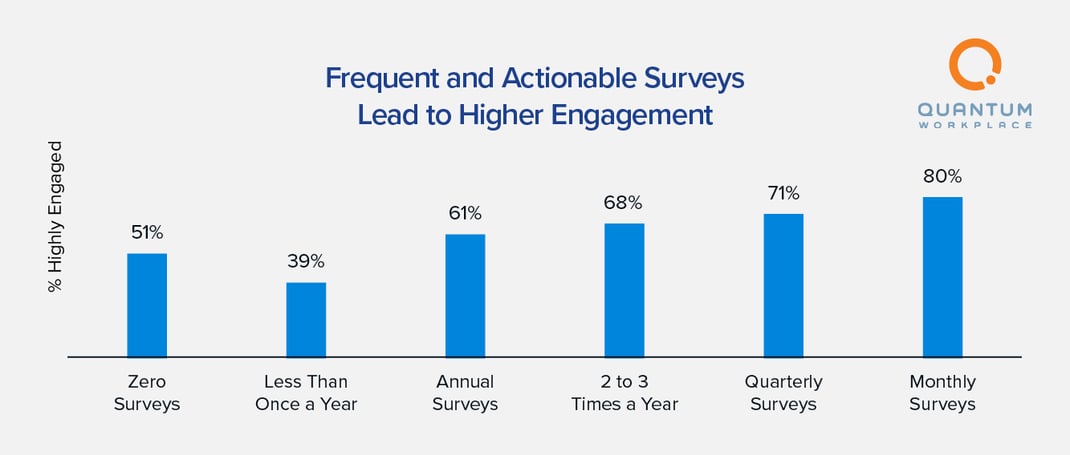 A practical cadence to administer surveys is 3 to 4 times a year. This ensures that your surveys are effective, engaging, and prompt action. Your employees will appreciate your ongoing efforts to capture their voices and take action to make work better everyday in 2022.
An irregular survey cadence is worse for engagement than no surveys at all, demonstrating the importance of creating effective, actionable surveys. If your surveys fall short on their regularity or ability to prompt action, employees will start to question their importance. And when surveys seem like sporadic, random efforts without a purpose, employees will be hesitant to give genuine, impactful insight. When this happens, your surveys become a waste of time and resources for employees and leaders alike.
That's why you should administer surveys at a cadence where action can always follow. By implementing a streamlined survey platform, you can easily get the insights you need to take action. Your tools will help leaders launch annual and pulse surveys to capture feedback at critical employee milestones or about important workplace topics.
3. Managers who master 1-on-1s will have more engaged teams
Regular one-on-ones increase trust and alignment between employees and managers. They help employees reach their goals by boosting accountability and addressing roadblocks in real-time. Plus, employees and managers can give two-way feedback to outline room for improvement—big or small.
When employees were asked how often they preferred to have performance conversations, 36% preferred weekly conversations and 27% preferred monthly. This is a large percentage increase from only 3% of employees wanting annual conversations, 5% preferring 2 to 3 conversations per year, and 11% seeking quarterly conversations.
But these conversations aren't just a nice-to-have, they are critical in driving performance and improving engagement. In fact, we found that high 1-on-1 frequency was associated with increased engagement levels among employees:




With these findings in mind, it's clear that frequent conversations are important to employee success. But the quality of these conversations is just as important. Leaders shouldn't make the mistake of focusing only on performance—recognition, growth, and retention should be prioritized too.
With a robust 1-on-1 tool, you can streamline these conversations with individualized templates that outline important talking points. Plus, leaders can easily document the 1-on-1 so employees and managers can reflect on what was discussed, ask questions, and provide feedback. Your 1-on-1 tool will help make continuous one-on-ones a reality in 2022 to increase productivity and engagement.
4. Organizations will need to get better at understanding and predicting turnover
Organizations saw record-high rates of turnover in 2021, largely in part from the effects of the pandemic. Many employees left their organization, role, or industry entirely. This left organizations scrambling to retain and replace top performers.
Over one-third of employees in the past 6 months considered changing industries. This may be because their wants and needs changed with the pandemic, as 34% of employees reported that the factors that make a job attractive have changed over the past 18 months. And 58% of employees say they've been recruited or received offers from other organizations in the past 6 months, making these metrics even more alarming.
But there's hope for your retention efforts. While engaged and disengaged employees are being recruited at similar levels, those who are not highly engaged are more likely to be looking or applying for jobs (34%) than highly engaged employees (5%).
Moreover, only 47% of disengaged employees intend to stay working at their current organization in the next year compared to 90% of highly engaged employees.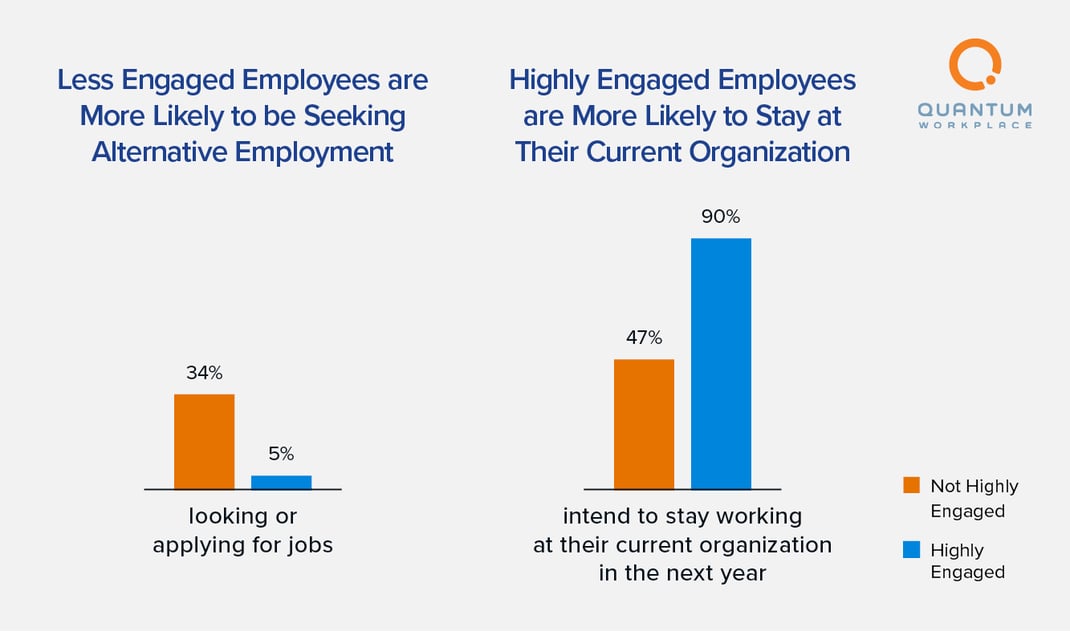 These metrics demonstrate the importance of focusing your retention strategy on employee engagement.
Tools that help you understand, predict, and prevent turnover like exit surveys, stay interviews, and flight risk analysis will make all the difference in 2022. And when leaders leverage engagement tools, including a full suite of employee listening and continuous performance management tools, your retention efforts will be even more effective.
To navigate turnover in 2022, leaders should make a calculated effort to uncover workplace shortcomings and improve them. This will help increase employee engagement and alleviate your retention issues.
5. Companies will need to pivot to drive engagement in a new world of work.
In 2020, employee engagement was surging, with some of the highest rates that Quantum Workplace has ever recorded. Employee engagement was at an average of 77% for the year, up 3 percent from 2019. Unfortunately, these rates declined to 74% by July of 2021, adding to the retention problems that organizations saw throughout the year.
At the beginning of the pandemic, engagement was high because leaders were doing things they've never done before. They were leveling up their communication, showing more care for employee wellbeing, and creating more workplace flexibility that had long been in demand by employees.
It seems that organizations have slipped into old patterns and habits, failing to understand how to apply the things that were effective in a new world of work. While leaders can't carry on with everything they were doing when the pandemic first hit, they should ask themselves what they can do. By asking these questions and taking action in 2022 and beyond, leaders can continue to engage their employees.
Listen to employees, hear what's on their mind, consider their ideas, and continue to be open to change that makes work better. People analytics will be invaluable to the business as leaders work to understand, manage, and avoid talent risk like turnover, poor performance, and disengagement. Workplace trends can be shaped—but organizations are going to have to think creatively in order to maintain or increase engagement, performance, and connection.


---
To guide your retention efforts this year, it's important to understand past turnover trends. Read our 2021 Turnover Trends Report and retain your talent in the modern workplace.