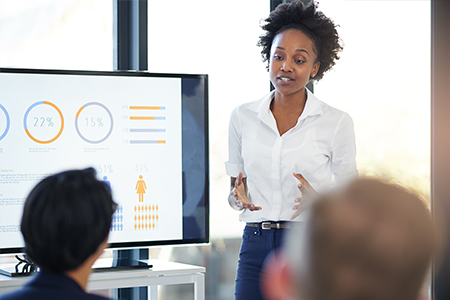 The SEC's human capital disclosures mandate has reinforced the need for people analytics teams and tools for public-facing companies. To create a compelling story about your people in relation to business success, leverage metrics to boost the credibility of your story.
This data is essential to providing sufficient disclosures. Learning how to effectively acquire and share this data with the right people is critical to elevating your role in business success.
In this blog, you will learn the steps to take to leverage the SEC human capital disclosure mandate:
Understand people analytics
Select the right data
Own the data collection process
Tell a compelling story
Highlight business success
Use technology to support your strategy
Understand people analytics.
When putting together your human capital disclosures, it's important to communicate how your people drive business success. Doing this requires leveraging the right data to tell a credible story that makes a clear connection between people metrics and business impact.
People metrics help you understand the health of your organization via metrics such as employee engagement, turnover rates, and absenteeism. These data points help your business decide on a course of action by bringing what's working or what isn't working to the surface.
Uncovering this data is important— it allows you to surface critical insights and back any known successes or problems with evidence. Ensure that the data brought to the surface is effective and backs up the story you are trying to convey.
Select the right data.
Understanding people analytics isn't enough—to create an effective disclosure, you need to understand which analytics are helpful in telling your people story.
There is a vast array of data points to uncover within any organization. Be picky with the data points you decide to disclose. Ensure that your data is of good quality and integrity, and strongly supports the story you are trying to tell.
Consider uncovering some of these data points when telling your people story:
Workforce size: The headcount of your employees in regard to location, business line, and overall
Workforce composition: The percentage of full time versus part time employees
Workforce attraction: The number of new hires, and data points related to recruiting and onboarding programs
Workforce retention: The retention of employees by location, leadership level, and overall, tenure of the workforce, and voluntary turnover rates
Diversity and inclusion: The percentage of employees who identify as women, and minorities, the array of age groups, pay equity numbers, and inclusion programs
Engagement: The rate of participation in engagement surveys, highlights of engagement insights, and investments in engagement
Training and development: The number of training hours and training programs
Talent mobility: The internal mobility/fill rate and career development support
Leadership development: The number of leadership roles filled from within, leadership diversity and leadership development programs
Workforce safety: The number of safety incidents, safety initiatives, and investments in safety
Workforce well-being: Physical, mental, financial, and family well-being and support
Because these data points can be tied to business success, consider leveraging them to tell the story of how your people drive organizational outcomes.
Download this checklist of metrics to understand what data to provide in your human capital disclosures.
Own the data collection process.
Understanding which data to collect enables HR professionals to own the collection process. With a firm grasp on what data is effective in telling your story, leading the process of collecting this data becomes easier.
Owning the data collection process elevates your role as an HR leader. Not only does it show your organization that HR is important in pushing employee-based results, but it brings to light the importance of people analytics in making business decisions.
Being involved in acting and reporting on these insights puts you at the head of your people's story. Learn what steps to take in the process with our beginner's guide to HR analytics.
Tell a compelling story.
Once you've acquired your data, it's time to arrange it properly to communicate how your employees drive organizational outcomes.
When telling your unique story, distinguish your talent strategy as a business strategy. Help people understand how your employees support your business strategy and help the company achieve its mission. Your people are difference-makers at the base of business outcomes—let this be known to your stakeholders.
By taking the opportunity to tell compelling, people-related stories, you are bringing your employees to the center focus of shareholders, investors, and board members—this brings about extra opportunities for you and your employees.
HR leaders should tell the story of how they are developing their employees as an important resource related to pushing business outcomes, to make their importance to the organization highly visible.
Highlight business success.
Telling relevant stories is imperative in taking full advantage of this disclosure opportunity. Share the story of your people, but ensure that these stories are related to business success.
This is an essential component of your disclosures—everything you say should demonstrate what level of success your organization has reached or will reach in the future. Tying your people story to your business success should be your main objective when creating disclosures.
For example, a company that prioritizes DE&I could tell a story about how their initiatives within their company push innovation in products due to a vast array of perspectives and diversity of thought.
When you tie business outcomes to your people, they are seen as a valuable asset that drives positive outcomes.
Use technology to support your strategy.
Pulling the right metrics and telling the right stories can be difficult without the right tools. Invest in intelligence tools that empower your team to easily collect, analyze and act on people data.
Leverage your team.
Quality data is essential in carrying out your strategy and telling compelling stories. Leverage your insights and data teams to assist you in bringing analytics to the surface.
Data scientists, IT departments, and HRIS analysts are important to take advantage of when tracking metrics and gaining access to data.
Prioritize accuracy, efficiency, and impact.
HR professionals need to supply relevant data and insights, which requires certain tools and technology that not all are equipped with. Although leveraging your IT team is a good step to take, organizations need tools that compile their data in real time.
Using people analytics tools allows you to:
Increase access to data to anyone who needs it
Identify trends over time
Avoid conducting a manual data pull every quarter
Organize data in one central location
Easily acquire data points with employee surveys
Using relevant people analytics is key to disclosing a compelling and effective human capital story. Conveying your business success in relation to your people becomes easier for HR professionals with the right metrics and tools.
Leveraging people analytics software can simplify this process, enabling you to bring your people to the attention of those who matter. Your employees are your organization's most valuable asset—use your human capital disclosures to communicate how employee success and business success correlate.
---

Explore these resources to help you connect employee and business success and maximize your human capital disclosures.