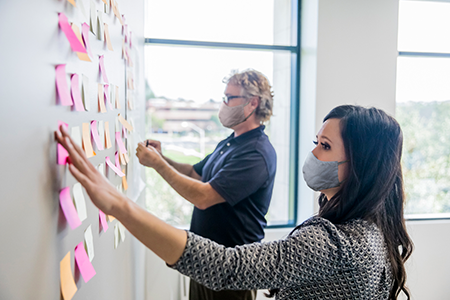 The events that have occurred since March 2020 have demonstrated the undeniable breadth of knowledge required by HR professionals. From traditional people practices like compensation and benefits to more modern initiatives like talent development and DE&I, HR leaders have had to adapt at every turn.
For business executives, it's important to recognize the many hats HR wears and what employees might expect of them this year.
In this blog, we'll summarize a few priorities that businesses will face this year, including:
Challenging and innovating the employee experience
Elevating diversity, equity, and inclusion strategies
Emphasizing employee safety and wellbeing
Reimagining the world of work
1. Challenging and innovating the employee experience.
Prior to COVID-19, employees usually came into the office to onboard, train, and work. Moving forward, HR leaders will have to challenge every aspect of the employee experience and implement virtual-first programs. This includes rethinking or evaluating:
Employee onboarding.
Onboarding is an integral part of the employee lifecycle. In fact, 1/3 of employees quit their jobs after 6 months. Now's the time to invest in clear 30, 60, and 90-day onboarding plans for all employee types.
Organizational culture.
Maybe even more important is how you'll approach the cultural aspects of your onboarding process. Introducing employees to your organization virtually will prove technically challenging, so it's even more important to be intentional about your company's culture.
Ongoing support for hybrid workforces.
The physical restrictions of traditional workplaces have been thrown out the window and companies can give employees the flexibility they need to work from anywhere. HR leaders may need to assess which roles actually need to be fixed to a facility and assess the costs associated with supporting employees who don't.
Learning and development.
You'll have to get creative with your development strategies when employees are remote. Make sure you communicate with your employees, assess your team needs, consider what approaches you need to upskill, and look for opportunities to adapt current in-house development practices for a remote environment.
HR's Role: Virtual Employee Experience
The employee experience should be individualized so that each employee feels a personal connection to the organization, their team, and their work. As your organization works through the challenges of a remote or hybrid work environment, consider how you'll prepare your employees for success virtually.
Key questions:
How do we ensure employees are trained with the right skills, at the right time?
How can we ramp up our on-demand training?
How can we create clear expectations for senior leaders?
How can we keep our company culture alive and reinforced?
How can HR stay in alignment with the company's professional and employer brand?
What people, policies, programs will you need to monitor to stay aligned?
2. Elevating diversity, equity, and inclusion strategies.
DE&I has been a growing area of focus for organizations in recent years—but events like the Black Lives Matter movement and social injustices forced organizations to prioritize DE&I. More than ever before, we're seeing organizations add DE&I survey items to their employee engagement surveys, launch DE&I pulse surveys, and otherwise listen to employees through the lens of diversity, equity, and inclusion.
To stay successful, organizations need to be diligent about finding the gaps and areas of improvement in their diversity, equity, and inclusion strategies. Here are a few trends we are seeing in the industry.
DE&I discussions will permeate the workplace.
Whether organizations were prepared or not, conversations happening outside the workplace increased the urgency for HR to accelerate them inside the workplace. Some events required organizations to take a stance or release statements of their positioning if they hadn't before.
Businesses won't survive without meaningful and aligned action.
Organizations releasing a statement about racism and equality won't be enough for some consumers, investors, and job candidates moving forward. These groups will want to confirm an organization practices what it preaches by asking questions about a company's diversity makeup and the DE&I efforts in place. It will become increasingly common for organizations to want their business relationships to be aligned with their own company goals and objectives.
Talent pools will be diverse, but broad.
HR will continue to accelerate DE&I inside their organization, but this can be tricky as many organizations (and employees) remain remote. This may open up the opportunity for more diverse hiring (if employees don't have to be located in the same place as your "headquarters"), but organizations will have to be much more intentional about including employees who can't be physically "seen" in the office.
HR's Role: Diversity, Equity, and Inclusion
Diversifying your workforce isn't only good for the employees within it, but the perception to prospective hires and the general public. Diverse employees (and leaders) may help you hire people who could help your organization (and our society) overcome some of the injustices and wrongs that are happening in the world.
Key questions:
How do we create a shared understanding of our organization's stance on DE&I?
What does this shared understanding mean for our behaviors, systems, and policies?
What tools can help us be more inclusive when we're not together?
What are the biggest gaps in our DE&I initiatives?
How do we facilitate conversations internally that might feel uncomfortable to some employees?
How do we get more comfortable having uncomfortable conversations?
3. Emphasizing employee safety and wellbeing.
There are many studies that have pointed to the devastating impact on mental health as a result of the uncertainty surrounding COVID-19, remote work, and social injustice issues. Employees will continue to face challenges at every corner that heighten stress levels and put wedges between them and their work.
Some examples may include:
Parenting children at home while schools rely on remote learning
Medical concerns about the virus
The emotional toll of social distancing from family and friends
Worry about current events taking place in our country
Financial burden and job security
These concerns expand beyond physical safety and engagement will look different for every employee.
HR's Role: Crisis Management
HR leaders had to respond to the historic events of the last year—in many instances without a playbook to guide their decisions. Protecting the health and safety of employees required many organizations to quickly shift to remote work and provide extra flexibility as many employees dealt with children at home, a lack of appropriate work space or equipment, and worry about the future.
Our research shows that these massive efforts didn't go unnoticed by employees. Employee engagement spiked as employees acknowledged the greater flexibility, better communication, and sense of care their organizations made. So what will HR's role be in helping balance the personal wants of employees and the needs of the business moving forward?
HR has been (and will continue to be) asked to help with things they haven't before. You'll have to be increasingly prepared, innovative, and agile. You have the unique opportunity to ask questions, analyze employee data, and build relationships with your workforce to help them navigate uncertain times.
Key questions:
How can we provide supervisors with additional training around mental health?
How can we align senior leaders and HR to ensure employees feel supported?
What resources can we point our employees to?
What initiatives can we put in place to help with stress and mental health?
How will we address employee needs and concerns?
How do we ensure employees are engaged in their job while at home?
4. Reimagining the world of work.
If you thought the start of 2021 meant a return to "normalcy"—think again. Organizations around the world will continue to face tough decisions to stay remote, close offices, and operate in a hybrid work environment—while it's all still changing and evolving.
Beyond the physical walls of workplaces, HR will have to navigate decisions around:
The distribution and administration of the COVID-19 vaccine
Inconsistencies in local, national, and global restrictions and policies
How to continue fostering a people-centric culture
Budget for things like travel, compensation, and overhead
Manager and leadership training and support
A reliance on technology
HR's Role: Remote Operations
Research by BCG found that 60% of employees said they want some flexibility in where and/or when they work—which correlates with so many employees wishing to work from home at least part-time moving forward. To stay successful, HR leaders will need to:
Communicate effectively and consistently
Build trust among senior leaders and teams
Empower managers to play a critical role in a new remote culture
However, 1/3 of business executives view the disconnect between their employee engagement and performance management systems as one of the greatest barriers to employee and business success. Modern performance management and employee listening tools can help HR leaders accomplish these goals by staying connected to their workforce's engagement, performance, and development from anywhere in the world.
Key questions:
What tools and training do employees need to be effective in their jobs?
What are the best ways to keep teams connected?
How will we communicate around work from home policies?
How will we provide clear expectations for all employees?
How can we provide more flexible work hours or shifts for those balancing work and family?
How will we conduct in-person meetings, while practicing social distancing guidelines?
---
HR will continue to face new challenges and continued uncertainty in 2021, and may continue to be redefined. But one thing's for sure—business success depends on employee success. This will remain true, regardless of what lies ahead. HR is the epicenter for organizational success more than ever before. Download our 2020 Employee Engagement Trends Report to learn how America's Best Places to Work engage and retain top talent.