The Solution
Is it possible to solve for your customers while also centering the employee experience? For Frontline Education, this dual-focus was a no-brainer.
Frontline Education experienced significant improvements in retention and employee satisfaction after implementing proven employee engagement strategies. Their goal? Create a culture rooted in authentic core values where employees could thrive as individuals and within a team.
The company developed a comprehensive engagement strategy under the branded acronym Frontline LIFT targeting:
Learning & Recognition
Inclusion & Belonging
Fitness & Well-being
Talent Development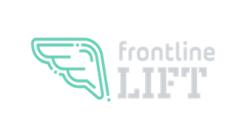 Much of their success can be tied to executive and leadership endorsement. Frontline's executive leaders played a pivotal role in prioritizing culture and engagement, viewing them as the key to becoming a destination employer. And with this focused support, came the investment and resources to make Frontline LIFT a possibility.
The results of their efforts were impressive:
66% decrease in open requisitions
50% reduction in employee turnover
And a 14% increase in their engagement survey index.
Frontline Education understood the importance of employee feedback. That's why they conducted regular surveys to understand their workforce's needs and aspirations. This employee feedback revealed requests for more information on future plans, additional learning and development opportunities, and a strong interest in growth within the company.
"We have such a fundamental belief in listening to the voice our employees, which is why the award is so meaningful to us. We believe that the survey helps us to seek employee feedback to help us to shape our engagement programming as well as the Frontline LIFT strategy to better achieve our employees needs and goals for engagement and culture. Our Frontliners are the reason we do everything we do. At Frontline, we leverage our survey to gain insight to enable our employees and our business to flourish."

- Jodi Dickinson, Chief Human Resources Officer
Frontline Education leverages Quantum Workplace's powerful reporting tools to drive employee engagement, development, and strategic planning. With the Presentation report, Categories report, and Engagement index, Frontline gains valuable insights into employee analytics and sentiment. These reports are utilized at every level of the organization, from executives to HR to department-level teams, allowing data-driven decision-making for engagement programming.
By listening to the voice of their employees through Quantum Workplace, Frontline Education creates a thriving and inclusive workplace where everyone's voice is heard and valued.
Using these data-centric employee insights, Frontline Education could ensure that their engagement strategies were widely embraced across the organization, with the entire company rallying around the purpose and benefits.
The Executive and Senior Leadership Teams served as role models, cascading the strategies to their respective teams and departments. Company-wide action plans were introduced, focused on elevating employee voices, improving communication on future plans, and enhancing recognition, all while fostering a continuous learning environment.
"Given our commitment to employee engagement and the new strategies activated, employees feel appreciated, have a sense of pride working at Frontline and feel aligned to our core values. These efforts have also created positive outcomes for our business."

- Kate Kandrick, Human Resources Director
Through collective leadership and commitment to these key areas, Frontline Education believes it can make significant progress in enhancing employee engagement and culture.
The company is poised to build on their successes, striving for higher participation rates and seeking ongoing feedback for continuous improvement. With a dedicated approach to employee success and a focus on nurturing talent and engagement, Frontline Education is well-positioned to achieve its goals and create a vibrant and thriving workplace.