Not long ago, critics were calling 360-degree feedback a "performance-reviewing fad." Today, some estimates suggest 90% of US employers rely on 360 evaluations--though not all successfully. This article outlines key points from the American Psychological Association to help you understand why 360 feedback works, when it fails, and how to improve its value.
Why 360-Degree Feedback Works
For more than 20 years, employers have relied on 360-degree feedback to diagnose a variety of organizational issues, including turnover, productivity dips, lackluster morale, and stagnant growth. The idea behind 360-degree feedback is to collect feedback from different points of view, whether colleagues, supervisors, subordinates, partners, or clients.
According to Dr. Kenneth Nowack of Envisa Learning Inc., the more feedback the better. Psychologists who specialize in 360-degree assessments agree that 360s work well, if properly implemented.
When 360-Degree Feedback Fails
If 360-degree feedback isn't carefully executed and followed up on, it can do more harm than good, says Dr. Nowack, whose research was featured in the Consulting Psychology Journal: Practice and Research.
Here are a few reasons 360-degree feedback fails, according to the article from APA:
Too few raters: Having two to three people provide feedback isn't enough to get a full perspective.
Employees unprepared for feedback: When employees' self-perceptions are extremely different from the feedback they receive, it can be demoralizing.
Facing feedback alone: As the article points out, report feedback can't be "just left on a person's desk." They can't be expected to change behavior without support.
Zero follow-up: "Follow-up is everything," says Nowack. With 360 feedback results in hand, employees need to meet with a manager, internal or external consultant, or mentor to work through the feedback and agree on what behaviors to improve.
Lack of a plan: In order for 360 feedback to result in a behavior change, a plan must be made. Employees can't be expected to figure this out by themselves. It's necessary to involve a mentor, psychologist, coach, manager, or HR professional who has experience in creating plans for changing behavior and who will continue to check in with the employee on progress.
In another analysis featured in Psychological Bulletin, one-third of 360 feedback cases actually lowered employee performance. All the more reason to ensure 360 feedback strategies are implemented with care and support throughout the process.
How to Improve the Value of 360-Degree Feedback
A first step to improving the value of 360-degree feedback is to ensure you're doing the opposite of the above.
Collect feedback from more people: Psychological research suggests including 8-10 raters maximizes the reliability of the feedback.
Select raters as a team: It's best practice for the manager or coach to come to agreement on who should be selected as a rater. In a given feedback session, who is included as a rater depends on the purpose of the 360 and the organization's culture.
Have realistic expectations: Dr. Nowack says, "The magnitude of change is modest but statistically significant. We have to be realistic. We can't take someone from one extreme to another."
Follow up and make a plan: This is the most critical piece to making 360-degree feedback a successful process for professional development.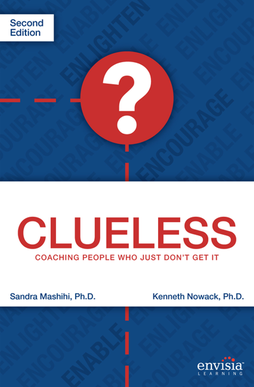 When it comes to follow up, Dr. Nowack suggests a model called "Enlighten, Encourage, Enable," which he developed with Dr. Sandra Mashihi and explains in their book, Clueless: Coaching People Who Just Don't Get It.
Here's a quick synopsis of the three stages:
Enlighten: Help employees become more aware of their strengths, values, personality, and development opportunities. The goal is to increase awareness of how they are perceived and determine where changes need to be made.
Encourage: Motivate employees to implement behavioral change. Dr. Nowack and Dr. Mashihi provide motivational interviewing techniques, change models, and skill building to encourage readiness for change.
Enable: Empower employees with techniques and skills to track progress, prevent relapse, and cultivate sustained change.
Dr. Nowack's words are worth repeating one more time: "Follow-up is everything."
---
Ready to launch a successful 360-degree feedback tool for your team? Learn more about how you can use our 360 feedback tool in parallel with one-on-ones to ensure follow up.