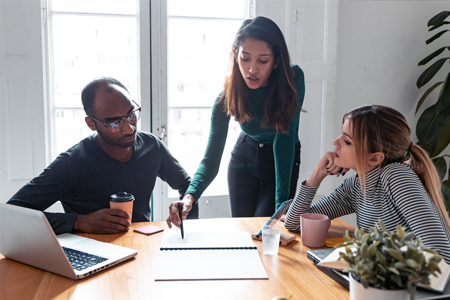 Employee success is key to business success. But how do you ensure your employees have the support they need to succeed?
An employee success platform can help you get there.
In this blog we'll cover:
What is an employee success platform
Benefits of an employee success platform
What to look for in an employee success platform

What is an employee success platform?
An employee success platform is an all-in-one solution for supporting and driving employee success and engagement at every level. An employee success platform supports:
Employees by identifying their needs and where their role and organizational goals align.
Managers by helping employees grow through onboarding, performance, and development.
Leaders by making the solution easy to use at every level of the organization from employee to CEO.
The right platform should provide multiple tools, features, and systems that work together to:
Encourage interaction between employees
Improve collaboration
Align employee goals with the team and organization
Gather actionable insights on employee experience
Promote recognition that creates an environment where employees are valued
Benefits of an employee success platform
An employee success platform brings together the HR tools and resources you need to build engagement, drive growth, and create an empowering culture of feedback and recognition. This results in benefits for employees, managers, HR leaders, and your overall business.
Benefits to employees:
Feel like their voice is heard
Understand their role on their team and in the organization
Feel valued and appreciated for their work
See career growth and opportunities
Benefits to managers:
Store and document information in one place
See employee progress and development
Get a birds-eye view of what is going on with your team
Gather employee feedback that helps managers improve
Benefits to HR leaders:
Identify data to measure employee success
Leverage reporting to monitor employee progress
See trends in the organization, on teams, and among different demographics
Benefits to the business:
Gain an overarching view of the organization
Uncover analytics
Identify trends
Make insights actionable
What to look for in an employee success platform
The right employee success platform understands what qualities make a successful employee and provides the tools to support and develop those traits among your workforce.
When choosing an employee success platform, look for the following features and support systems:
1. Survey tools to capture employee voice.
Successful employees are resilient to change.
Employees who see opportunity in the midst of constraint are able to more successfully navigate change and adapt to disruption.
Your employee success platform should help employees understand and navigate change.
Look for a platform, like Quantum Workplace, that helps you understand your employees' experiences by capturing their thoughts through an employee listening strategy. Employee engagement surveys, lifecycle surveys, and pulse surveys allow you to gather employee feedback, track and measure employee experiences, and act on insights.
A strong employee listening strategy gives you the insights you need to understand how change may be impacting your employees so you can address their needs and concerns and more effectively support them.
2. Goal setting tools that align employees with their team and organization.
Successful employees are driven by the company mission and purpose.
They are able to channel their motivations to achieve the goals of the organization and align their work to its purpose.
Your employee success platform should make it easy for employees to see how they contribute to organizational success.
Employees do best when they have goals and objectives that are clear. Quantum Workplace's employee success platform makes it easy to store, share, and track goals so managers and their employees always know how they're doing and what they're working toward.
And when employees are able to see how their goals contribute to the bigger picture, they can better align their goals with the mission of the organization.
3. Feedback tools that empower employees to own their performance.
Successful employees own their performance and growth.
They seek opportunities to learn from others, feel challenged in their roles, and consistently use their strengths and work to improve weaknesses. But if they don't understand where their performance has room to grow, they will struggle to improve.
Your employee success platform should provide many opportunities to give and receive feedback.
Look for a platform with a robust feedback system that allows employees and their managers to give, receive, and record any type of feedback (360 feedback, peer-to-peer feedback, upward feedback, etc.) anytime, anywhere. Quantum Workplace makes it easy to ask for feedback in just a few quick steps to help your employees act on insights and stay focused on continued growth.
4. Recognition tools that celebrate employee success.
Successful employees are aligned with organizational values and goals.
They care about the direction of the organization and infuse those values into their work.
Your employee success platform should encourage behaviors that align with company values.
Features like social recognition and feedback tools reinforce good behaviors and performance standards. That's why Quantum Workplace builds social recognition into its platform.
Social recognition celebrates success at every level in an organization and peer-to-peer feedback is more intrinsically valuable when colleagues highlight great work. This creates a recognition culture where great work is seen and valued throughout an organization, driving further employee—and organizational—success.
5. Easy-to-use experience that motivates engagement.
Successful employees are teachable and positive.
They are willing to learn and develop, try new things, and approach work with optimism—which can also make work more enjoyable for everyone. But complicated tools can quickly turn employees off of new engagement platforms, and slow the adoption of your employee success programs.
Your employee success platform should drive participation and regular use.
Quantum Workplace's employee success platform is simple and straightforward to use which motivates employees to engage with the tools and drives participation. As employees buy-in, they are more likely to view the platform positively and encourage their coworkers to join in.
6. Apps and integrations to meet employees where they are.
Successful employees challenge the status quo.
Future business success is often found in your ability to innovate. Employees who embrace curiosity and explore new ideas help drive business success and uncover new opportunities for growth.
Your employee success platform should encourage employees to grow and develop every day.
Stay one step ahead of the competition with a platform that integrates with your existing HRIS and communication tools for greater flexibility and faster adoption. Look for a platform like Quantum Workplace that is also available via app, so you and your employees can access feedback, performance, and engagement tools on the go. Plus, a single sign-on feature makes the platform easier to use, resulting in higher participation and driving greater employee growth and success.
---
A robust employee success platform helps you drive success at every level of your business. Quantum Workplace's platform brings together simplicity and capability to build broad participation, engagement, and development for your employees. Book a free demo today and see how Quantum Workplace can transform your employee experience.