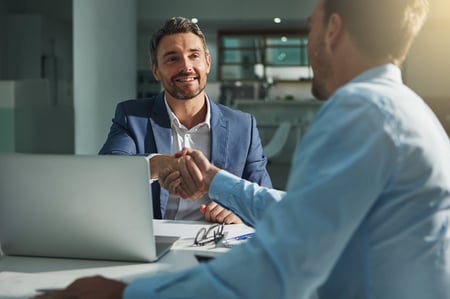 A leader knows the way, goes the way, and shows the way, according to John C. Maxwell, a well-known author and speaker who primarily focuses on leadership.
Our research spells out 15 essential skills of leaders. But what do employees have to say about what makes their leaders great?
What makes a great leader?
Great leaders are experts in the field.
They are able to lead an organization on the path to success and manage any unexpected obstacles along the way.
Great leaders are successful.
They execute and achieve business results, regardless of inevitable setbacks.
Great leaders build great teams.
They inspire, effectively communicate with, and earn the trust of their employees.
What do employees say make great leaders?
In this post, we decided to get specific comments from employees that respect, follow, and truly trust their leaders.Check out the comments below to see what the most engaged employees are saying about their leaders.
In the past few months, the organization's leaders provided an honorable approach to relaying sensitive information. I can honestly say, that every concern has been properly addressed.
I think that the leaders of the organization are doing well in keeping us on track with our goals.
The leaders of this organization demonstrate integrity and are committed to making this a great place to work.
There is great communication between leadership and employees. As employees, we get a lot of encouragement; it really feels like leadership wants us to succeed on a personal level as well as a professional one.
The praise we receive from direct managers and district leaders for the work we do is above-and-beyond my expectations.
This is definitely a Best Places to Work. Though we are in a stressful and demanding industry, the leadership goes out of its way to keep the office environment positive and uplifting.
My supervisors don't micro-manage, but they are always available for questions and will help guide me through things I haven't done before.
Our office flexibility is outstanding. We can take our laptops and work on the couch, we can work from home if we need to, and we can come in and leave early if that's what works. It really demonstrates that the leadership team trusts us to get our work done. The freedom to choose to commit to my work makes my commitment to this company even stronger.
I enjoyed working and learning from my previous boss and feel the same with my current boss. I think that goes to show that this company does a great job of hiring great leaders.
The updates at the All Employee Meeting are great. It's great to hear from the leadership team every month with an update on our progress.
---
Great leaders make for highly engaged employees and high-performance cultures. Find out what it takes to become a great leader in The 15 Skills: How To Be a Great Leader.