You see the results posted everywhere—from social media channels to job board listings—promoting companies that are ranked within the Best Places to Work program. How do they earn their spot? And how can your organization compete with them? Get answers to all your Best Places to Work questions here.

Q. How is your program different from other contests?
First, Quantum Workplace has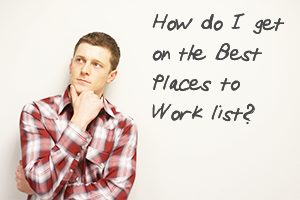 been around a long time. Now in its eleventh year, our Best Places to Work program is America's most widely-used employer of choice contest. Our contest takes place in more than 40 cities, and we have several industry contests as well (e.g. Best Staffing Firms to Work For).
Second, we're not a "pay to play" contest. Meaning, anyone can nominate their organization for our program. It's free.
Third—and probably what we take the most pride in—our data collection method, employee engagement model, and survey methodology are unparalleled. At its core, Quantum Workplace is a technology company. This gives us the advantage of creating our own measurement tools. We have an unprecedented, scientific method for measuring and analyzing employee engagement within an organization. This also means that the Best Places to Work award isn't subjective. It's based on data from employees. The organizations that receive our award are truly the Best, and we're pretty proud of that.
Q. I'm not sure my organization will win, so why should I enter the contest?
Measuring the level of employee engagement within your organization is always a good idea. Even if your organization doesn't win, sending out a survey and asking for honest feedback shows you care about employees and value their feedback.
Regardless of your final score, you'll have a benchmark from which to improve. We give each participating organization an infographic-like overview report that shows how the organization scored in a variety of areas. Plus, only the names of finalists are published. We never release the scores or names of non-finalists.
Another option is to survey your organization outside of the Best Places to Work competition using America's most widely-used survey to measure employee engagement, deliver insights your whole organization can use, and help you improve retention, productivity, and your bottom line. It's a great way to find out if your organization is ready to compete.

Q. Does Quantum Workplace support a Best Places to Work program in my area?
To find out if there's a program in your area, click here, or click on the orange button below.
Q. How do you keep the survey confidential for employees?
We take employee confidentiality very seriously. We never release the identity of survey takers. We don't even allow employers to see who has or has not completed the survey. And, although our reporting tool allows organizations to slice and dice answers by demographics, such as department, tenure, and age, we disable this feature if fewer than five people are in a particular demographic. This is to protect individual identities. For example, if your accounting department has three employees, we wouldn't allow you to see the results from only this department because there are fewer than five employees. To see the results, you would need to select a larger group of employees that includes the accounting department.
Q. Who can be invited to take the survey?
All full-time, permanent employees who've been with the organization at least 30 days must be invited to take the survey. We feel these employees have the best understanding of an organization's culture. Employees who work outside of the contest region, such as remote employees, should not be included. We also ask that you do not invite equity partners or majority owners. (Note: Exact rules vary by contest).

Want to learn more about the process? Check out our blog post, 8 Reasons to Participate in the Best Places to Work Program. You can also send us an email at bestplaces@quantumworkplace.com.