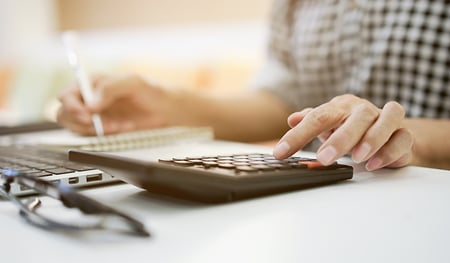 Financial insecurity causes a lot of stress. When employees are worried about providing for themselves, their families, and their futures, it's hard for them to focus on anything else — including their work.
Roughly 40% of American adults don't have enough cash savings to pay for an unexpected $400 expense. When living paycheck to paycheck due to low pay, high cost of living, or crippling debt, an emergency or accident can completely derail an employee's life.
That's why financial well being should be part of every corporate wellness program.
We recently conducted a study on the various facets of employee wellness. Our findings offer some insights into how employees feel about their finances, and how you can help them.
How Employees Feel About Their Financial Well Being
Many aspects of an employee's finances can impact their financial well being. We asked employees four questions that tap into a few of these areas. Below are their responses.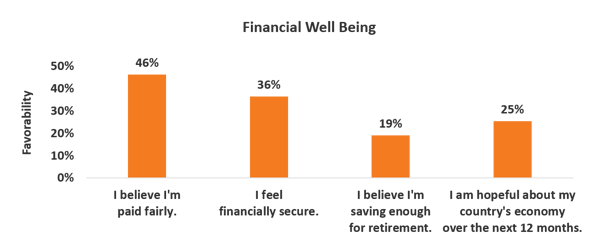 Less than half of employees (46%) believe they're being paid fairly.
More than one-third (36%) feel financially secure, suggesting that roughly 64% of employees may not feel financially secure.
Less than one-fifth (19%) believe they're saving enough for retirement.
Only one-quarter (25%) are hopeful about the country's economy over the next 12 months.
All these results highlight the need for financial well being in corporate wellness programs.
Financial Well Being by Gender
A well-known difference between male and female employees is the gender pay gap. In 2018, women earned 85% of what men earned. In the graph below, we broke out the previous four questions by gender.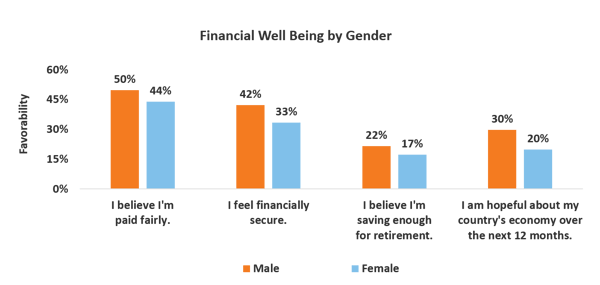 Male employees are more favorable than female employees toward all four financial wellness items. The percent difference between perceptions of fair pay is close to the gender pay gap noted earlier.
Whereas women earn 85% of what men earn, women have about 88% the favorability toward fair pay that men have. Overall, male employees are financially healthier than female employees.
9 Ways to Include Financial Well Being in Your Corporate Wellness Program
Provide workshops and materials to increase financial literacy among employees.

Conduct annual financial health checks.

Offer financial counseling services at little or no cost.

Give every employee an annual inflation-adjusted raise.

Conduct annual cost-of-living adjustments for salaries.

Have a 401k match (for employees who qualify) of at least 3%.

Offer tuition reimbursement programs.

Offer commuter reimbursement (e.g. paying for bus/subway passes).

Conduct a robust compensation analysis to ensure fair pay.
---

An employee's financial situation isn't the only factor in their well being. Get your copy of our ebook, Stress Management in the Workplace, to learn how stress impacts employees and what to do about it.