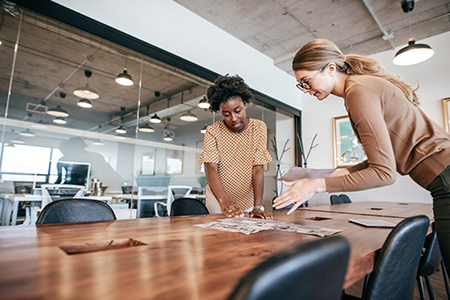 Fear. Failure. Uncertainty. Many of these words you've likely heard, seen, and felt from the news to Zoom conversations with friends and family. The events of the COVID-19 pandemic have caused a ripple effect on communities, businesses, employees, and their families.
Unlike anything we've seen this century, coronavirus has forced organizations to look inward and consider the safety, well-being, and economic and financial viability of their workplaces and workforces.
Rightfully so, employees will have different expectations about how the workplace should look and feel in the future. Recognizing that there isn't a definitive answer for what the future holds is equally terrifying and exciting.
In this blog we'll share expert tips to help your business succeed after COVID-19, including:
Pursue your mission, vision, and values
Connect on a human level
Stay agile
Communicate frequently and honestly
Assess policies and procedures
Boost continuous employee listening
Prioritize performance
Embrace creativity and innovation
Leverage technology
Focus on employee well-being
Express appreciation
Like other crises in our history, we know that not all businesses are equally prepared. Some businesses will do great, others may revert back to old practices, and future leaders may or may not learn from this situation.
No matter your approach to recovery and success, there are a few areas you should consider.
1. Pursue your mission, vision, and values.
Disruption of any kind forces organizations to think differently about their core business. If your employees understood your core values before the pandemic, they will be able to understand decisions made moving forward without confusion. If they didn't, you'll likely face an uphill battle of mistrust.
Strategic action rooted in a strong mission gives your employees consistency and predictability—which can impact their performance. A weak mission and purpose may cause further ambiguity and impact employee morale.
As the pandemic progresses and new changes disrupt your business and workforce, be sure you have a clear understanding of your mission, vision, and values. Communicate them across all employee levels and address how they may affect:
Your physical workspace
Your current market
The communities you serve
2. Connect on a human level.
At a time when employees are physically separated and emotions are surfacing, connection can be extremely valuable. Our research found that when senior leadership communicates often employees feel more connected. More importantly, part of being human is being vulnerable. Organizations and leaders can demonstrate vulnerability and connection by:
Bringing teams together and connecting with employees one-on-one
Sharing key messages and giving employees the reassurance they need
Opening up about personal challenges, inspiring employees, and sharing future vision
3. Stay agile.
This pandemic may prove that some organizations aren't as resilient as they thought, but it doesn't mean that people aren't. Fear of uncertainty can be the antithesis of agility.
Adapting to change is imperative. But you must recognize that it is a process. Take your time and listen to your employees. No matter what, you need to enter into long-term thinking. If you're only thinking about the short-term, you're not going to make it.
Consider these opportunities for agility:
Adjust customer delivery and service
Leverage or move business functions to digital platforms
Provide goal agility so employees can influence and impact their own performance
Implement cross-training and skill development
Allow employees to flex in their roles and shift outdated or impacted roles
4. Communicate frequently and honestly.
Chaos is best remedied with understanding—and employees appreciate authentic communication. Communication from people managers has been greatly tested. Their ability (or inability) to respond and react will impact the trust and confidence of their employees down the road.
But communication doesn't have to be perfect and polished to be effective. Our research found that employees are looking for information even if things are unknown or haven't changed since you last communicated.
Eventually, you'll get to a place where your message is clear and strategic, but regardless employees want to hear from leaders. Senior leaders should follow through on promises made and not shy away from the unfiltered or uncomfortable truths. After the dust settles, employees will choose to follow leaders who take the right path, not the easy one.
5. Assess policies and procedures.
"This is a time when leaders need to be flexible and compassionate. This is not an experiment that any of us opted into, but as long as we're stuck with it, as a leader, it's an opportunity to say: If I impose less control over people's schedules and plans, that's going to teach me whether I can trust them or not." - Adam Grant
The business impact of COVID-19 has not only disrupted your employees' work experience, but their view on the definition of work. Once you've given them the influence to craft their own safety zone or develop their own schedule and ways of achieving goals, it'll be hard to revert back to the old ways successfully.
As your organization transitions, recovers, makes adjustments, and continues to pave a path to success, make time to assess your processes, procedures, and beliefs. Determine those that aren't "pandemic proof" and make a plan to sunset them. You may also need to decide whether new processes or procedures you've implemented might continue into the future.
Some examples of policies to reevaluate during this time might be:
PTO structures and usage
Business travel
Health and safety office protocols
Absenteeism vs. presenteeism
Telehealth and health benefits
6. Boost continuous employee listening.
Though it may not feel natural to implement an engagement initiative, employee listening is a critical employee engagement strategy. Even during tough times, surveys are important to employees—they want to be heard. Now is the time to listen to your employees.
Organizations who rely on employee feedback, ideas, and concerns to help them navigate the chaos are the ones who will succeed through COVID-19. Those who view feedback as intelligence to determine their path forward instead of surveying for an engagement score that reflects their past are better positioned for the future.
7. Prioritize performance.
Organizations that rely on traditional methods of performance management, or don't have a system in place, likely struggled with both productivity and engagement. Those who adopted a performance mindset are more likely to have better navigated working from home. This modern approach means:
Performance is rooted in progress rather than how it was achieved
Goals are transparent, visible, and aligned
1-on-1s feel natural, productive, and helpful
Feedback is positive, developmental, and continuous
Recognition is public and is still happening, in real-time
While performance may be temporarily impacted, it's important for managers to practice empathy and understanding. Always leave the opportunity to ask questions and foster clarity through frequent 1-on-1 conversations so employees don't feel left behind. Learn to iterate and empower employees with constructive coaching and support.
8. Embrace creativity and innovation.
COVID-19 not only disrupted work, but workplaces and the people in them. Organizations, managers, and leaders have had, and will continue, to pivot to operate differently. This disruption makes it really challenging to create a plan for the future, but it can also lead to new or better practices.
Leveraging creativity can be a beneficial opportunity to help your organization succeed. And your employees can help you with that.
Companies are transitioning to contactless service—much of which cannot happen without input (and work) from essential, front line employees. Think about how your organization could do things differently or better and ask for their feedback.
9. Leverage technology.
The ways organizations use technology will continue to evolve. The use of software and digital platforms may have changed an organization's trajectory or even prevented worse results and fallout. And engagement is heavily impacted by an employee's need for the right materials and tools to do their job.
Beyond addressing those basic needs many organizations are worried about what a dispersed or remote workforce might mean for their culture. Use technology to connect employees to each other, their managers, leaders, and the culture itself.
You might consider an employee success platform that allows you to:
Improve manager-employee relationships with real-time 1-on-1s
Motivate employees with public, peer-to-peer recognition
Align teams by setting, monitoring, and tracking goals
10. Focus on employee well-being.
Managers will need to continue to empower their employees to feel engaged, healthy, and safe. In many organizations, employees needed to adapt their schedules, figure out how to prioritize and get work done with a variety of challenges and barriers, and make personal choices about safety and well-being.
If you've leveraged an employee pulse survey to gauge the interest of employees in returning to the workplace, you might have found some interesting findings. Do they want to come back? Do they have a choice or is there a penalty for choosing not to?
These concerns expand beyond physical wellness. Engagement looks different for each employee. Addressing employees on an individual basis about these topics is a good place to start impacting their well-being:
In-person meetings (while practicing social distancing guidelines)
Work from home policies and provide clear expectations
Flexible work hours or shifts for those balancing work and family
11. Express appreciation.
Recognition can go a long way when employees are dispersed, working odd hours, and combating the stress of COVID-19. It's important to remember (and recognize) that employees are your greatest lever for success. Every position matters and everybody's got a job to do.
Organizations can't survive without their employees. Employee health, well-being, and engagement should remain a priority. Implement a formal (and public) recognition program to acknowledge the adversity your employees have faced. Showing appreciation for what they've accomplished during these chaotic times, in an authentic way, is how you'll build trust, employee morale, and a culture of engagement.
---
COVID-19 has presented challenges, but disruption also provides opportunity for innovation and improvement. Instead of bailing water out of the metaphorical boat to stay afloat, organizations have a critical chance to listen, learn, and adapt to be stronger in the future.
To ensure your employees, teams, and businesses remain and continue to be successful, download our leadership guides for Engaging Employees Through COVID-19.