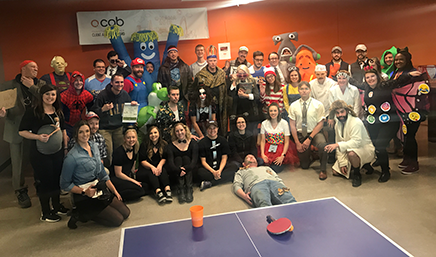 It's that spooky time of year when offices far and wide begin to plan for Halloween at work. At Quantum Workplace, we love work parties, we love costumes, and we love ORANGE!
So it's no surprise that we take Halloween (and more importantly, our Halloween parties) very seriously. Do you want to throw an office Halloween party as wicked awesome as ours?
We've got a few spooky tips for you. Consider these ideas and guidelines for optimal employee engagement when throwing a wicked Halloween office party this year.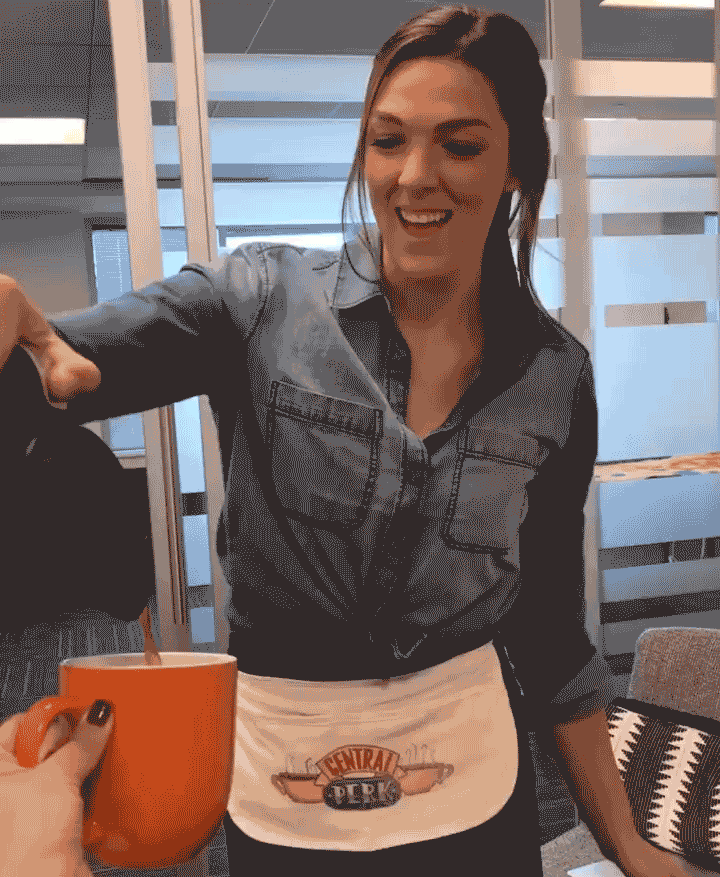 Keep It Daytime
While most of the frightening fun might happen at night, it's best to throw your office Halloween party during the day. When employees can take a break from work for some coworker bonding, they'll have more fun. Isn't that why you're throwing the party in the first place?
Plus, hosting your party during the workday means they won't have to miss out on trick or treating with the kids or skip that costume party they RSVP'd for last week.
Hold an Office Trick or Treat
Your employees might not tote around plastic pumpkins going door to door anymore, but that doesn't mean they wouldn't like to go trick or treating. Have your employees decorate their offices, cubicles, desks, or work stations and supply treats that match their costumes. Encourage everyone to take a lap, check out the decor, and snag a treat. Is your office kid-friendly? Invite your employees' kids in to participate to get the whole family engaged.
Bring Terrifyingly Tasty Treats
Treats are a staple at every party, let alone a wicked Halloween party. Ask your employees to bring in their favorite Halloween-themed treats to share. Bonus points if it's homemade!
From a simple bowl of candy corn to ghastly crunchy donut eyeballs, any treat will liven up your party. Consider holding a Halloween potluck and name each snack after a spooky movie character or theme. Offer prizes for the best dish.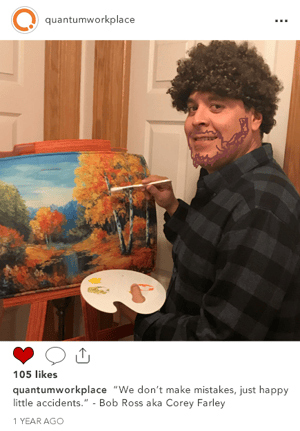 Capture Creepy Moments
Make your own photo booth and decorate it with everything Halloween. Colorful orange and black streamers, props to take pictures with, and lots of cotton cobwebs. If you're looking for a cheaper way to capture all your party moments, designate an employee as the "party photographer."
If your organization has any remote employees, create a way for them to participate in the fun. Have them upload a photo of their costume to a dedicated Slack channel or company social media page. And send them a small note or gift with a Halloween treat inside to share the spirit.
Test Your Halloween Jeopardy Skills
Great parties always have games and everyone loves a little trivia. Put your employees to the test to see how much they really know about this spooky holiday. Whether the questions are about the history of Halloween or guessing the lyrics to the Addam's Family theme song, it's a fun way to get in the holiday spirit.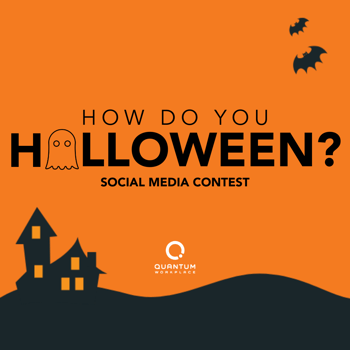 Host a Costume Contest
What better way to encourage your employees to dress in their most creative costumes? Take a vote amongst your team or enlist a panel of esteemed judges to pick their favorites. Give out awards or prizes for the scariest, funniest, and most creative costumes.
Take it one step further and answer the question, "How Do You Halloween?"
Quantum Workplace holds an annual Halloween costume contest for workplaces across the country. Tweet or post your best getups for a chance to win $250 in treats for your office!
How to Enter:
Take a photo of your team and how you celebrate Halloween at work. Share it with Quantum Workplace by posting your photo on the following platforms:
How to Win
A panel of esteemed judges (Quantum Workplace employees) will select a winner. Photos will be judged on:
Creativity
Capturing the spirit of your company culture
Making the judges smile
The winner will be announced on Twitter, Facebook, and Instagram on November 4, 2019.
---
What makes your office Halloween party wicked? Send us your Halloween costume photos on any of our social platforms from Monday, October 29th to Friday, November 1st!
Think you have what it takes to compete this year? Pics or it didn't happen. Get the full contest rules and start planning your costume! The winner will be announced November 4th. Good luck!