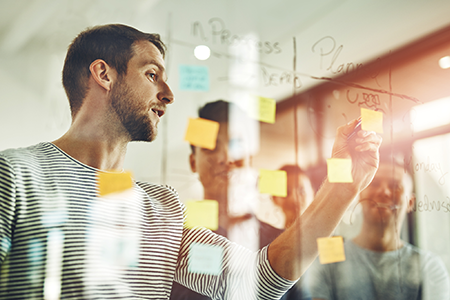 We've said it before and we'll say it again—your people are your biggest asset. But how well are you tapping into that potential?
Employee, team, and business success are all connected. If you aren't prioritizing employee success and team performance, your business will fall short.
When employees and teams thrive, your business thrives too. The key is understanding how to connect and build on that success across the organization.
Use the following tips to drive employee success at every level of your business.
Why employee success matters to your business
It seems like a no-brainer: employee success equals business success. But you'd be surprised how often individual and team engagement and performance are neglected in favor of other business priorities.
In fact, 81% of business executives strongly agree that highly engaged employees perform better, yet only 37% strongly agree that employee engagement is a significant area of focus for their own organization today.
And we get it. Running a business means you have lots of irons in the fire. It's easy to mistake customer service or sales as the most important focus for your business. But if you're neglecting employee engagement, you are missing a crucial opportunity to drive performance and level up your business.
Drivers of employee engagement and employee success
Employee success relies on a foundation of employee engagement. When employee engagement goes up, so does performance, productivity, motivation, and all-around employee success. It's a win-win for businesses and their people.
Do you know what motivates your employees? What keeps them connected to their work and to your business? If you don't, you're not alone. A whopping 40% of leaders say they don't have access to the data they need to understand what engages their employees.
Exactly what drives your employee engagement will be unique to your organization. However, our research found that common drivers of employee engagement include:
Trust in managers and top leadership to lead the business to success
Belief in the future success of the business
Recognition for contributing to business success
Development opportunities and a future with the organization
As you can see, your employees' success is tied to your business' success and their belief in your company's future.
How to connect employee, team, and business success
Employee, team, and business success are inextricably linked. But leveraging that connection and aligning your efforts on the individual, team, and organizational level isn't easy.
Use these tips to drive employee engagement, boost team performance, and build business success across the organization.
1. Identify and discuss key engagement drivers.
You can't drive employee success if you don't understand what impacts engagement at your organization. So your first step is to identify key engagement drivers for your employees.
To do this, start by collecting data through employee engagement surveys and conduct a drivers analysis to uncover which engagement factors have the most impact on your teams and employees. Your employee feedback will be some of the most powerful data you collect. Pay special attention to themes or patterns across teams and use comments to put scores into context so you can get a complete picture of your employee engagement landscape.
Engagement data will help you understand what is working well, areas that need improvement, and opportunities to make an impact. Once you understand the state of employee engagement at your company, you can plan and align engagement efforts with your overarching business strategies.
2. Set and track aligned goals across the organization.
What are key business outcomes you want to achieve? This could be anything from improving employer brand and growing revenue to boosting customer ratings and recruiting top talent. Whatever your high-level goals are, your employee engagement plans can and should align to support those business objectives.
Identify your business goals and communicate your business strategy at every level. Your business goals should be integrated and aligned across employee and team goals.
When you achieve strategic alignment across the organization, everyone pulls together with a common purpose—resulting in higher employee engagement, stronger performance, and greater business success.
3. Prioritize changes that will have the most impact.
Once you identify areas for improvement and outline your business objectives, it's important that you create an employee engagement plan that is strategic and targeted for the greatest impact.
What you focus on matters. You don't have unlimited resources and it's crucial that your efforts reap the best return on investment. You can't work on improving every engagement driver on the list. And you can't just guess what engagement efforts are worth it and hope something sticks.
So where do you start?
Make a list of key focus areas. Pick two or three you want to explore further to start.
Prioritize which drivers to focus on. To make a difference, understand the level of impact and how much effort you'll need to invest. Where you focus your efforts should be a team decision.
Map out a strategic engagement plan. With HR leaders, senior managers, and other important stakeholders, create a plan that ties together your business, team, and employee needs and objectives.
By prioritizing and committing to initiatives with strategic impact, your efforts will go farther and you'll build a sustainable long-term program designed for employee success.
---
Companies that understand what their employees need and leverage that engagement data meaningfully will build alignment that drives individual, team, and business performance effectively and consistently. Get started aligning your team with our HR Pro's Calendar Template and Strategic Planner.