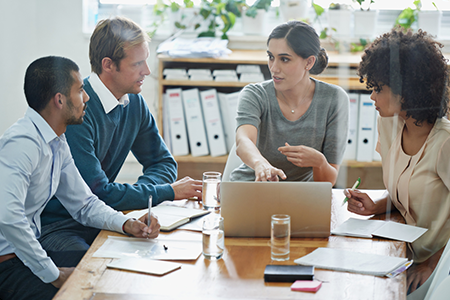 Executing a robust employee engagement strategy is a big job. A good employee engagement program should help you:
Collect employee feedback
Recognize performance
Track and set goals
Connect engagement data to employee performance
And to get the most out of your engagement initiatives, you need the right tools. That's where employee engagement software comes in.
What is employee engagement software?
Employee engagement software is a category of technology that helps workplaces uncover opportunities to engage employees and drive growth. Employee engagement platforms are important in creating workplace cultures that drive employee, team, and business success.
Not only do these tools drive productivity and performance, they also engage employees by making work better everyday. The right platform will help pave your path to success by keeping employees connected, focused, motivated, and engaged.
Who needs employee engagement software?
Employee success is critical to business success. After all, your employees drive business outcomes daily—big and small. That's why any organization interested in achieving desired results needs employee engagement software.
The right platform will improve the workplace experience by boosting employee morale, productivity, and company alignment. This helps you prioritize your most valuable business asset—your talent.
Because your talent drives your overall business outcomes, employee engagement software benefits all of the roles in your organization—top to bottom. Here are some of the ways the right platform will benefit each role:
The C-suite:
Have more visibility into business-critical talent data

Align teams to important business goals

Gain clear insight into the connection between employee outcomes and business outcomes

Gather employee feedback before, during, and after organizational change

Create a culture that attracts and retains top talent

See better business outcomes, including revenue, profitability, stock price, customer satisfaction, and more

HR:
Scale talent strategies and effectively execute on them

Focus on strategic vs administrative work

Prove the value of your talent initiatives to the C-suite

Gain easy access to talent trends and their connection to business outcomes

See better talent outcomes, including engagement, performance, productivity, morale, and more




Managers:
Increase communication and connection with employees

Use seamless tools to drive high performance

Gain insight into actionable employee perceptions

Keep employees focused on the right things at the right time

See better team outcomes, like engagement, performance, productivity, morale, and more




Employees:
Have a better day-to-day experience

Feel connected to their work, team, and organization

Have improved workplace relationships

See clear pathways to growth and development

Feel like they have a voice

Feel confident in their role and how they contribute to business success

Similar to how employee engagement software benefits all roles, it can also benefit any industry. The right software doesn't discriminate, and can boost engagement and performance across all sectors.
In Finance and Insurance, the right platform can help navigate poor perceptions of the industry and help leaders attract and retain talent. In Professional Services, employee engagement software can help align and drive performance across matrixed teams. In Manufacturing organizations, the right software can make measuring employee perceptions across a dispersed workforce much, much easier.
The breadth of employee engagement software is clearly far-reaching, improving the employee experience to promote employee, team, and business success in all industries. Although each industry faces unique challenges, the common themes of employee needs are often similar. The benefits of employee engagement software resonate with employees of all industries and all roles.
What are the benefits of employee engagement software?
Employee engagement software has many benefits that employees see in their day-to-day experience, leading to outcomes that are critical to business growth. Here are the top 5 we've compiled:
1. Increased alignment
Employee engagement software provides tools that increase communication and alignment across the entire organization. And this is important because aligned companies are 72 percent more profitable than misaligned companies. With a system that streamlines employee-manager conversations, elevates goals to the entire organization, and provides a platform for company-wide recognition, your employees are able to garner a stronger sense of connection and alignment with the organization.
2. Improved company culture
In times where retention is an issue, leaders should prioritize their company culture. Employees want to work in a positive, inclusive, and motivating culture that helps them reach their full potential. In fact, almost 70 percent of American workers prioritize culture aspects over salaries. With tools that help you get a pulse on employee perceptions, you can take employee feedback and implement it in the workplace experience. By understanding your workforce as a whole and taking action accordingly, your culture will improve to make work better everyday.
3. Greater productivity
Strong productivity is critical to the health of your organization. But when employees aren't motivated, their productivity plummets and your business metrics suffer. And many organizations are experiencing this, as the average worker is productive for less than 2 and a half hours per day. That's why organizations should use tools like goals, recognition, 1-on-1s, and feedback to motivate employees toward business objectives. Your platform should increase accountability, address roadblocks, coach performance, and increase morale to drive optimal performance.
4. Ability to make strategic people decisions
Understanding your workforce as a whole is almost impossible without the right tools. And if your leaders can't visualize your talent across the entire organization, they can't make smart people decisions. With tools that help you identify who's at risk for departure or burnout, you can intervene before it's too late. And by identifying high performers, you can give recognition where it's due to boost employee morale.
5. Increased business success
When employees are engaged, organizations provide a better customer experience, produce a higher quality of outcomes, experience higher sales, and have higher profitability. In fact, highly engaged organizations have 21 percent greater profitability than organizations with disengaged employees. The motivation that employees get from a workplace that listens to and meets their needs is unparalleled. Prioritizing the employee experience is a first-class approach to maximize business success.
6. Uncovers obstacles and opportunities
Employee engagement software provides a suite of tools, giving valuable insight into possible obstacles or opportunities to make work better. With a streamlined employee survey tool, you can understand what's missing in the employee experience and get insight that helps you improve upon those shortcomings. Plus, employees typically have an understanding about how to improve big picture business metrics to improve profitability and growth. In addition, two-way feedback gives employees an opportunity to provide their perspectives, helping leaders understand where opportunity lies. With this information, better action can be taken toward employee, team, and business success.
What are the top features to look for in an employee engagement platform?
1. Annual, pulse, and lifecycle surveys
Employees typically understand what's working and what's not. That's why it's important to survey them and gather insight that motivates organizational growth. With annual, pulse, and lifecycle surveys, you can gather employee perceptions at every part of their tenure to understand what's happening and how to improve.
2. Recognition
Employees need to be recognized for their efforts. When they feel that their work goes unnoticed, they are unlikely to continue giving their all in the future. With an effective recognition tool, you can elevate appreciation to the entire organization to increase alignment, boost morale, and motivate performance.
3. Goals
Setting attainable goals is key to employee and team success. But goals often fall to the back burner when they aren't constantly thought about or prioritized. With a streamlined goal platform, employees can set, track, complete, and elevate goals to the entire organization. This increases accountability and alignment to ensure that goals are accomplished.
4. Feedback
Employee feedback is at the center of a strong culture. This feedback should be leveraged in a two-way format so that both managers and employees can give and receive feedback. This boosts trust and connection among employees, while giving insight into room for growth.
5. 1-on-1s
1-on-1s between leaders and employees are needed to address roadblocks, celebrate wins, and build strong connections. That's why the best employee engagement software provides 1-on-1 tools that help you make the most out of your conversations. Use this platform for tools that help you conduct and document your discussions regularly, and with ease.
6. People analytics
Leaders need to visualize their workforce as a whole, all in one place. With effective people analytics tools, you can understand employee flight risk, get performance snapshots, and uncover turnover trends to make strategic talent decisions.

7. Talent reviews
When organizations leverage talent reviews, they have a better idea of where employee performance stands. The right tool will help leaders highlight top performers and understand talent risk to take the action that helps the business succeed.
How to choose the right employee engagement software
Engagement and performance are connected at the core. When your approach to performance management is ineffective, engagement suffers. And when employees are disengaged, they are less likely to perform at their best. But when leaders adopt a modern performance management strategy that is centered around the employee experience, both performance and engagement grow.
The best employee engagement platforms can help you implement and support key engagement strategies while driving engagement and performance across the board.
But how do you know which platform is right for you? With so many moving parts—and your employees' engagement on the line—it's important to get your platform right.
Follow the steps below to help you choose the best employee engagement platform for your business.
Assess your purpose, resources, and goals
Evaluate your options
Make a decision
Step 1: Assess your purpose, resources, and goals.
Before you can choose a solution, you need to know what problems you're trying to solve. Consider the following questions to help assess what your organization needs:
What is my purpose?

Who else is involved in the decision?

What are the organization's engagement philosophy and culture?

What are my limits? (E.g., time and money)

What are my needs?

What are my nice-to-haves?
Each of these questions will help you drill down to the most essential needs and priorities for your engagement strategy. When you understand what you're trying to accomplish, who needs to be included in the decision-making process, and what features and functions you need to make an impact, you'll be able to identify solutions that actually work for you.
Step 2: Evaluate your options.
Once you have your basic goals and strategy outlined, you can start evaluating your options. And there are lots to choose from! To make the decision process easier, use the following questions and tips to guide your assessment.
When looking at different engagement platforms, consider:
What features do they offer?

Do the features align with your priority list? Are there any functionalities that are missing? Are there features that you hadn't considered before that might be worth pursuing further?

What are other people saying?

Are customers happy? Why did they choose that solution? Look for case studies and other testimonials to see if the solution worked well for customers in similar markets or who had similar needs and priorities.

What do the software providers say?

When you start contacting vendors, ask them questions to better understand their solutions such as: What type of companies do you work with primarily? Where is your support department located? Can you share some of your thought leadership content with me? Questions like these will help you gauge whether it's a good fit.
What to look for
Different features support different goals and impact different aspects of employee engagement. When you're evaluating employee engagement tools, it's helpful to have a list of key features in mind so you can compare options.
Here are some features you might want to look for based on your goals:
Goal: Reduce employee turnover.
Losing top talent is tough. Replacing valued employees takes a lot of time and resources. Plus, productivity plummets and company expertise is lost. That's why creating a workplace environment that makes employees want to stay is imperative. Leaders can identify possible turnover and take needed action with these impactful features:
Intelligence tools

help you highlight problem areas before they lead to turnover. With talent review analytics, exit survey data, and employee flight risk analysis, leaders are better equipped to stop the turnover that matters.
Performance management tools

help leaders support, recognize, and communicate with their employees. With the right tools, like 1-on-1s, recognition, feedback, talent reviews, and goals, managers can coach their employees in a way that improves their day-to-day experience.
Goal: Identify and develop top talent.
Your top performers are key to your company's growth. But often, these employees want growth opportunities too. With the right tools, you can identify your top talent to help them grow in their role. And as you maximize your talent's potential, impactful business outcomes come as a result. Leverage these features to identify and develop your talent:
Engagement surveys

help you understand the employee experience. Plus, they help leaders uncover the feedback that's key to organizational growth. With pulse, annual and lifecycle surveys, you can understand what engages and disengages employees and get feedback on your developmental processes.

Performance tools

are critical to developing your top talent. Managers should be equipped with tools such as two-way feedback, 1-on-1s, goals, and recognition to better coach employees toward success. And with talent reviews, you can understand who's ready for new opportunities.

Performance data

helps you see the big picture of performance, all in one place. With features like performance snapshot, you can understand where performance is lacking or excelling to better coach and develop your talent.
Goal: Build high performing teams.
Connecting and motivating teams is key to maximizing their potential. But the hierarchical management processes of the past do nothing to boost team performance. That's why making the transition to effective team-based models is imperative. Leverage these features to make your transition smoother and effectively develop your teams:
Engagement surveys

help leaders understand engagement and performance in teams throughout your organization. And the data and insights you can uncover from pulse, lifecycle, and annual surveys will help you build high-performing teams. Understand team strengths and weaknesses to take strategic action with the right survey solutions.

Performance tools

give managers what they need to coach for high performance. With features like talent reviews, 1-on-1s, goals, and feedback, you can understand where performance lies to guide your teams' efforts.

Intelligence tools

give leaders an all-encompassing glance into employee performance. With features like performance snapshot, flight risk tools, intelligence dashboard, and intelligence data feed, you can understand your performance story to better coach teams toward success.
Goal: Increase strategic alignment.
Organizational alignment and communication is important to ensure your business outcomes are successful. Plus, alignment helps connect teams, keeping them focused and effective. Implement these features to improve your alignment strategy:
Engagement surveys

help leaders uncover barriers to alignment. With annual, pulse, and lifecycle surveys, you can understand these barriers to take action that keeps employees connected and successful.

Performance tools

, like goals, help elevate employee initiatives to the entire organization. And a recognition tool helps highlight employee wins across all teams. This helps every employee understand why each role matters in the big picture, keeping teams aligned.

Intelligence tools

help you mitigate risk. With features like turnover trends, flight risk, and performance snapshot, you can prevent possible barriers to misalignment or success.
Goal: Manage remote teams.
While remote work environments are becoming the norm, they have the possibility to create misalignment, low collaboration, lack of trust, and a disconnected culture. That's why it's important to use features that strengthen teams, improve culture, and increase employee engagement and performance.
Engagement surveys

help you understand how remote employees perceive the workplace. They have different needs than your in-office employees, and uncovering these needs with pulse, lifecycle, and annual surveys is key. By collecting these insights, you can take targeted action to improve their experience.

Performance tools

help keep employees connected and aligned—even when they don't see each other on a day-to-day basis. And with features like goals, recognition, and 1-on-1s, you can ensure that employees feel a sense of belonging within your organization.

Intelligence tools

leverage predictive analytics to prevent turnover. And this is important, as retention problems often go unnoticed in remote work environments. With features like flight risk and performance snapshots, you can identify retention risk early to take necessary action.
Goal: Improve employee engagement.
Employee engagement is the pillar of a successful, healthy organization. But moving the needle on this metric has proved difficult for many leaders. With the right features, you can understand what to measure and where to focus in order to make meaningful change.
Employee surveys

are key to measuring employee engagement. With the right platform, your survey questions will be expertly designed to shift your focus to what matters.

Performance tools

don't only drive productivity—the right platform will boost engagement too. With tools like recognition, goals, 1-on-1s, and feedback, employees will feel valued and connected to their organization. And this actively improves employee engagement.

Intelligence tools

help you connect the dots between engagement, performance, and business success. With flight risk tools, turnover trends, and performance snapshot, you can understand what engages and retains employees to take proper action.
What to avoid
Not all engagement software is created equal. That's why it's important to keep an eye out for signs of a bad fit. Watch out for these red flags when evaluating vendors:
A clunky user interface and experience.

For your engagement software to be effective, your employees actually have to want to use it. But when the user experience is unappealing, your time and resources are wasted as your tools go unused.

Confusing analytics and reporting.

A key feature of effective engagement software is the insight you gain from analytics and reporting. But when your analytics are difficult to understand, understanding your workforce becomes tough, making it hard to improve employee engagement.

The software doesn't integrate with your HR systems.

When you can't seamlessly integrate your workplace software—like Slack, Microsoft Teams, Outlook, or Chrome—a heavy administrative burden comes into play. And your employees won't be as connected to your engagement tools if their day-to-day platforms aren't integrated.

The software doesn't include benchmarking.

When you can't compare your engagement survey data to other organizations in the industry, it's tough to know where you stand and where to focus your efforts. This makes branding yourself as an employer of choice difficult, and your retention and attraction efforts may suffer.

The solution doesn't help you take next steps after your surveys.

Having survey data is pointless if you don't know how to act on it. Without insights that help you understand next steps in your engagement initiatives, your surveys go to waste.
Step 3: Make a decision.
You've identified your goals, outlined your priorities, and assessed your options. Now all that's left to do is make a final decision.
Conduct a final review of your priorities and compare your list of vendors until you have narrowed it down to a shortlist of two or three. These are the vendors you should spend more time assessing. Talk to a representative, schedule a demo, and get a feel for their culture. If they check all the boxes and it's a good fit, pull the trigger!
---
Finding the right employee engagement software takes time, but it's worth the effort. Get started today to improve employee engagement, for years to come, with our Employee Engagement Software Buyer's Guide.