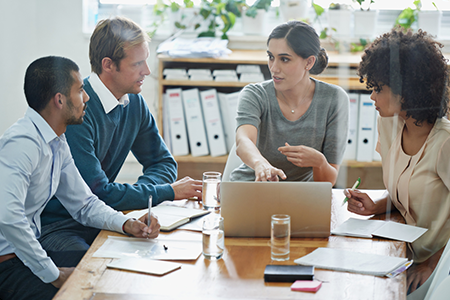 Executing a robust employee engagement strategy is a big job. A good employee engagement program should help you:
Collect employee feedback
Recognize performance
Track and set goals
Connect engagement data to employee performance
And to get the most out of your engagement initiatives, you need the right tools. That's where employee engagement software comes in.
The best employee engagement platforms can help you implement and support key engagement strategies while driving engagement across the board.
But how do you know which platform is right for you? With so many moving parts—and your employees' engagement on the line—it's important to get your platform right.
Follow the steps below to help you choose the best employee engagement platform for your business.
Assess your purpose, resources, and goals
Evaluate your options
Make a decision
Step 1: Assess your purpose, resources, and goals.
Before you can choose a solution, you need to know what problems you're trying to solve. Consider the following questions to help assess what your organization needs:
What is my purpose?
Who else is involved in the decision?
What are the organization's engagement philosophy and culture?
What are my limits? (E.g., time and money)
What are my needs?
What are my nice-to-haves?
Each of these questions will help you drill down to the most essential needs and priorities for your engagement strategy. When you understand what you're trying to accomplish, who needs to be included in the decision-making process, and what features and functions you need to make an impact, you'll be able to identify solutions that actually work for you.
Step 2: Evaluate your options.
Once you have your basic goals and strategy outlined, you can start evaluating your options. And there are lots to choose from! To make the decision process easier, use the following questions and tips to guide your assessment.
Questions to ask
When looking at different engagement platforms, consider:
What features do they offer? Do the features align with your priority list? Are there any functionalities that are missing? Are there features that you hadn't considered before that might be worth pursuing further?
What are other people saying? Are customers happy? Why did they choose that solution? Look for case studies and other testimonials to see if the solution worked well for customers in similar markets or who had similar needs and priorities.
What do the software providers say? When you start contacting vendors, ask them questions to better understand their solutions such as: What type of companies do you work with primarily? Where is your support department located? Can you share some of your thought leadership content with me? Questions like these will help you gauge whether it's a good fit.
What to look for
Different features support different goals and impact different aspects of employee engagement. When you're evaluating employee engagement tools, it's helpful to have a list of key features in mind so you can compare options.
Here are some features you might want to look for based on your goals:
Goal: Strengthen organizational culture.
A shared company culture helps employees feel connected to each other and to the organization. Employee engagement software can strengthen that relationship through features that promote goal alignment, feedback, and transparency across the organization.
Goal alignment and roll-up
Organization-wide recognition visibility
Organization-wide goal visibility
360 feedback
Goal: Build effective teams with continuous improvement.
A strong feedback culture is linked to higher engagement. When teams are focused on continuous improvement, and organizations value feedback in all directions, everyone can move forward together. The right engagement platform can help you build and support a strong feedback culture by incorporating feedback systems into the software.
360 feedback
Upward feedback
Peer-to-peer feedback
Real-time feedback
Anonymous or attributed feedback
Annual engagement surveys
Goal: Unlock insights into employee engagement.
How can you move the needle on engagement if you don't understand how, where, and why people are engaged (or not)? Look for features that help you unlock and act on those insights through robust feedback systems, analytics, and automated reminders.
Employee engagement surveys (pulse, perception, lifecycle)
One-on-one reminders
Feedback reminders
Comment summaries
Follow-up action plans
Automated recognitions
Text analytics
Goal: Strengthen and support managers.
Managers are on the front lines of employee engagement. They work with their employees every day to manage performance and goals, and help drive a thriving team culture. Since managers are uniquely positioned to impact engagement, it's important they have the tools to succeed. The right features can equip managers to improve their own leadership skills and track and measure what matters most.
Best practice resources
Tool adoption tips
Manager templates
Coaching videos
Metrics and records for employee performance conversations
Goal: Get company-wide investment in the program.
The best software in the world won't do much for your employee engagement if people don't buy in to the platform. Look for software that helps bring everyone on board and makes adoption easy, intuitive, and accessible.
Information access for HR, leadership, managers, and employees
Feedback cycle launches from any employee
Software built to fit remote, gig, salaried, and hourly employees
Product-usage metrics
Goal: Customize solutions to fit the organization's culture and challenges.
Every company is different, so your engagement software should be flexible enough to meet your unique needs. Look for features that let you customize your approach.
Custom survey questions
Make-your-own feedback and one-on-one templates
Tailor-made recognition badges
Optional org-generated educational resources
Flexible organizational hierarchy
Adaptable goal tracking structure
What to avoid
Not all engagement software is created equal. That's why it's important to keep an eye out for signs of a bad fit. Watch out for these red flags when evaluating vendors:
They sell a buffet of features. If a vendor is selling features a la carte, it's a sign they are just looking to make more money off you with unnecessary add-ons—if the feature is essential, it wouldn't be optional.
They promise happier employees. Remember: Happiness does not equal engagement. Your engagement platform vendor should know that.
They release new features frequently. Periodic updates and additions are great, but if a vendor is creating buzzy products left and right, it's a sign they aren't developing features of lasting value.
Their culture isn't engaged. Look at their employee reviews on Glassdoor and Indeed. If employees are disengaged, chances are the company's engagement solutions aren't going to work for you either.
Step 3: Make a decision.
You've identified your goals, outlined your priorities, and assessed your options. Now all that's left to do is make a final decision.
Conduct a final review of your priorities and compare your list of vendors until you have narrowed it down to a shortlist of two or three. These are the vendors you should spend more time assessing. Talk to a representative, schedule a demo, and get a feel for their culture. If they check all the boxes and it's a good fit, pull the trigger!
---
Finding the right employee engagement software takes time, but it's worth the effort. Get started today—to improve employee engagement for years to come—with our Employee Engagement Software Buyer's Guide.