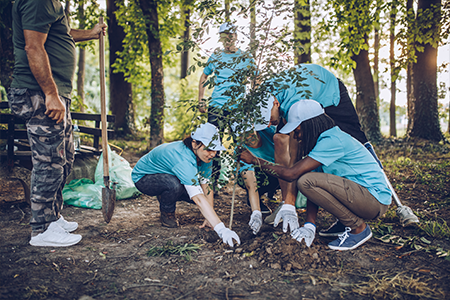 To be successful during this time, organizations need to be future-focused, creative, agile, innovative, resilient, and flexible. They need to be able to adapt and change based on the needs of their employees—and be responsive to what is happening in the world.
Some organizations understand the need for providing new enhancements and offerings for their employees—and are acting on these needs—but many are still dealing with the reality of declining revenues. To save money, time, or resources organizations have:
Stalled hiring and recruitment
Reduced team building budgets
Delayed investments in new tools or technology
De-prioritized or paused their D&I efforts
While some of these programs will naturally become a priority, those who have paused diversity, equity, or inclusion initiatives may find it tougher to reignite those efforts at a later date. Even with a smaller budget, there are concrete steps organizations, leaders, and managers can take to ensure diversity, equity, and inclusion efforts don't fall by the wayside at this time.
In this blog, we'll share 12 expert tips for keeping your diversity, equity, and inclusion efforts top of mind during the coronavirus pandemic.
Recruitment
1. Network with local and national groups.
Look for organizations who provide opportunities for underrepresented people in your profession or industry. Spend time building relationships with local leaders from these groups and current or former members. When your team starts hiring again you will have an expanded network to tap into. Consider these organizations:
2. Evaluate your recruitment process.
Bring in multiple team members (whether on the HR team or not) to stress-test your current process. For each part of your process ask:
Where are its faults?
What parts have always felt clunky?
Are there any blockers to underrepresented groups?
3. Expand your personal network.
Make it a personal mission to incorporate voices into your regular news feed from people who are different than you. Listen to and learn from those of a different race/ethnicity, those in a different profession, or those from a different educational background. Use this time now to broaden your perspective.
Onboarding
4. Allocate time for new hires to foster new relationships.
Those that are onboarded remotely at this time may have a harder time getting to know their new team members and peers within the organization. Be diligent about setting up a time for them to meet with different departments, groups, and teams.
5. Designate an onboarding coach.
This could be another team member or someone from a different department that is meant to be an additional resource during their first few months. The roles and responsibilities of this role should be fairly informal. The ultimate goal is that your new employee has a chance to make a meaningful connection with someone other than their manager early on in their tenure.
6. Dedicate regular team meetings for making connections.
While it is tempting to just dive right into the business during a regularly scheduled team meeting, try to allow 10-15 on the front-end or back-end of a call just for conversation. This can help the new employee feel more comfortable, even if they aren't physically in the same space as the rest of the team.
Team Building
7. Re-think happy hours.
These have always been a barrier for team building in one way or another and can lead to feelings of exclusion. Single parents might not be able to attend after-hours due to child care needs. Employees that are less social than others may feel uncomfortable in a big bar setting.And those who don't drink (or can't drink due to medical issues) may decide it's not for them. Rather than a traditional "happy hour," set time aside on an ongoing basis for discussion and conversation. Make sure it is during normal business hours if possible.
8. Leverage "working from home" to learn about each other.
What people surround themselves with can provide an insightful lens into who individuals are and what they value. During your next team meeting, ask people to talk about something around them that they feel comfortable sharing. It could be a book, a poster, a piece of music, or maybe a leftover dessert sitting on the counter. This low-risk level of sharing can help inspire conversations around employee interests and create new connections.
9. Share playlists, books, and hobbies.
Getting a line of sight into the interests of your employees and what keeps them energized and motivated throughout the workweek can help you keep team morale strong.
Grass-Roots Efforts
We acknowledge that many organizations likely already have DEI efforts in place. In many cases, these are things that naturally evolved from grass-roots efforts from your employees. Here are tips to ensure that those grass-roots efforts don't fizzle out during a time when most workers are dispersed:
10. Ensure the sustainability of your employee resource groups.
People leaders should regularly check in with Employee Resource Groups to ensure that their needs are met during this time. As the work has shifted to a remote focus, ensure these groups have the technology and space to continue their efforts. For new employees, ensure they are aware of the options available to them.
11. Create safe spaces for tough conversations.
Most employees likely have a friend or two in the workplace to whom they can go to with sensitive conversations—whether it be about racial injustice, discrimination in the community, or other human rights issues. Now with more remote work happening, employees may be at a loss for where and how to have conversations about D&I.
Newer employees especially may not have natural opportunities to make those connections yet. It's no longer as simple as popping into their office or going to lunch together. Virtual spaces, such as dedicated messaging channels in Slack or Skype, can help employees continue those conversations and also find others in the organization to talk with as well.
12. Support causes in the community.
Everyone loves a community outing or volunteer opportunity, but those may not be available at this time. Think through the resources that would have been spent for such an outing and instead commit that amount of money directly to those causes.
Survey Questions About Diversity and Inclusion
While these tips and best practices will work well for many organizations, the best thing you can do when it comes to your own DEI efforts is to ask your employees what they think. Here are 14 survey questions to help you measure the impact of your DE&I efforts:
I feel like I belong here.
All people have an opportunity to succeed in this organization.
People here are managed as if they can always improve their talents and abilities.
If I saw something wrong at work, I would feel comfortable reporting it.
I trust this organization to be fair to all employees.
If I raised a concern about discrimination, I am confident my employer would do what is right.
There are leaders here that I can relate to.
I can bring my whole self to work.
Senior leadership is prepared to effectively manage a culturally diverse workforce.
What could we do to improve diversity and inclusion in our organization?
The people I work with treat each other with respect.
Workforce diversity is valued at our organization.
What additional feedback do you have on our organization's diversity and inclusion?
I am included in decisions that affect my work.
---
Looking for a way to measure the effectiveness of your diversity, equity, and inclusion initiatives? Download our best practice Pulse Survey Templates with questions developed by our engagement experts.