Before you invest time and energy in an employee engagement strategy, read this list of nine key areas where employees lack confidence in their employers (according to our 2015 trends report). Not only are they surprising, they may be negatively affecting your ability to keep teams motivated and productive.
1. Unique Benefits
The 2015 Employee Engagement Trends Report found that 31.5 percen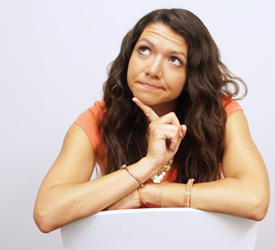 t of employees are uncertain whether their benefits are typically available at other organizations. This survey item had the greatest amount of uncertainty among employees, indicating that either employers' benefits aren't competitive or employees have little understanding of the competitive offerings available.
If your organization offers competitive benefits, make sure to communicate clearly and help employees understand the difference you offer. If your organization offers average benefits, communication is still critical to bring clarity to employees, but rest assured that benefits, while an area of uncertainty, are not typically major drivers of employee engagement.
2. Fair Pay
According to the study, 26.5 percent of employees doubt they are paid fairly, considering the value they bring their employers. As we saw with the Workplace Madness Bracket, pay is king. Your employees' paycheck is their livelihood. Feeling undervalued is distracting. It damages morale and performance. If we think of this in terms of Maslow's hierarchy of needs, a paycheck has to cover the first two levels (physiological and safety), but it doesn't stop there. Before an organization can expect to engage employees, an employee's paycheck also has to cover the third level (love/belonging); they must feel valued and appropriately compensated for that value.
3. Fit With Future
Nearly a quarter of employees are unsure how they fit into the organization's future plans. Historically, this has been a critical engagement driver, so it's not an area we want to see uncertainty from employees. How does your organization approach team alignment, performance management, and career development?
Organizations are using apps to foster regular performance conversations and goal alignment. This helps employees and their managers create a vision for their future at the organization. Of course, organizations can't depend on managers alone. Leadership must build this into the organization's culture, as a regular business practice.
4. Confidence in Being Recognized
One in five employees doubts she or he will be recognized when contributing to the organization's success. This should be an easy win for organizations looking to move employees in the middle to being more engaged. If someone does something awesome, recognize it. Again, recognition practices must be a part of culture, and leadership sets the tone. Share ideas (like the 40 ways in this ebook) or use an online recognition platform where employees can easily give and receive recognition. One of our clients with about 275 employees had 429 recognitions given after only two weeks of launching the app!
5. Investments in People
One in five employees also doubt his or her employer makes investments to make employees more successful. From training to tools, are you setting your employees up for success? Making investments in employees not only makes them feel valued, but also can improve productivity and innovation.
6. Professional Growth and Career Development
In alignment with the above themes on investments in people and fit with future, when asked specifically about professional growth and career development opportunities, one in five employees was uncertain if her or his employer provided these type of opportunities. This has been one of the top six engagement drivers for the last eight years, so addressing professional development should be a key component to your engagement strategy.
7. Open and Honest Communication
When asked if there was open and honest communication between employees and managers, 21 percent of employees were unsure. This could be an issue of manager effectiveness, but more likely, this is an issue of global communication. How is information disseminated throughout your organization? Are leaders open with information; are they open to feedback? Do managers and employees know how to have constructive, open conversations? Open and honest communication is the foundation of building trust among employees and plays a major role in shaping employee perceptions about the organization.
8. Regular Performance Feedback
In previous years, employees were more confident in receiving regular constructive feedback from their managers, but this year, 21 percent weren't confident that they would receive regular feedback. Performance management is critical to employee growth, productivity, and quality of job output. Many organizations (AND employees!) have grown tired of traditional performance management practices that review performance too infrequently. Instead, many are turning to new, more effective, real-time alternatives to improve and motivate performance.
9. Benefits Meet Needs
Slightly more than 20 percent of employees are unsure whether their employer's benefits meet their and their family's needs. Communicating about benefits is a challenge for many organizations. If your employees don't feel confident about your offerings, dig deeper to find out what is missing.
Areas of uncertainty represent areas of opportunity. If your goal is to raise favorable workplace perceptions, it's often best to focus on areas of high uncertainty, or neutrality. Why? Because the most unfavorable attitudes are typically the hardest to change. By identifying areas of high uncertainty and offering clarity, you can improve perceptions of those who have retained an open mind. This can be done through measured, structured communication strategies. The nine areas above had the greatest amount of uncertainty across the nation. But what's unique to your organization? The best way to find out is to conduct an employee survey.