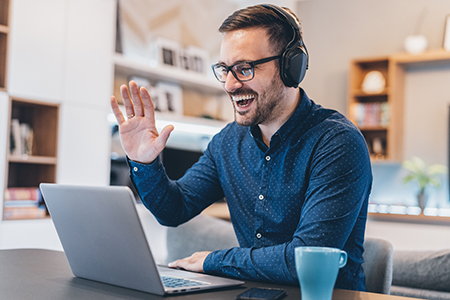 Keeping employees engaged becomes a lot harder during times of crisis and change. Uncertainty in the workplace related to job security or workplace safety—paired with a range of emotions from anger to fear—can be detrimental to employee, team, and business success.
As your organization navigates the coronavirus pandemic, employees are likely feeling confused, scared, and hopeless. This will undoubtedly impact their performance if you don't step in. Over time, these feelings will start to improve, but the time needed to transition is different for everybody.
To move forward successfully, you'll need a solid communication plan that helps you combat the effects of this crisis and minimize damage to your employees, teams, and business.
Crisis communication at work helps you communicate effectively and efficiently. It ensures you're sending a unified message that helps everyone understand what's happening and how to stay the course. But 70% of change programs fail because of poor communication.
And effective communication isn't just about sending a one-time company-wide message. It's about including a variety of key stakeholders, covering a diverse set of topics, and choosing the right tools to share information.
In this blog we'll cover:
5 elements to effectively transition through a crisis
How to create a solid communication plan
Tips for HR, leaders, and managers to support your plan
Our research has found that transparent communication contributes to trust, commitment to the organization, and is a key driver of engagement. While effective internal communication can improve productivity and performance, poor communication can lead to disengagement.
Even when organizations can anticipate change, communication can be difficult to maintain and follow through on. Thinking about communication through the lens of these elements can help you effectively transition through a crisis:
1. Reinforce your culture.
A variety of businesses, industries, and communities have been impacted by COVID-19. And not all situations are the same. Think about your unique workplace culture and consider how you could build an experience that your employees expect and feel supported by. This will allow you to reach your employees in a personal way that will make your business successful in the short and long term.
2. Think about your processes.
In the unique way that your business might be feeling the impact, your employees might be experiencing change a little differently as well. Consider their remote work environments and identify any gaps in communication. Can they communicate via Zoom or GoToMeeting? Do they have access to Wi-Fi? Are they parenting or having to teach their kids in addition to work? Take time to understand their new reality to determine how to bridge any inconsistencies.
3. Ask employees for feedback.
While it may not feel natural to survey your employees right now, collecting information about how they are handling this situation and what resources they might need to be successful is crucial to moving forward. Feedback can also be used to understand if you are communicating well. Ask employees whether they feel like they're in the loop and they understand the messages you're sending. Do they know where to access information and resources? Do they trust you to help them get through this? Consider using a lightweight employee pulse survey to gather important feedback around crisis management and remote work readiness.
4. Communicate your vision for success.
Depending on your situation, you might be measuring success by simply getting all of your employees set up in their new working environments. No matter the stage of crisis management you fall into, what you do after you've created your vision will determine your long-term success. And your message may change day-to-day. Communicate frequently, consistently, and across every level of your organization.
5. Provide as much information as early as possible.
It may not be possible to get everyone on the same page when employees are physically and mentally in different places. But sharing information early on with your team is important for setting expectations for performance. Offer communication training to managers to help manage employee emotions and reinforce shared messages and core values through regular email or chat. These tactics can help you develop a common ground where everyone can check back in and level-set.
Crisis Communication Tips for Your Entire Organization
To communicate well, you can't do it alone. You need to incorporate a variety of departments and employee levels. So what can you do? Here are some best practice recommendations:
Crisis communication tips for HR
Beyond your normal HR functions, you are likely working overtime to support your employees as they work through this difficult time. It can be overwhelming to manage your employees during any crisis, let alone one that has unexpectedly dispersed your workforce. Make sure you're taking time to pause to collect your thoughts and begin tackling your to-do list, one day at a time.
What HR can do:
Leverage familiar communication channels.
Utilize your company's website, intranet, newsletters, email, chat or community channels to share team, health and safety, or remote work resources and information.
Do your research.
There is a lot of misinformation circulating news and social media channels and a lack of understanding can be confusing for managers and employees. Be sure to conduct your own research in addition to sourcing credible and well-respected organizations when sharing out medical information with employees. The Center for Disease Control and Prevention and World Health Organization are reliable sources you can leverage.
Create a crisis management task force.
Gauge interest from employees or assign them to join a cross-departmental task force. Include employees from a variety of generations, tenures, and position levels to gather feedback on how best to communicate information and delegate tasks.
Check in on mental health.
Reach out to employees to see how they are doing emotionally and mentally. Mental health is just as, if not more, important than providing the right resources and information. With a new work environment, social contract, and performance expectations it's important to see how they are handling the change.
Crisis communication tips for leadership
During a crisis, regular communication from senior leadership is imperative to make employees at every level feel supported and safe. Make sure you're checking with senior leaders across your C-suite to gain buy-in and reinforce your efforts. The more stakeholders you can bring into your framework for communication and engagement, the more successful your efforts will be.
What leaders can do:
Slowdown and exercise caution.
Don't rush to decisions just because you feel stressed or pressured. To manage employee emotions and communicate effectively, it's important to remain calm and avoid knee-jerk reactions or tactics. It's more important now than ever to make sure you're giving yourself time to think through exactly what you want to say and do.
Practice transparency and authenticity.
Speaking openly and honestly about personal fears or anxieties shows a more vulnerable side that employees can relate to. Address your employees' concerns even though you might not have the capacity to solve them. Doing so will demonstrate that you're willing to help.
Apply your shared vision to all organizational aspects.
When communicating key messages for the future it's good to practice consistency. Integrate your vision for success into all aspects of operations from onboarding to performance reviews. If your organization has made a shift in priorities, be sure to communicate what those are and how you plan to achieve revised goals. At a minimum, crisis communication should address what the future holds for employees and the impact on their jobs.
Lead by example.
Employees often emulate the behaviors and actions of leadership. If you're encouraging your staff to take breaks or manage their workload, make sure you're doing the same.
Crisis communication tips for managers and teams
Put your managers in a place where they can succeed by providing them with the information they need. This can help them anticipate any questions they might receive from their team. Our research found that highly engaged organizations rate one-on-one meetings as their #1 communication strategy above all-company meetings and emails from leadership. While normal 1-on-1 meetings might not be feasible right now, there are other ways managers can connect with their employees.
What managers can do:
Use one-on-ones.
Daily or 2x per week 1-on-1s are a great way to check in with employees organically. Prioritize face-to-face interactions when possible to build relationships from afar and commit to some form of regular communication daily.
Identify and equip ambassadors.
Taking a look at high performers or natural leaders and influencers within your team is great for collaboration around team communication. Identify these individuals to bounce ideas off of, ask for help or additional support, gather feedback, and assign actionable next steps.
Build opportunities for feedback.
Include opportunities for employee feedback as a regular part of your communication plan. Collecting their opinions and concerns will help you inform your strategy. But beyond that, it shows that you are willing to listen and take action.
Stay calm.
Though you might also be fearful on the inside, as a people manager it's just as important to be vulnerable as it is to be cool, calm, and collected for their team. Employees are feeling isolated, alone, and probably a little stir crazy. Focus on delivering specific messages with a helpful and supportive demeanor to show employees you are there for them.
Stay on message.
As weeks progress, things will begin to feel a little more normal. But until then, managers must relay consistent messages from senior leadership to their employees. With every new update and breaking news story, employees will be looking for a sense of normalcy in their daily routine. Paying attention and communicating key messages clearly will help employees stay on track.
Be more intentional than ever.
You can earn a lot of credibility with your employees by being flexible and meeting them where they are. While it might not seem like it now, this too shall pass. And when it does, you can start to encourage and coach your employees in other ways. Building strong relationships in times of crisis is what will help you maintain and improve employee engagement down the road.
---
When we work together, we can achieve more. Use these tips as a framework for getting your entire organization on track. We're here to support you. Explore our Crisis Management Kit for best practices and resources for effective communication and managing change.