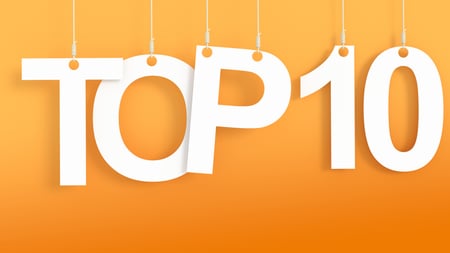 We dropped some serious knowledge on our blog this year. More than 70 new posts hit the web, touching on a number of different topics, including employee engagement surveys, turnover, managers, goals, and performance. You name it, we covered it.
We would love for you to read every post, and subscribing to The QWork Future is the perfect way to do so. But if you're new to Quantum Workplace or missed a few posts throughout the year, this article is here to help. It's the TLDR version of our blog, and it's the perfect way to get caught up on all things employee engagement.
For your convenience, each of the following titles links directly to the corresponding blog post - happy reading!
You want to create the best workplace possible to retain your employees and attract other top talent. We asked more than 10,000 employees to describe the best workplaces; their responses can help craft your organizational culture and stand out from the pack.
The top 5:
Fun
Challenging
Friendly
Engaging
Rewarding
All too often, performance reviews are wasted by a bunch of bland questions that don't have any real impact. Replace those queries with deeper, meaningful questions to make real change and help employees feel valued and heard. For example:
Current Role
Blah:
Are you happy with your job?
Do you think this role is a good fit for you?
Yeah!:
Which job responsibilities/tasks do you enjoy most? Which do you least enjoy?
How do you think your role helps the company succeed?
What do you like least about your current role? What would you change?
What do you like most about working for this company?
Conducted incorrectly, performance review meetings are a nightmare for employees. They fear negative comments and want to get things over as fast as possible. But these sessions can be used to motivate and engage, not create fear. Try out some of our templates and start having the type of performance review meetings that leave your employees excited.
For example, consider a descriptive scale review, GOOD performance review, or an assessment of potential.
Quantum Workplace is essentially an employee engagement idea factory. We've seen thousands of tactics, and we've gotten a pretty good idea of what works and what doesn't. This post lays out 20 of the best things managers can do to increase employee engagement and maximize the workplace. A quick sampling:
"Be a motivating coach, not a managing boss: Ditch the boss mentality. OK, so you're in charge. We get it. But your employees want more than just an order – they want to be advised, coached, and nurtured. A study found that 85 percent of highly-disengaged employees think they don't receive enough coaching from their manager. Look for opportunities to encourage, teach, and develop employees."
Bring everyone together, have some fun, and start making some serious progress on engagement. If you're thoughtful about who's on your team and what you're trying to accomplish, team-building exercises can move from forced and uncomfortable to lively and productive. Hosting a chili cook-off or planning a charity event might not seem like much, but the effort matters to your employees.
All too often, performance reviews do little to improve the status quo. Manager and employee may leave the meeting with action items, but nothing really changes. Keep these ideas in mind during your next performance review. If you put them into practice, you'll start to see your reviews actually have the desired impact. For example:
"Own Your Feedback: Be responsible for the feedback you give employees. Don't hide behind other feedback providers. If you have feedback to give, give it. Avoid using dismissive language to downplay feedback. This can send mixed signals on whether or not the feedback matters."
Get the employee-manager relationship off to a good start and put the newbie at ease by writing them a letter that welcomes them, introduces the team, and outlines the onboarding journey. Follow this template to craft letters that leave new hires feeling settled and accepted.
We can talk your ears off about the importance of employee engagement, but you want some cold, hard proof, right? This blog supplies the data to reinforce our claims, delivering statistics such as:
Engaged workplaces experience 41% lower absenteeism.
46% of employees would accept another job offer if the opportunity arose.
Engaged employees are 17% more productive than their peers.
The more employees that participate in your survey, the more representative the results. But you can't force employees to take the survey, and we highly discourage incentivizing participation.
What can you do to get more respondents on board? This blog has plenty of ideas, including making it fun, ensuring confidentiality, and making promises that you will listen to and act on results.
Giving feedback to employees can be a tricky endeavor. Even helpful feedback can be taken critically if not presented in the right context. We have 10 ways for managers to both offer and receive feedback, creating a conversation and a safe environment where employees don't fear correction.
---
Our blog is here to help you get on the fast track to boosting employee engagement within your organization. To get more helpful tips on how to conduct effective 1-on-1 meetings, set effective goals, interpret survey analytics and much more, subscribe to The QWork Future.